Ear­li­er this week, Joshua Eli Plaut wrote about Jew­ish San­tas. He has been blog­ging here all week for Jew­ish Book Coun­cil and MyJew­ish­Learn­ing.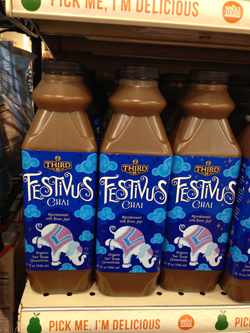 Fes­tivus, the sec­u­lar Decem­ber hol­i­day cred­it­ed to a screen­writer of the 1990s tele­vi­sion sit­com Sein­feld, grew in pop­u­lar­i­ty beyond its tele­vi­sion roots as a sec­u­lar soci­etal cel­e­bra­tion that allowed par­tic­i­pants to express their feel­ings and frus­tra­tions with the hol­i­day sea­son. Fes­tivus par­ties take place across the Unit­ed States, serv­ing as mag­nets for younger gen­er­a­tions of Amer­i­cans, among them many Jews. The cel­e­brants of Fes­tivus have stripped the hol­i­day sea­son of any reli­gious mean­ing, instead rely­ing upon irony and par­o­dy to car­ry the day.
Fes­tivus Chai! And at Whole Food's no less! While ram­bling around the aisles of the Whole Foods at Union Square in Green­wich Vil­lage, my wife, son and I encoun­tered an entire wall of Fes­tivus Chai! Accord­ing to its online mar­ket­ing mate­ri­als, Fes­tivus Chai is a limited‐​edition sea­son­al hol­i­day chai made with real cocoa, hol­i­day spices, and organ­ic ingre­di­ents.

Made by Third Street, Inc., a bev­er­age com­pa­ny in Col­orado, 5% of the pro­ceeds dur­ing the hol­i­day sea­son will be donat­ed to the Whole Plan­et Foun­da­tion, a non­prof­it which attempts to alle­vi­ate pover­ty through microloans in the third world. So there is a tzedakah com­po­nent to the Fes­tivus product.
Joshua Eli Plaut, PhD, is the full-time Exec­u­tive Direc­tor of Amer­i­can Friends of Rabin Med­ical, as well as the Rab­bi of the Met­ro­pol­i­tan Syn­a­gogue in Man­hat­tan. His most recent book, A Kosher Christ­mas: ​'Tis the Sea­son to Be Jew­ish, is now available.