Ear­li­er this week, Debra Band dis­cussed how she visu­al­ly express­es Bib­li­cal sto­ries and shared
the back sto­ry behind Arise! Arise!
She had been blog­ging here all week for Jew­ish Book Coun­cil and MyJew­ish­Learn­ing.
One of the remark­able things that I dis­cov­ered ear­ly in the project was how these three sto­ries, set in the ear­li­est decades of the Israelite tribes' appear­ance in the Land, togeth­er mod­el the very set of val­ues that would become cen­tral ideals for the Israelite king­dom, and indeed, for­ev­er after, in the lives of all women and men who derive inspi­ra­tion from Tanakh.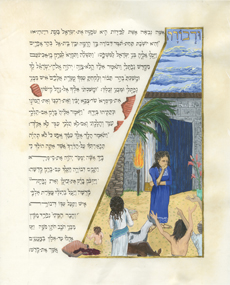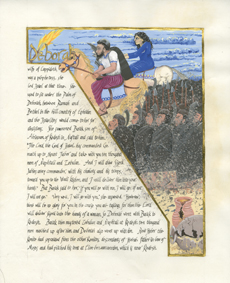 Equal­ly remark­able, in each of these sto­ries set in what we com­mon­ly per­ceive as a thor­ough­ly patri­ar­chal era, it is the women rather than the men who lead in mod­el­ing these qual­i­ties. Deb­o­rah was, so far as we read, the first to unite the tribes (or at least many of them) to repel a com­mon ene­my since the set­tle­ment of the land under Joshua – she is the first leader to instill a sense of nation­al pur­pose. Her efforts are char­ac­ter­ized by her over­all good judg­ment, her courage (in which she is joined by Jael), strate­gic shrewd­ness and faith in prophe­cy. The third and fourth illu­mi­na­tions of the Deb­o­rah sto­ry present her lis­ten­ing care­ful­ly to the Israelites' pleas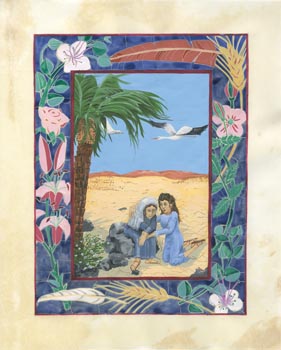 for relief from Canaan­ite depre­da­tions, and her coura­geous lead­er­ship of the Israelite troops into bat­tle, along with Barak. The over­whelm­ing qual­i­ty that suf­fus­es Ruth's idyll is of course, hesed, lov­ing-kind­ness, in which her and Naomi's care for one anoth­er inspires Boaz's own deci­sive care for them. After the ini­tial mis­deeds of her father-in-law —typ­i­cal of the dis­or­ga­nized peri­od of the Judges — all three major actors and even the unheard, but ful­ly involved Beth­le­hemites, do the right thing at the right time to guar­an­tee their col­lec­tive secu­ri­ty and hap­pi­ness as indi­vid­u­als, as a fam­i­ly, and (unbe­knownst to them) as prog­en­i­tors of the monar­chy. In my sixth illu­mi­na­tion of Ruth, which we looked at in an ear­li­er post, Ruth express­es her loy­al­ty and love for Nao­mi, which the rab­bis inter­pret­ed not sim­ply as human affec­tion, but as an expres­sion of Israel's devo­tion to God. In the tenth illu­mi­na­tion of Ruth, imagery asso­ci­at­ed with divine prov­i­dence, kind­ness, and Ruth's own dis­tinc­tive ele­gant com­port­ment pop­u­late this scene of Boaz inquir­ing after her iden­ti­ty. Hannah's faith in God's prov­i­dence leads her to invent Israelite prayer – depict­ed in Illu­mi­na­tion 6 of that sto­ry, while her com­mit­ment to give her first child to divine ser­vice mod­els fideli­ty to God in the face of self-sac­ri­fice, and her annu­al gifts of cloth­ing to this son she has giv­en to the priest­hood set, as you will see, a pow­er­ful exam­ple of devot­ed par­ent­ing and hand­ing on wise val­ues. So, as you will see in the illu­mi­na­tions and lit­er­ary analy­ses in Arise! Arise!, nation­al lead­er­ship and courage, faith, lov­ing-kind­ness, prayer and wise par­ent­ing, all mod­eled pri­mar­i­ly by women in this for­ma­tive peri­od of the nation, become the guid­ing val­ues, the moral foun­da­tion of the Israelite nation. Join me for this remark­able jour­ney into the lives, hearts, and her­itage of these extra­or­di­nar­i­ly, foun­da­tion­al women of Israel!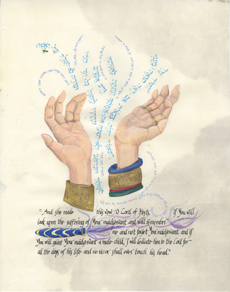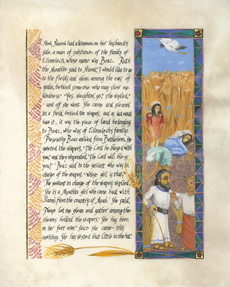 Vis­it Deb­o­rah Band's offi­cial web­site here.
Debra Band draws upon her love of both the man­u­script arts and Jew­ish text and tra­di­tion in her Hebrew illu­mi­nat­ed man­u­scripts. She is the author and illu­mi­na­tor of many beloved books com­bin­ing art and schol­ar­ship, each a col­lab­o­ra­tion with cel­e­brat­ed schol­ars. Debra's work is col­lect­ed and exhib­it­ed across the world. She lives in Potomac, Mary­land sur­round­ed by fam­i­ly and menagerie.