Debra Band​

'

s most recent book,
Arise! Arise! Deb­o­rah, Ruth and Han­nah
, is now avail­able. Her work in Hebrew illu­mi­nat­ed man­u­scripts draws upon her love of both the man­u­script arts, and Jew­ish tra­di­tion and learn­ing. She will be blog­ging here for Jew­ish Book Coun­cil and MyJew­ish­Learn­ing all week
.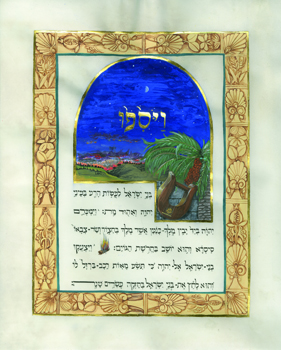 I've adored illu­mi­nat­ed man­u­scripts all my life — as a child and teenag­er, these were the post­cards I'd take home from muse­um trips. I've done hun­dreds of ketubot and this is my third book project pub­lished in 7 years, and as absorb­ing as each of these projects has been, Arise! Arise! has the deep­est claim on me.

Arise! Arise! is a memo­r­i­al to my late hus­band, David, who passed away in March 2009 after a long strug­gle with a unique spinal cord can­cer. A cou­ple of after­noons before he died, my father-in-law, Arnold Band, a renowned schol­ar of Hebrew lit­er­a­ture, and I were sit­ting and talk­ing qui­et­ly beside David's bed in our fam­i­ly room, which had now mor­phed into a home hos­pice. ​"So, you know what your next project is going to be?" he asked. I rolled my eyes and said some­thing like, ​"I know you're going to tell me." He knew per­fect­ly well that I'd been work­ing on Esther inso­far as the ill­ness allowed. ​"Yes," he said, ​"your next project is going to be ​"Shi­rat Devo­rah and do you know why? Because you are the Devo­rah." The real rea­son, how­ev­er, the one that nei­ther of us could yet bring our­selves to say, was that this would be a memo­r­i­al to the son and hus­band we were about to lose.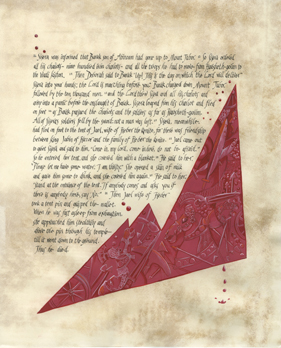 Why Shi­rat Devo­rah? This two-part tale from Judges —a prose nar­ra­tive and the much old­er epic poem, one of the old­est chunks of the Tanakh— had been David's bar mitz­vah haf­tarah, and he real­ly loved its blood and guts war sto­ry. Indeed, the pre­vi­ous night I'd asked our younger son, Gabi, to chant the haf­tarah for his Abba so that he could hear it one more time. So, Deb­o­rah intrigued me, but two aspects of the project pre­sent­ed a puz­zle. Solv­ing those puz­zles, how­ev­er, gave me some­thing from ​"my own life" to focus on, a sense of future against the back­drop of the bit­ter absur­di­ty and dis­as­ter of my husband's loss.

The first puz­zle was what to do with so brief a sto­ry. Since Deborah's sto­ry was far too small to pub­lish on its own, I quick­ly decid­ed to accom­pa­ny it with Megillat Ruth, a favorite of David's, and prob­a­bly next up for me any­way. The pair­ing of one large sto­ry with one small sto­ry felt unbal­anced, how­ev­er, so soon the notion of includ­ing the Han­nah sto­ry, anoth­er self-con­tained woman's nar­ra­tive and song, occurred to me. The inter­play of the three sto­ries instant­ly felt right. While I lat­er found a deep­er inter­ac­tion among the sto­ries, I could see imme­di­ate­ly that they fit togeth­er neat­ly; all three hap­pen in hand­ful of decades,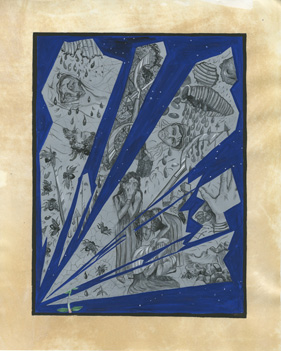 per­haps a cen­tu­ry, pri­or to the foun­da­tion of the Israelite monar­chy, both hap­pened with­in the cen­tral part of the Land of Israel, each presents a for­ma­tive moment in the estab­lish­ment of the Israelite poli­ty and togeth­er, they rep­re­sent the total­i­ty of gen­uine women's sto­ries with­in Tanakh. Esther, I'd already real­ized, is far less a woman-cen­tered tale than a satire of palace intrigue.

The sec­ond puz­zle was how on earth to approach these tales. As nar­ra­tives with com­pli­cat­ed inter­pre­tive his­to­ries, the Deb­o­rah, Ruth and Han­nah sto­ries posed very dif­fer­ent prob­lems than the poet­ic works I'd treat­ed before. How would I find a key to open their worlds? One sleep­less night a few weeks lat­er, I final­ly pulled a new, 50th anniver­sary edi­tion of Eric Auerbach's clas­sic explo­ration of nar­ra­tive style, Mime­sis, into bed to read. I'd intend­ed to read Mime­sis since col­lege — ful­ly thir­ty years ear­li­er. I opened the intro­duc­tion, learned how Auer­bach had sum­moned the con­cen­tra­tion to write this mag­nif­i­cent study in Istan­bul, in the midst of flee­ing the Nazis, and I was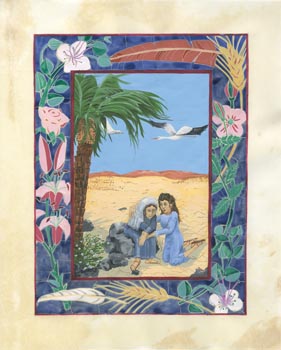 hooked…and by dawn knew that the key to inter­pret­ing the tales would be a focus upon the char­ac­ters' emo­tions. I had always approached my paint­ing as a kind of method act­ing – I need­ed to ​"be" what I paint­ed in order to cap­ture its image, so the focus on the char­ac­ters' emo­tions opened the door into my inter­pre­ta­tion of their tales. Deb­o­rah had been most remote from my expe­ri­ence; it was David rather than I who had been fas­ci­nat­ed by mil­i­tary his­to­ry, but now I saw that imbu­ing my paint­ing and writ­ing with her deter­mi­na­tion and guts could lead me to under­stand the sto­ry, even approach the rab­binic exe­ge­sis judi­cious­ly. So soon after my husband's death, all sore, shred­ded edges and exhaus­tion, I found myself relat­ing to Ruth's and Naomi's expe­ri­ence in a new way, and when you read my essay intro­duc­ing Han­nah you will find how acquain­tances' lives offered me a means to relate to her pathos and tri­umph. The emo­tions ris­ing from the tales inspire the tra­di­tion­al rab­binic explo­rations of the sto­ries, the midrash that reveals their deep­er Jew­ish moral and eth­i­cal messages…and which lend depth to my visu­al inter­pre­ta­tions, my own visu­al midrash. More about that soon.
Vis­it Deb­o­rah Band's offi­cial web­site here.
Debra Band draws upon her love of both the man­u­script arts and Jew­ish text and tra­di­tion in her Hebrew illu­mi­nat­ed man­u­scripts. She is the author and illu­mi­na­tor of many beloved books com­bin­ing art and schol­ar­ship, each a col­lab­o­ra­tion with cel­e­brat­ed schol­ars. Debra's work is col­lect­ed and exhib­it­ed across the world. She lives in Potomac, Mary­land sur­round­ed by fam­i­ly and menagerie.