Ear­li­er this week, David Eben­bach wrote about what makes a cre­ative process and a short sto­ry Jew­ish. He has been blog­ging here all week for Jew­ish Book Coun­cil and MyJew­ish­Learn­ing.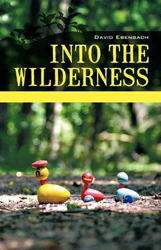 The peri­od imme­di­ate­ly after your book comes out is a won­der­ful and strange time. On the one hand, the work you've done — which for most of its exis­tence just hung out on the hard dri­ve of your com­put­er, feel­ing not quite real — is now in front of you, in a very con­crete form, between two cov­ers. Your work is a book, a thing with mass and sub­stance, an object that oth­er folks can find and get and read — maybe even folks you don't know! In that way it's the joy­ous cul­mi­na­tion of per­haps years of work and efforts to get the work published.
On the oth­er hand, it's def­i­nite­ly a weird time. The main weird­ness is that, when your book comes out, sud­den­ly you're prob­a­bly doing all kinds of unusu­al things to help the book suc­ceed: you may be giv­ing read­ings, dri­ving from one book­store to anoth­er, sit­ting on pan­els, Googling your­self way too much and check­ing your Ama­zon Rank (please don't, if you can help it) — and also per­haps doing what I'm doing here, which is writ­ing about writ­ing. Every one of these activ­i­ties is the result of very good for­tune — you could­n't be doing them if you had­n't got­ten that book into print — and they're gen­er­al­ly a lot of fun (aside from Googling and Ama­zon Rank­ing, the dan­gers of which I can­not stress enough). Yet you'll notice that there's one thing miss­ing from that list of activ­i­ties: aside from writ­ing about writ­ing, you may not be doing very much writ­ing at all — not the kind that prob­a­bly led to the actu­al book you're now hold­ing in your hands.
It can sneak up on you. If you're any­thing like me, spend­ing too much time away from writ­ing means get­ting more and more irri­ta­ble, and get­ting on your loved ones' nerves. Often it's my wife who, final­ly fed up with me, demands that I find some time to write or else. In those moments, it's even pos­si­ble to get a lit­tle resent­ful of your own good for­tune—I would be writ­ing if only it wasn't for all this author stuff! But I don't rec­om­mend embrac­ing that resent­ment. These author activ­i­ties are not only fun, not only the fruits of tremen­dous good for­tune — they can also be an impor­tant part of the cre­ative cycle.
Writ­ing about writ­ing (like I'm doing right now) is a great exam­ple of that. When I'm in the midst of writ­ing short sto­ries or poems, I'm not think­ing a lot about what I'm doing. First drafts come out in a sort of unplanned, raw way, and even revi­sion involves some spe­cif­ic strate­giz­ing, but not much thought about big ques­tions, like Why do I write? or Why am I writ­ing in this par­tic­u­lar form? or What's the best way to get work done? or any of a vari­ety of oth­er pos­si­bil­i­ties. The time after a book gets pub­lished is actu­al­ly a rare and valu­able time to sit back and get some per­spec­tive on what you do. It can add lay­ers of mean­ing to your work, and it can make you a bet­ter and more pur­pose­ful writer.
For exam­ple, this fall, my writ­ing about writ­ing has helped me to: final­ly under­stand the basic dif­fer­ence between a nov­el­ist and a short sto­ry writer; to get clear on how a short sto­ry col­lec­tion comes togeth­er suc­cess­ful­ly; to real­ly appre­ci­ate the fact that I use writ­ing to under­stand things that ini­tial­ly con­fuse me; to explore the Jew­ish­ness of my work and my process; and — right here — to val­ue the very writ­ing about writ­ing that I'm doing now. It has also helped me par­tic­i­pate in a larg­er con­ver­sa­tion between writ­ers and read­ers — a con­ver­sa­tion I first encoun­tered as a lit­tle boy learn­ing to read. I want to be a part of that, and I'm glad that I get to be.
Of course, none of this replaces the real writ­ing, the stuff that you're most pas­sion­ate about. And it makes sense to get a lit­tle agi­tat­ed if it's been a while since the last sto­ry or poem, and it makes sense to get back to it as soon as you can. But in the mean­time it's prob­a­bly worth­while to pay close atten­tion to all you're doing as an author, because, even in the mid­dle of all the strange­ness, you have an enor­mous oppor­tu­ni­ty to grow as a writer.
And real­ly — just leave those Ama­zon rank­ings alone.
David Eben­bach's col­lec­tion Into the Wilder­ness is now avail­able. Vis­it his web­site here.
David Eben­bach is the author of eight books of fic­tion, non-fic­tion, and poet­ry, includ­ing the new nov­el How to Mars and the cre­ativ­i­ty guide The Artist's Torah. His work has won such awards as the Drue Heinz Lit­er­a­ture Prize, the Juniper Prize, and oth­ers. David lives with his fam­i­ly in Wash­ing­ton, DC, where he teach­es at George­town Uni­ver­si­ty. You can find out more at davideben​bach​.com