Cliff Graubart is the author of
The Curi­ous Vision of Sam­my Levitt and Oth­er Sto­ries
(Mer­cer Uni­ver­si­ty Press,

2012

). He will be blog­ging here all week for Jew­ish Book Coun­cil and MyJew­ish­Learn­ing.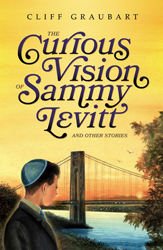 My par­ents left the Unit­ed States in 1973 to retire in Bat Yam, Israel, the coun­try in which they met and mar­ried in 1934, and where my broth­er Nor­man was born. My father left Poland in 1925 and went to work for his broth­ers in Paris and then left to com­pete in the first Mac­cabi­ah games in the breast stroke only to learn that there was no swim­ming pool. (I learned lat­er that there was indeed a swim­ming event, so I can only assume that my dad may have not made the cut and may have been too embar­rassed.) My moth­er left her home Bul­gar­ia as a young woman on a group visa and set­tled in Jerusalem, where she met my father in the fur shop where they both were employed.
One day while brows­ing in a used book­shop in Tel Aviv after his retire­ment to Israel, he came upon a book titled Dur­ing the Russ­ian Admin­is­tra­tion with the Jews of Stanis­la­wow Dur­ing the Holo­caust by Abra­ham Liebesman. My father, Sig­mund Graubart, no trained schol­ar, was always inter­est­ed in his­to­ry. And he had a keen inter­est in Stanis­la­wow, Poland (today Ivano-Frankivsk, Ukraine), the city of his birth, because his old­er sis­ter and her fam­i­ly were killed there. After deter­min­ing there was only this edi­tion, which was in Hebrew, my father began trans­lat­ing the book into English.
At the same time, Pat Con­roy was work­ing on his nov­el Beach Music and a por­tion of the book dealt with the Holo­caust. He want­ed to place his char­ac­ter ​"Max Rusoff" in a small city and as is usu­al in Conroy's fic­tion, he want­ed to write in great detail. Pat loved my par­ents. He wish­es we could have switched our fam­i­lies at birth. I told him that would have impinged on our friend­ship, as I would have been dead. I couldn't have sur­vived ​"The Great Santini."
Pat began work on Beach Music in 1986 and would take 9 years to pub­lish the nov­el. My dad fin­ished his trans­la­tion in 1990 and I pub­lished it, dis­trib­ut­ing it free to any­one who showed inter­est. Pat read it and was so moved, he used it as the pri­ma­ry ref­er­ence to describe life dur­ing the Holo­caust in the nov­el. He was sur­prised at how good the trans­la­tion was. He knew my father only had a high school edu­ca­tion. Dur­ing the Russ­ian Admin­is­tra­tion had the detail Pat was seek­ing and he decid­ed to use it to help him draw the pic­ture of ​"Kro­nitts­ka."
In a note to the read­er in Beach Music, Con­roy gives thanks to Sig­mund Graubart, and because of that acknowl­edge­ment and because the book was trans­lat­ed into scores of lan­guages, I have received requests for the 49-page book­let from all over the world. There is no charge, and there are still some available.
Cliff Graubart was born and raised in
NYC
. He has boxed in the Tole­do Gold­en Gloves, sold furs in New York, and once para­chut­ed out of a per­fect­ly good air­plane in cel­e­bra­tion of his
40
th birth­day — all mate­r­i­al for his short sto­ries, which have appeared in mag­a­zines. Atlanta-based Graubart owns the Old New York Book Shop.