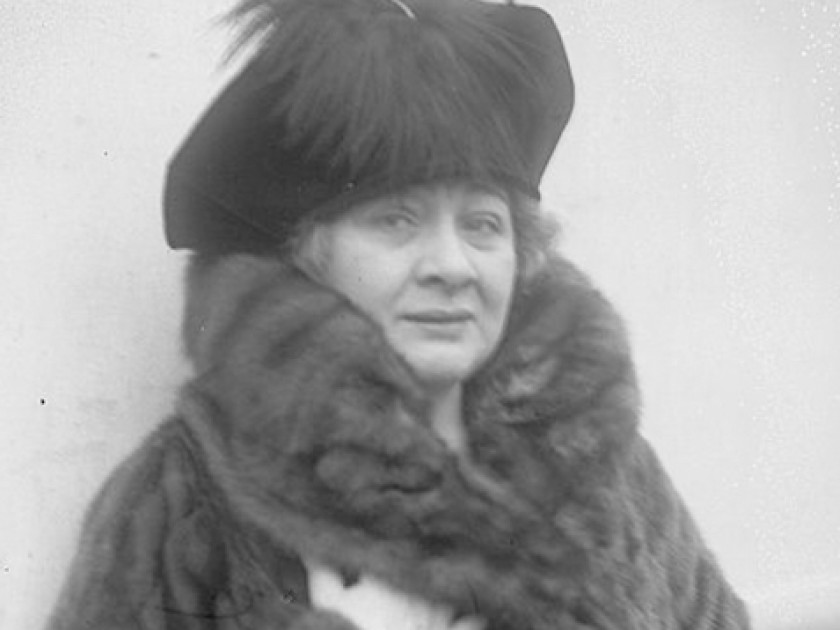 I had nev­er heard of Sophie Tuck­er before 2010. While redesign­ing a course I teach on Amer­i­can Pop­u­lar Cul­ture, I stum­bled upon a YouTube mon­tage of pho­tos of the flashy, smil­ing Tuck­er. In the back­ground played her sig­na­ture bal­lad, ​"Some of These Days." She made her way into my course as an exam­ple of a vaude­ville head­lin­er, accom­pa­ny­ing Fan­ny Brice, Eva Tan­guay, Al Jol­son, and others.
I had just pub­lished my first book, Black Cul­ture and The New Deal: The Quest for Civ­il Rights in the Roo­sevelt Era, and was look­ing for anoth­er sto­ry to tell about out­siders who achieve pow­er in untra­di­tion­al ways.
I have always been inter­est­ed in peo­ple who put on dis­guise and cross bound­aries, espe­cial­ly when it comes to racial iden­ti­ty. So, when I dis­cov­ered that Sophie Tuck­er began her career in black­face, I was intrigued. Like her con­tem­po­raries, Al Jol­son, Eddie Can­tor, and Fan­ny Brice — all who used black­face dur­ing their careers — Tuck­er entered the enter­tain­ment busi­ness as some­one oth­er than her­self. But was this enough to war­rant a full-length biog­ra­phy? I waf­fled on this predica­ment while I searched for mate­ri­als about the per­former, find­ing records and video clips — super­fi­cial accounts of Tucker's enter­tain­ment engage­ments — reaf­firm­ing my thoughts that she was per­haps ​"just a singer." The study of Amer­i­can cul­ture has nev­er been con­sid­ered as ​"seri­ous" as polit­i­cal or social his­to­ry in the minds of aca­d­e­mics, and I cer­tain­ly didn't want to fur­ther that conception.
Still, I stared at the image on my com­put­er screen of Tuck­er at her 1953 Gold­en Jubilee. Drip­ping in dia­monds, her blonde, shiny hair piled on her head, she was cel­e­brat­ing fifty years in show busi­ness. Tuck­er was clear­ly loved by the pub­lic, and I had to know why.
One of the ironies of writ­ing his­to­ry is that some­times sub­jects with the rich­est records receive the least amount of pub­lic atten­tion. Once I com­mit­ted myself to full-scale detec­tive work, I learned that Tuck­er had left hun­dreds of her per­son­al scrap­books to the New York Pub­lic Library and Bran­deis Uni­ver­si­ty. The sheer vol­ume of them was daunt­ing, and when I asked oth­er schol­ars who would have been like­ly Tuck­er biog­ra­phers, the con­sen­sus was that they were just full of ephemera. (I heard about pages of greet­ing cards.) Still, I had to see them for myself.
The scrap­books were unwieldy. They were jam-packed with arti­cles, busi­ness cards, play­bills, let­ters, and yes, greet­ing cards, all which Tuck­er began to col­lect when she start­ed her career in 1907. The mate­ri­als were lit­er­al­ly falling into my lap; scat­tered pieces of arti­cles, 100 years old, revealed their fragili­ty. Just when I felt I had suf­fi­cient mate­ri­als to under­stand one aspect of Tucker's life, more carts with more scrap­books came to greet me, unset­tling my con­fi­dence. It wasn't pos­si­ble to grasp everything.
Almost six­ty years of expe­ri­ences were on these pages. By the time Tuck­er became a head­lin­er in the 1910s, she was per­form­ing twice a day, every day, and she put all reviews, per­son­al inter­ac­tions, and pro­grams in the scrap­books. Even­tu­al­ly, she had to hire sev­er­al peo­ple to man­age the books, but she was as ded­i­cat­ed to them as she was to her reper­toire. For her, the record and lega­cy of her star­dom was as impor­tant as any­thing she was doing in her career. For­tu­nate­ly for me, it became the basis not only for a biog­ra­phy of Sophie Tuck­er, but a larg­er under­stand­ing of all the medi­ums — vaude­ville, film, radio, cabarets, Broad­way, tele­vi­sion — that she inhab­it­ed and influenced.
It turns out that she was, above all, a per­former — but I was flawed in my ini­tial think­ing. She shaped the world around her, and did mat­ter as a ​"seri­ous" sub­ject. Among her many accom­plish­ments, she was the first female pres­i­dent of the Amer­i­can Fed­er­a­tion of Actors, a cham­pi­on for African Amer­i­cans in show busi­ness, and one of the most influ­en­tial phil­an­thropists on behalf of Jews. Her acclaim was matched in Britain where she per­formed for decades, with three com­mand per­for­mances for roy­al­ty. The scrap­books not only con­tained cor­re­spon­dence from fans and show busi­ness friends like Irv­ing Berlin and Ed Sul­li­van, but also from Albert Ein­stein, Dwight Eisen­how­er, and Gol­da Meir. She turned out to be just what I had hoped to find, an out­sider — Jew­ish, over­weight, out­spo­ken — who became the ulti­mate enter­tain­ment insider.
Did I get to know the ​"real" Sophie Tuck­er? I'm not sure. I know the ver­sion she want­ed peo­ple to see, and I know that the guilt she felt for aban­don­ing her only son influ­enced many of her deci­sions. That is why the scrap­books exist — proof that fame was a jus­ti­fi­ca­tion for liv­ing with­out a fam­i­ly. They are also proof that even though she couldn't be part of her own fam­i­ly for years, she cre­at­ed alter­na­tive kin­ships — with African Amer­i­cans, with oth­er assim­i­lat­ed Jews, and with women who cast aside con­ven­tion. Tucker's world allowed for her suc­cess because she was an unlike­ly celebri­ty. Mama to all and moth­er to none, her sto­ry was worth telling.
A lead­ing schol­ar of Amer­i­can cul­tur­al his­to­ry, Lau­ren Rebec­ca Sklaroff is an asso­ciate pro­fes­sor of his­to­ry at the Uni­ver­si­ty of South Car­oli­na. She is the author of Black Cul­ture and the New Deal: The Quest for Civ­il Rights in the Roo­sevelt Era and the recip­i­ent of an NEH pub­lic schol­ars fellowship.