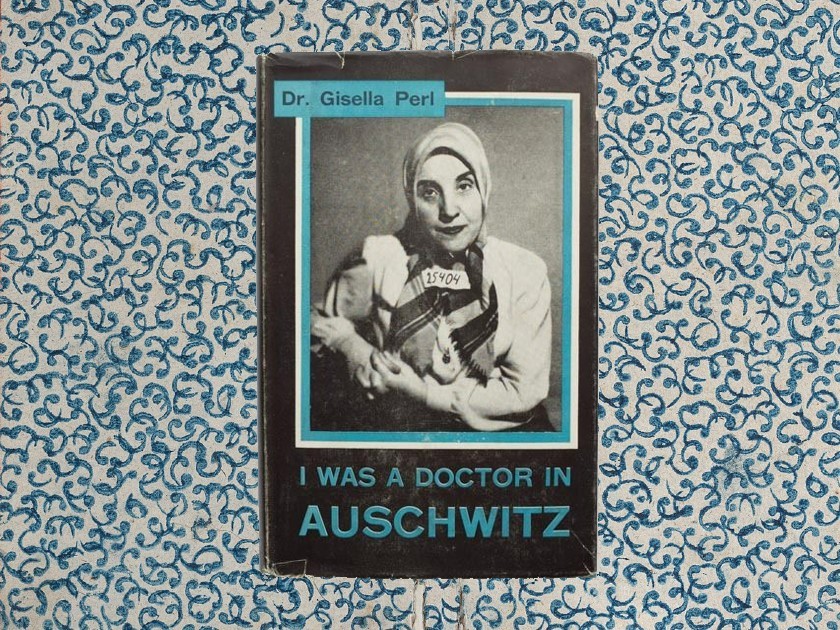 Gisel­la Perl was an extra­or­di­nary woman. She was a trail­blaz­ing physi­cian and infer­til­i­ty researcher; a wife, a moth­er, a Jew, and a pris­on­er of the Nazis in the 1940s. Her mem­oir, I Was a Doc­tor in Auschwitz, was first pub­lished in 1948 (and re-released by Lex­ing­ton Press in 2019) and offers a heart­break­ing but impor­tant record of life in the death camps.
Writ­ten short­ly after lib­er­a­tion, Perl's mem­oir con­tains famil­iar ele­ments found in so many per­son­al nar­ra­tives of the Holo­caust. For instance, like mil­lions of oth­er fam­i­lies, Perl's was sep­a­rat­ed imme­di­ate­ly upon arrival at Auschwitz; she would nev­er see her par­ents, hus­band, or young son again. Her abil­i­ties as a physi­cian saved her from the gas cham­bers, but the phys­i­cal and emo­tion­al despair she chron­i­cles make it clear that life in a con­cen­tra­tion camp was a hell­ish pur­ga­to­ry where one wait­ed for death.
Perl's time in Auschwitz (and lat­er Bergen Belsen) offered her unique oppor­tu­ni­ties to help oth­ers. She and eight oth­er women were forced to run a med­ical clin­ic where they were expect­ed to care for fel­low inmates with­out any med­ical sup­plies. They were over­seen by Josef Men­gele, the sadis­tic ​"Angel of Death," as he was called, who per­formed cru­el exper­i­ments on pris­on­ers before killing them. Though this role was forced on her, Perl used it to do as much good as pos­si­ble, such as sneak­ing out of her bunk at night to per­form abor­tions, since preg­nan­cy was pun­ish­able by death at Auschwitz.
In her influ­en­tial book Peo­ple Love Dead Jews: Reports from a Haunt­ed Present, Dara Horn argues that Holo­caust nar­ra­tives only achieve wide read­er­ship if they down­play the point­less­ness of the ter­ror the Nazis inflict­ed on Jews and ​"teach us some­thing beau­ti­ful about our shared and uni­ver­sal human­i­ty, replete with epipha­nies and moments of grace." For exam­ple, The Diary of Anne Frank is an inter­na­tion­al best-sell­er, accord­ing to Horn, because it doesn't con­tain any descrip­tions of the death camp's atroc­i­ties. Read­ers glom on to phras­es such as ​"I still believe, in spite of every­thing, that peo­ple are tru­ly good at heart." ​"These words are ​'inspir­ing,'" accord­ing to Horn, ​"by which we mean they flat­ter us. They make us feel for­giv­en for those laps­es in our civ­i­liza­tion that allow for piles of mur­dered girls."
I Was a Doc­tor in Auschwitz forces read­ers to con­front the suf­fer­ing head-on through Perl's detailed dis­cus­sion of the women she knew in the death camps.
This is not a mis­rep­re­sen­ta­tion of the Holo­caust by Anne Frank, but rather a mis­ap­pro­pri­a­tion of it by post-war West­ern cul­ture, where (most­ly non-Jew­ish) orga­ni­za­tions like pub­lish­ing hous­es and edu­ca­tion­al insti­tu­tions ele­vate some Holo­caust nar­ra­tives over oth­ers. Horn's point is that most of the favored lit­er­a­ture has been select­ed because it allows read­ers to feel good about them­selves when read­ing it. These texts con­tain a veil between the read­er and the worst truths of the Holo­caust, often focus­ing on sur­vivors rather than those that died, the good that was found amidst suf­fer­ing, or even obscur­ing poten­tial par­al­lels between read­ers and the bystanders who allowed the mur­der of six mil­lion Jews. (The fact that John Boyne's 2006 The Boy in the Striped Paja­mas—long derid­ed for its inac­cu­rate por­tray­al of Auschwitz and sym­pa­thet­ic por­tray­al of Nazi char­ac­ters — is get­ting a sequel seems to fur­ther prove this point.)
In light of Horn's hypoth­e­sis, it is obvi­ous why most peo­ple have nev­er heard of I Was a Doc­tor in Auschwitz. Perl's mem­oir breaks almost all the rules of polite Holo­caust lit­er­a­ture. While there are a few high points, such as the emo­tion­al con­nec­tions she forged with fel­low pris­on­ers and the deter­mi­na­tion she felt in her mis­sion to help the women in the camp, these moments are punc­tured by detailed descrip­tions of the hellscape in which they occurred.
For exam­ple, most of the friends Perl made were mur­dered, even those whose will to live seemed unbreak­able. One woman, Ibi, want­ed so des­per­ate­ly to live and find her son that she jumped off the truck tak­ing her to the gas cham­bers six times. Despite Ibi's deter­mi­na­tion and brav­ery — and Perl's attempts to hide her friend from Nazi guards — she was even­tu­al­ly hunt­ed down and mur­dered. Anoth­er friend, Lily, was con­vinced she would live to see lib­er­a­tion. ​"I want to live. I want so much to live!" she told Perl, ​"I have such faith that these barbed wires will fall, that these gates will open, that we will once more be free." How­ev­er, her attempts to avoid the gas cham­ber were also ulti­mate­ly futile. Perl pulls back the veil between the read­er and these women, forc­ing us to under­stand that the death camps were full of peo­ple who des­per­ate­ly want­ed the lives that were stolen from them.
It's as if Perl knew in 1948 that the col­lec­tive mem­o­ry of his­to­ry would do its best to erase the exis­tence of women like Lily and Ibi. That their sto­ries would be too dis­turb­ing and upset­ting, so they would sim­ply be for­got­ten. Despite the num­ber of times #nev­er­for­get is retweet­ed on Holo­caust Remem­brance Day, Yom HaShoah, peo­ple are for­get­ting about this geno­cide. Holo­caust cur­ricu­lum and books are dis­ap­pear­ing from schools at an aston­ish­ing rate. Accord­ing to one recent sur­vey by the Claims Con­fer­ence (a non-prof­it that works to com­pen­sate Holo­caust sur­vivors and fight anti­semitism), over ten per­cent of Amer­i­cans under the age of forty had nev­er heard the word ​"holo­caust," and 63% did not know that six mil­lion Jews were mur­dered (an alarm­ing per­cent­age even believed that Jews caused the Holocaust).
This points to the impor­tance of sto­ries like Perl's that do not shy away from bear­ing wit­ness to the hor­rors Nazis inflict­ed on mil­lions of indi­vid­u­als who deserve to be remem­bered truth­ful­ly. ​"When­ev­er I see the word ​'Six Mil­lion Dead' or ​'Six Mil­lion Jew­ish Vic­tims" print­ed in a news­pa­per," Perl writes:
"My hands hard­en into fists and my heart beats stronger with revolt. Those six mil­lion dead are so many ter­ri­ble, heart­break­ing sto­ries; they are Bet­tys and Ros­es and Annes, they are Julikas and Char­lotte Jungers, each and every one of them rep­re­sents not only the sec­ond of death, how­ev­er hor­ri­ble that is, but an entire, col­or­ful, excit­ing, human life, past, and what is more, a future…".
The ellipse makes read­ers acknowl­edge that the women and chil­dren of whom she writes had those futures stolen in the worst way imag­in­able. I Was a Doc­tor in Auschwitz forces read­ers to con­front the suf­fer­ing head-on through Perl's detailed dis­cus­sion of the women she knew in the death camps. Their sto­ries mat­ter because their indi­vid­ual lives — their hopes, dreams, sor­rows, and pain — mattered.
Leah Grisham, PhD is a writer and edu­ca­tor whose upcom­ing book, Hero­ic Dis­obe­di­ence: The Forced Mar­riage Plot, 1748 – 1880 will be pub­lished by Ver­non Press in 2022. She writes about Jew­ish life, lit­er­a­ture, and feminism.