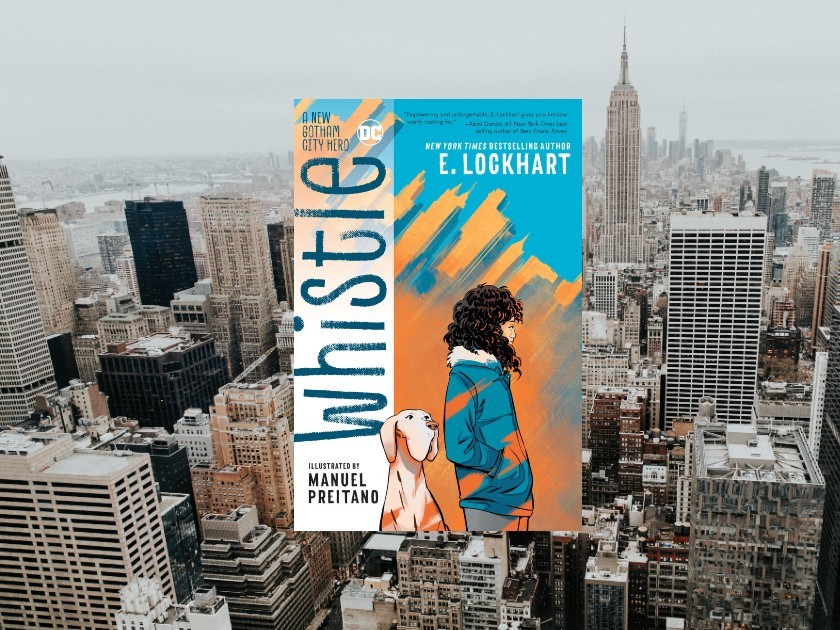 E. Lock­hart shares the Jew­ish influ­ences and inspi­ra­tion behind her new DC com­ic Whis­tle: A New Gotham City Hero.
Simona Zaret­sky: How do Wil­low and her sto­ry fit into the DC uni­verse? What kind of research did you do into the uni­verse before writ­ing the book?
E. Lock­hart: Wil­low (who becomes the super­hero Whis­tle, teamed up with her dog Lebowitz, aka the Hound) gets sucked into the Gotham City crim­i­nal under­world. When she gets her pow­ers, she is moved to recon­sid­er her loy­al­ties — will she keep work­ing for the crim­i­nals who help her pay the bills and care for her sick moth­er, or will she fight against them?
I grew up read­ing Bat­man comics and see­ing movies set in Gotham. I was very famil­iar with the rogues gallery of DC super-vil­lains, and psy­ched to write a sto­ry fea­tur­ing some of them. But I invent­ed a new neigh­bor­hood and set my sto­ry there. That gave me some free­dom to cre­ate a sto­ry world that fits in Gotham but is also its own thing.
SZ: Wil­low and her moth­er have a close, nur­tur­ing rela­tion­ship. How­ev­er, it falls to the daugh­ter to take care of her moth­er finan­cial­ly and emo­tion­al­ly. Can you speak on their relationship?
EL: I grew up with a sin­gle moth­er and want­ed to rep­re­sent a fam­i­ly like the one I grew up in. Unlike my own mom, Willow's mom is very sick and they have no health insur­ance. When Nao­mi can't work any more, Wil­low begins work­ing nights. When they need even more mon­ey she takes a job for the Rid­dler, who offers not only quick cash but also glamour.
Lots of kids work jobs to help their fam­i­lies. Some work ille­gal jobs to get bet­ter mon­ey. In Whis­tle you see a height­ened, the­atri­cal ver­sion of an every­day chal­lenge lots of teenagers face.
I cre­at­ed a Low­er East Side type neigh­bor­hood in Gotham and made my hero­ine deeply con­nect­ed to that neighborhood.
SZ: In what ways did Judaism inform your con­struc­tion of Willow's sto­ry and her character?
EL: My father is Jew­ish, as is my spouse. My moth­er prac­tices a new age reli­gion. I grew up with a strong sense of my pater­nal family's iden­ti­ty — they came to the US from Rus­sia and Poland — and the way it was con­nect­ed to New York City. I have long loved the Low­er East Side — my dad used to live about fif­teen blocks from there — and I had researched its Jew­ish his­to­ry. It used to be home to more Jew­ish peo­ple per acre than any­where else in the world. It had 500 syn­a­gogues. So I cre­at­ed a Low­er East Side type neigh­bor­hood in Gotham and made my hero­ine deeply con­nect­ed to that neigh­bor­hood. She is a sec­u­lar Jew­ish per­son, which is how I iden­ti­fy, and thinks about moral­i­ty through that lens.
SZ: What comics did you read grow­ing up? Which char­ac­ters real­ly spoke to you?
EL: Archie, Bat­man, Spi­der-man, Richie Rich, Fan­tas­tic Four, and Incred­i­ble Hulk. I love Ben Grimm/​Thing (also a Jew­ish hero, one of the Fan­tas­tic Four) and Hulk for their deeply con­flict­ed rela­tion­ship to their hero­ism and the trans­for­ma­tion of their bod­ies. I love Spidey for his snark and teenage angst. And Spidey, like Whis­tle, is a ​"friend­ly, neigh­bor­hood" hero.
SZ: Down Riv­er, locat­ed in Gotham City, is vul­ner­a­ble and tak­en advan­tage of by those with pow­er; Wil­low protests the gov­ern­men­tal neglect of her neigh­bor­hood. Can you speak to the piv­otal role of set­ting in Whis­tle?
EL: I'm inter­est­ed in the human sit­u­a­tions in hero sto­ries. How does it feel? What are the costs? Whom do you pro­tect and why? I want­ed Whis­tle to real­ly care about her school, her neigh­bor­hood deli, and cul­tur­al insti­tu­tions like the library, the syn­a­gogue, and the mosque. When supervil­lains threat­en those, the rea­son is a famil­iar one: it's water­front real estate. Liv­ing in NYC, I am lis­ten­ing to the con­ver­sa­tions going on about gen­tri­fi­ca­tion and I want­ed to explore that very real issue in this super­hero genre.
SZ: Activism and social jus­tice are inte­gral aspects of Willow's life. How does being an activist inform Wil­low's character?
EL: She's like a lot of the kids I know — remark­ably aware of social issues and try­ing to make a dif­fer­ence. Kids I know in Work­ers Cir­cle and oth­er orga­ni­za­tions are ini­ti­at­ing protests, mak­ing zines, doing teach-ins, and speak­ing out. When I was young, I was obliv­i­ous and self-cen­tered. I want­ed to cap­ture some of the real­ly admirable pas­sion I see around me.
SZ: What was your process of cre­at­ing Garfield's (Willow's crush) sto­ry, espe­cial­ly as it con­nects with Willow's own journey?
EL: Garfield is a char­ac­ter who is already in the DC pan­theon. I reimag­ined him a bit but insid­ers will rec­og­nize Beast Boy imme­di­ate­ly, though he isn't reveal­ing his pow­ers here. A lot of his sto­ry came ready-made. I chose him because, like Wil­low, he has ani­mal- relat­ed pow­ers. He is also new to Down Riv­er, and pro­vides an alter­na­tive per­spec­tive on life there.
SZ: Can you speak on the dual­i­ty and moral ten­sion with­in the vil­lains of the sto­ry? How was it to write in the mind of the villain?
EL: I love these vil­lains. They are so juicy.
There is good and bad in all of us, I think, so I worked to show the human sides of Poi­son Ivy and the Rid­dler. They do ter­ri­ble things, but they can be awe­some at times. Whistle's con­flict­ing loy­al­ties are what make her sto­ry interesting.
SZ: What was the process like for writ­ing the sto­ry as a graph­ic nov­el and work­ing with illus­tra­tor Manuel Preitano?
EL: I wrote the script and then Manuel came on to illus­trate it. We had an espe­cial­ly fun time cre­at­ing Whistle's hero cos­tume. We sent lots of Pin­ter­est images back and forth.
SZ: What are you cur­rent­ly writing?
EL: I have a new YA nov­el in the works but I am sworn to secre­cy about it. Peo­ple will get the ear­li­est scoop if they come hang out with me on social. Twit­ter: elock­hart. IG: elockhartbooks.
Simona is the Jew­ish Book Coun­cil's man­ag­ing edi­tor of dig­i­tal con­tent and mar­ket­ing. She grad­u­at­ed from Sarah Lawrence Col­lege with a con­cen­tra­tion in Eng­lish and His­to­ry and stud­ied abroad in India and Eng­land. Pri­or to the JBC she worked at Oxford Uni­ver­si­ty Press. Her writ­ing has been fea­tured in Lilith, The Nor­mal School, Dig­ging through the Fat, and oth­er pub­li­ca­tions. She holds an MFA in fic­tion from The New School.