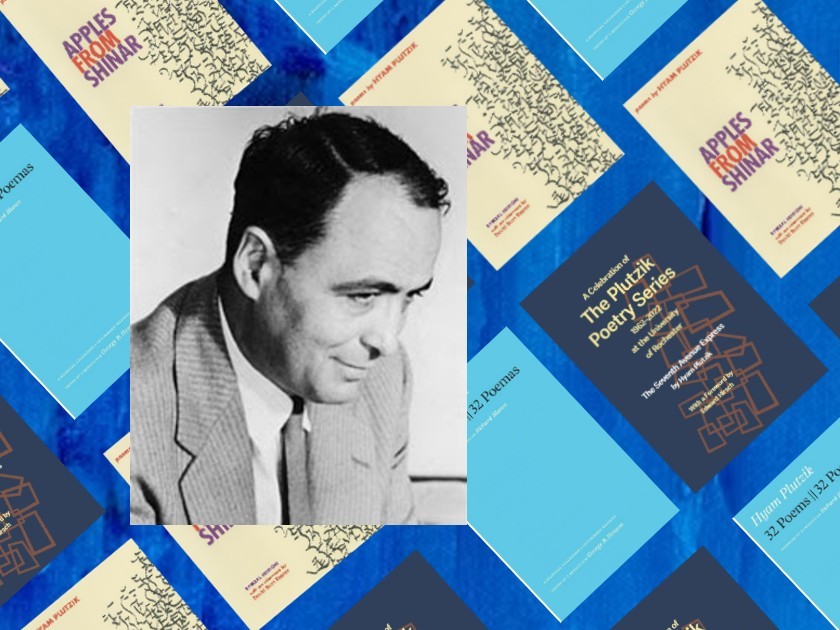 Writ­ten in the 1930s when Hyam Plutzik was in his mid-twen­ties, ​"The Sev­enth Avenue Express" is a dystopi­an nar­ra­tive set in the New York City sub­way sys­tem. This pre­vi­ous­ly unpub­lished poem was turned into a lim­it­ed-edi­tion book, pub­lished by the Melio­ra Press at the Uni­ver­si­ty of Rochester in 2022, to cel­e­brate the six­ti­eth anniver­sary of the Plutzik Poet­ry Series and includes a fore­word by Edward Hirsch.
Keen­ly aware of the rise of anti­semitism and fas­cism in Europe dur­ing this time, the young poet sought sus­te­nance in the time-hon­ored ver­i­ties of his Jew­ish her­itage, as when he writes:
They read the words their prophets speak to them:
The good! the great! the beau­ti­ful! the true!
Whose mem­o­ry shall out­last by far this age!
Men of the flam­ing word! the flam­ing sword!
Plutzik was a cub reporter on The Brook­lyn Dai­ly Eagle when he wrote ​"The Sev­enth Avenue Express." Con­se­quent­ly the work includes ref­er­ences to some of his jour­nal­is­tic assign­ments, as when he need­ed to deci­pher the words on a crum­bling tomb­stone ​"in a Jamaica church­yard near the El." Iron­i­cal­ly, Plutzik him­self would be interred in a plot in the Old Mon­te­fiore Ceme­tery not far from that ele­vat­ed train sta­tion. It is tempt­ing to spec­u­late he might have been mak­ing a play on words here, since ​"El" is also one of the Hebrew names for God.
Pun or not, this pas­sage reveals anoth­er allu­sion to Plutzik's Jew­ish con­scious­ness — the preser­va­tion of mem­o­ries in dan­ger of fad­ing, whether on the stone of a grave mark­er or the page of a book. He writes:
In a Jamaica church­yard near the El,
That shakes the body of the quick and dead—
Day­long the rush­ing trains fright­en the earth—
…
O cru­el the enig­ma that wres­tles with the brain,
Not angel in dark­ness but dev­il day and night.
In a sim­i­lar explo­ration of mem­o­ry, Plutzik would pub­lish a poem in his 1959 col­lec­tion Apples from Shi­nar titled ​"After Look­ing Into a Book Belong­ing to My Great-Grand­fa­ther Eli Eli­akim Plutzik." Again play­ing on the ​"El" image in his ancestor's name, the poet, with his ​"scrib­bling fist," com­pares this ances­tral book to a grave­stone, as when he writes:
I am trou­bled by the blank fields, the speech­less graves.
Since the names were carved upon wood, there is no word
For the thou­sand years that shaped this scrib­bling fist.
…
Only Here lies someone.
Here lies no one and no one, your fathers and mothers.
Addi­tion­al­ly, in his Fore­word to ​"The Sev­enth Avenue Express" Edward Hirsch notes how Plutzik had to ​"con­tend with the over­whelm­ing influ­ence of T. S. Eliot's The Waste Land." This presages Plutzik's lat­er poem ​"For T.S.E. Only," also pub­lished in Apples from Shi­nar. In this pow­er­ful work, Plutzik chal­lenges Eliot's anti­semitism, while offer­ing the old­er poet ​"the milk of the mild Jesus' teach­ing." It opens with this stanza:
You called me a name on such and such a day—
Do you remem­ber? — you were speak­ing of Bleis­tein our brother.
The bar­bar­ian with the black cig­ar, and the pockets
Ring­ing with cash, and the eyes seek­ing Jerusalem,
Know­ing they have been tricked. Come, broth­er Thomas,
We three must weep togeth­er for our exile.
Indeed, in an exten­sive lit­er­ary cor­pus span­ning some three decades from the ear­ly 1930s till his untime­ly death in 1962, Hyam Plutzik declares with­out ques­tion that he is nei­ther non­cha­lant nor casu­al about his Jew­ish­ness. Around the time he was writ­ing ​"For T.S.E. Only," Plutzik was asked to con­tribute some poems to a pro­posed prayer book on Con­ser­v­a­tive Judaism. He sub­mit­ted four of them: ​"Magen Avot," ​"L'Cho Dodi," ​"El Anon El Kol," and ​"Kad­dish." In ​"El Anon Al Kol," Plutzik sum­mons the mys­ti­cal imagery of the Kab­bala to hon­or the eter­nal ver­i­ties that con­nect him with his ances­tral roots:
The spir­its, instru­ments of God, named after fire—
The spir­its named for a whirling wheel—
The spir­its called the Crea­tures of Heaven—
All chant his grandeur and might.
To end on a humor­ous note, the ​"wheel of fire" metaphor was also a favorite of T. S. Eliot, who used it in The Waste Land. In 2003, Rodger Kamenetz pub­lished ​"The Low­er Case Jew," a poem in which he imag­ined Eliot hauled before a rab­bini­cal court on charges of anti­semitism. In Kamenetz's nar­ra­tive, Eliot's char­ac­ter Bleis­tein, here the pros­e­cut­ing attor­ney, sug­gest­ed the fol­low­ing sen­tence for his creator:
I pro­pose you send him
to Hyam Plutzik's grand­son's bar mitzvah.
For the Jews it will seem all afternoon.
For him, a hun­dred years.
He'll hora with Rachel nee Rabinovitch
and kazatz­ki with Allen Ginsberg
who will give him wet slop­py kisses
After hear­ing the pro­posed sen­tence, which includ­ed joke-tor­ture by Yid­dish come­di­ans and palate-tor­ture by schmaltzy con­coc­tions of mat­zo ball soup and gefilte fish, a groan­ing and unre­pen­tant Eliot pleads for mer­cy, claim­ing: ​"O I am bound to a bagel of fire."
The upcom­ing book, Hyam Plutzik, Amer­i­can Jew­ish Poet: Mem­o­ry, Loss and Time, to be edit­ed by Vic­ki Aarons, San­dor Good­hart, and Hol­li Lev­it­sky and pub­lished in 2024 by Aca­d­e­m­ic Stud­ies Press will include essays from twen­ty dis­tin­guished schol­ars, includ­ing Alan Berg­er, Hilene Flanzbaum, Edward Hirsch, Cary Nel­son, Mon­i­ca Osborne, Boris Fish­man, and Eric Sundquist, among oth­ers. Its pub­li­ca­tion sug­gests that Hyam Plutzik, a three-time final­ist for the Pulitzer Prize, is final­ly receiv­ing his well-deserved recog­ni­tion as an impor­tant mid-twen­ti­eth-cen­tu­ry poet.
The book is thus ​"a ges­ture toward not only reviv­ing the mem­o­ry and work of a bril­liant Amer­i­can poet but also a step toward mak­ing his work uni­ver­sal," as Aitor Bouso Gavín recent­ly com­ment­ed in the Mass­a­chu­setts Review when review­ing a col­lec­tion of Plutzik trans­la­tions that were released in 2021 by Sub­ur­bano Ediciones.
Years ear­li­er, in his com­men­tary on Plutzik's Col­lect­ed Poems, Ted Hugh­es wrote : ​"He has a kin­ship with Isaac Bashe­vis Singer, draw­ing his strengths in a sim­i­lar way, direct­ly and open­ly, from that ancient tra­di­tion, yet engag­ing the mod­ern world as a stripped soul — with a point-blank, whole­heart­ed sim­plic­i­ty of voice. His visions are authen­tic and pierc­ing, and the song in them is strange — dense and har­row­ing, with unfor­get­table tones."
The Plutzik Poet­ry Series was estab­lished in 1962 by the Uni­ver­si­ty of Rochester after Plutzik's death at the age of 50. It has since wel­comed more than 300 writ­ers, includ­ing US and British Poets Lau­re­ate as well as Nobel and Pulitzer Prize win­ners and Nation­al Book Award final­ists and win­ners. Plutzik had taught at the Uni­ver­si­ty from 1945 to 1962, where he was the first Jew­ish fac­ul­ty mem­ber in the Eng­lish depart­ment. He was suc­ceed­ed in that posi­tion by Antho­ny Hecht, who edit­ed Plutzik's Col­lect­ed Poems in 1987.
Edward Moran has been research­ing and writ­ing about Hyam Plutzik's poet­ry for more than fif­teen years. He served as lit­er­ary advis­er for the 2006 doc­u­men­tary film Hyam Plutzik: Amer­i­can Poet, direct­ed by Oscar nom­i­nee Chris­tine Choy. He has also pre­sent­ed on Plutzik's work many times at sym­posia spon­sored by the Jew­ish Amer­i­can and Holo­caust Lit­er­a­ture Asso­ci­a­tion, an affil­i­ate of the ALA. Pri­or to that, he served as asso­ciate edi­tor of H W Wilson's World Authors ref­er­ence series, tak­ing the baton from and con­tin­u­ing the lega­cy of Jew­ish-Amer­i­can poet Stan­ley Kunitz.