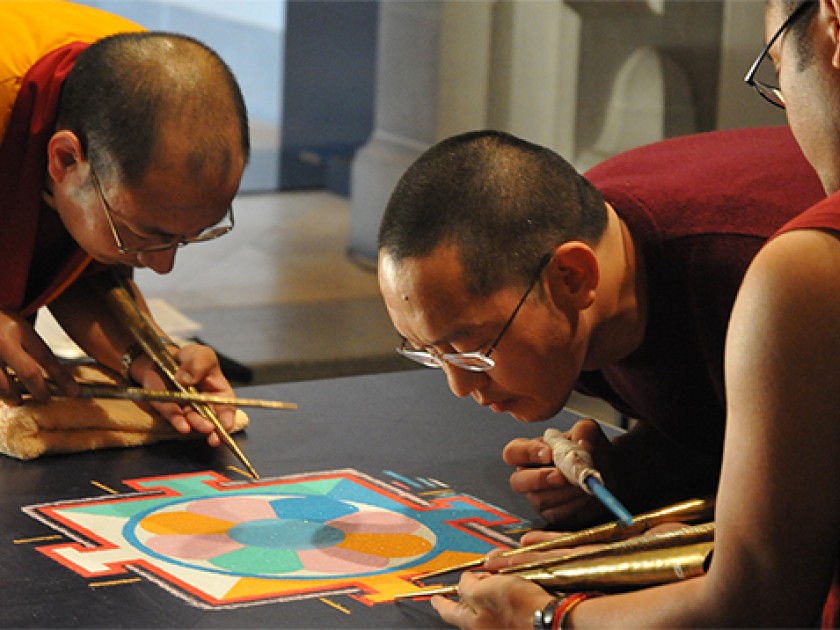 Ear­li­er this week, poet Mol­ly Pea­cock reflect­ed the courage behind the encour­age­ment she received, her upbring­ing in a Jew­ish neigh­bor­hood as an Irish Protes­tant, and how the sto­ry of a boy who saved him­self from the Nazi gas cham­bers with a mop stayed with her through adult­hood. With the release of her col­lec­tion The Ana­lyst this week, Mol­ly is guest blog­ging for the Jew­ish Book Coun­cil all week as part of the Vis­it­ing Scribe series here on The ProsenPeo­ple.
I am a goy­ishe lady, almost 70. After 38 years of being in analy­sis (not all at once! In spates, some­times long, some­times short, of inten­si­ty over the years,) I am no longer a patient. Yet now I have to be patient with my for­mer ana­lyst, Joan Stein, now 82. We have embarked on a new rela­tion­ship. It's a bit like a water­col­or of the old rela­tion­ship. The paint­brush (and the mop) are still sav­ing our lives.
After those water­col­ors began appear­ing on her walls about 25 years ago, Joan Stein reduced her prac­tice to four days a week. On Fri­days she took paint­ing class­es in the stu­dios at the 92 St. YMHA on Lex­ing­ton Avenue. Her water­col­ors were often por­traits of peo­ple. It was peo­ple who engaged her, not land­scapes or objects. Faces, pos­tures. Like the face of her father that she paint­ed as a very young woman at Rad­cliffe. What had once been reject­ed resur­faced. Her tal­ent was wait­ing, just as she so patient­ly once wait­ed for me, hour after hour, to slow­ly come to feel what I felt when I felt it, not after the feel­ing had hard­ened cold.
Doc­tors res­cued Joan, even as she, the ana­lyst, res­cued me. But in both our lives some­thing else, so health-giv­ing and so essen­tial to sur­vival, was at work. After her stroke, Joan lost a great deal of lan­guage, and most of her abil­i­ty to read. She even had to re-learn to use a key to unlock her apart­ment. Of course she had to aban­don her practice.
But she did not lose her capac­i­ty to paint. That part of her brain worked — and it began to work to save her life. After she returned from the hos­pi­tal, she began to paint. The art she had turned away from began to restore her life. She couldn't any longer paint faces, so she began paint­ing oth­er liv­ing things: flowers.
When peo­ple talk about the ​"vision" of a poet, they're real­ly talk­ing about imagery. It's the images a poet cre­ates that amount to what we name a poets' ​"vision." I don't think of myself as a vision­ary, but I often wake up with images, and I try to write poems from this hypno­gog­ic state. Occa­sion­al­ly I wake up with this image: a mop in filthy water in a buck­et on a con­crete floor. After vis­it­ing my ana­lyst, whose liv­ing room that once served as her ther­a­py room is now a water­col­or stu­dio, I wake up with anoth­er image: a water­col­or brush dips in almost musi­cal motion into water, into paint, onto paper… Anoth­er image mate­ri­al­izes, bril­liant and glowing.
"If I couldn't paint, I wouldn't want to live," Joan tells me, on each of my pil­grim­ages to vis­it her, and in each of our stay-in-touch phone calls. She is sav­ing her own life by pick­ing up the brush. I mean the mop. I mean the brush.
Joan watched me as I rein­te­grat­ed all the parts of my life. She watched the repair over decades. And now I have the priv­i­lege of watch­ing the woman who helped with every artis­tic deci­sion of my life put her own life in her hands as she takes up that brush, every day. Sev­er­al of the poems in The Ana­lyst take place in small muse­ums we have vis­it­ed in our new, rather strange, post-stroke, post-ana­lyt­i­cal rela­tion­ship. I bare­ly know what to call her in the last poem in the book, where we are watch­ing three monks make a sand paint­ing at The Asia Soci­ety in New York. Here the poet steps in to query the monks:
"…Excuse me, my friend is

recov­er­ing from an acci­dent. She's a …
painter. May we ask you some questions?"
(Have I intro­duced you, my for­mer analyst,

as my painter-friend?) You point with your cane<
to the mandala-in-sand…When they're done,
they'll brush it all away. You can't believe it.
Noth­ing stays (includ­ing the mem­o­ry you've lost).
What lasts? The pat­tern the monks have

mem­o­rized. Their burnt-down tem­ple re-
turns as this cir­cu­lar core.
Only when
something's over can its shape materialize.
Mol­ly Pea­cock is the author of six pre­vi­ous col­lec­tions of poet­ry, includ­ing The Sec­ond Blush and Cor­nu­copia: New and Select­ed Poems. Her poems are includ­ed in The Oxford Book of Amer­i­can Poet­ry and appear in lead­ing lit­er­ary jour­nals inter­na­tion­al­ly. Pres­i­dent Emeri­ta of the Poet­ry Soci­ety of Amer­i­ca, she co-cre­at­ed Poet­ry in Motion, a pro­gram of plac­ards on sub­ways and bus­es. Award­ed fel­low­ships from the Ingram Mer­rill, Woodrow Wil­son, and Leon Levy Foun­da­tions, the Nation­al Endow­ment for the Arts, and the Cana­da Coun­cil for the Arts, Pea­cock is also author of a biog­ra­phy, The Paper Gar­den: Mrs. Delany Begins Her Life's Work at 72, and a mem­oir, Par­adise, Piece by Piece. She is based in Toron­to and New York.