Ilana C. Myer is the author of the fan­ta­sy nov­el Last Song Before Night. She is blog­ging here all week as part of the Vis­it­ing Scribe series on The ProsenPeo­ple.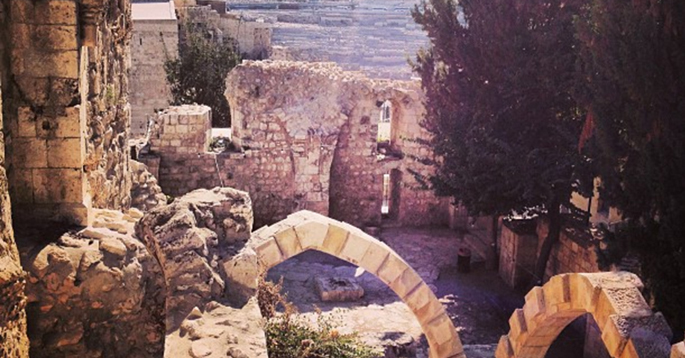 The cov­er of Last Song Before Night was always going to be a cityscape, of the city of Tam­ryllin where much of the book takes place. When my edi­tor — who gen­er­ous­ly involved me in the process — asked if I had any tips for my cov­er artist, I enthu­si­as­ti­cal­ly typed, ​"I envi­sion it as a com­bi­na­tion of Paris and Jerusalem" — and it was like a light bulb went on.
Until then I hadn't con­sid­ered with any seri­ous­ness the impact of Jerusalem on this nov­el. The set­ting was inspired by research of medieval France and land­scapes of Ire­land and Scot­land, the lat­ter of which I'd vis­it­ed in the year I began writ­ing. That I was liv­ing in Jerusalem for the entire­ty of the writ­ing peri­od just seemed like cir­cum­stance. That is, until I found myself giv­ing direc­tions to the cov­er artist, Stephan Mar­tiniere. So it came to be that this fan­ta­sy nov­el inspired by the trou­ba­dours of France and the Celtic poets has much of Jerusalem in it. It is all in the city, where much of the novel's action takes place; out­side the city has more a fla­vor of Ireland's Ring of Ker­ry and a tiny island in the Scot­tish low­lands, near Loch Lomond.
And there are aspects of Provence, for there was some­thing about the Mediter­ranean abun­dance of that place that I want­ed for my cap­i­tal city of Tam­ryllin, where arts, cul­ture, and beau­ty flour­ish along­side bru­tal­i­ty. So when I wrote lov­ing­ly of pale stone and jas­mine scents and red wine, these seemed appro­pri­ate for the Mediter­ranean sort of atmos­phere I want­ed. But the atmos­phere and aes­thet­ic are clos­er to the city I was liv­ing in at the time, a place that has always been pre­cious to me even as my rela­tion­ship with it is com­plex. (Is there is any­one whose rela­tion­ship with Jerusalem is not complex?)
One scene was con­scious­ly mod­eled on the Jerusalem cityscape — I knew it at the time. It was one of those writ­ing expe­ri­ences that comes rarely in a life­time, when every­thing feels right. It was a hot sum­mer night in Jerusalem, one of the hottest on record; we'd reg­u­lar­ly had days of 105 degrees Fahren­heit, which is not nor­mal for Jerusalem, and it didn't cool down at night. One night I found that I couldn't sleep. At 3: 00 AM I found myself on our third-floor porch on Emek Refaim, lap­top bal­anced on my knees as I sat in a rick­ety chair left behind by a pre­vi­ous ten­ant. It was exquis­ite­ly qui­et and I could see the dark tree­line of the hills beyond the city.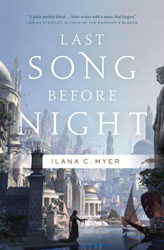 And it just so hap­pened to be when I was writ­ing a char­ac­ter who was wan­der­ing at exact­ly that time of day, the ear­li­est hours of the morn­ing, cut­ting through nar­row, wind­ing streets and scram­bling across rooftops. I was imag­in­ing the Old City, where I'd tak­en such short­cuts at night. Into those par­tic­u­lar pages I poured my expe­ri­ence of Jerusalem.
The rest was absorbed as if by osmo­sis, and I was not to real­ize until years lat­er, when at last my book was to be pub­lished by Tor/​Macmillan and we were dis­cussing cov­er art. Some­times when we write we're not aware of the ways in which what we take in is expressed on the page. Now Last Song Before Night stands not only as a tes­ti­mo­ny to a cer­tain time in my life, but also to a place that mat­ters to the world and, in very real ways, mat­ters to me.
Ilana C. Myer has writ­ten about books for The Globe and Mail, The Huff­in­g­ton Post, the Los Ange­les Review of Books, and Salon. Pre­vi­ous­ly she was a jour­nal­ist in Jerusalem.
Relat­ed Content: