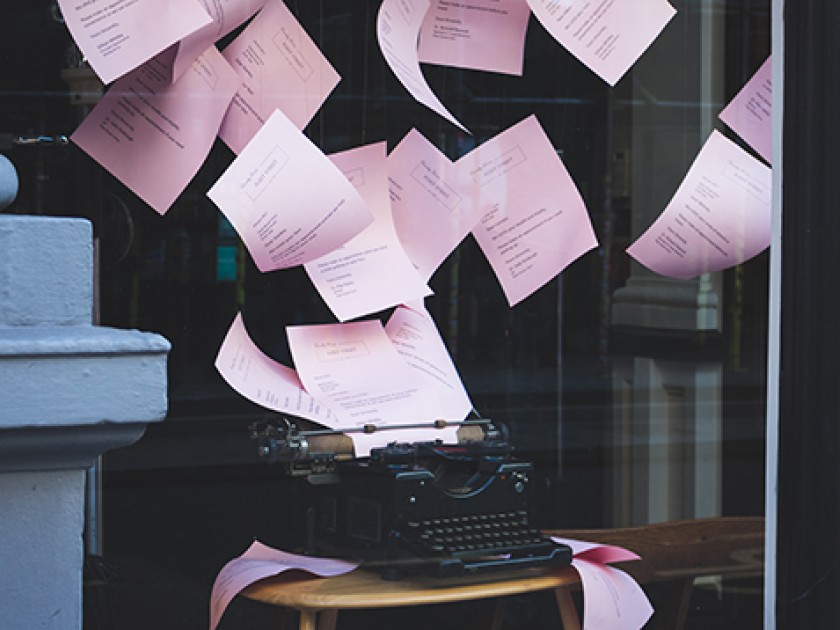 Lyn­da Schus­ter, author of Dirty Wars and Pol­ished Sil­ver, has been guest blog­ging for the Jew­ish Book Coun­cil this week as part of the Vis­it­ing Scribe series.
As I was writ­ing my mem­oir, Dirty Wars and Pol­ished Sil­ver, I thought a lot about how jour­nal­ism has changed over the decades. The book — which begins with the 1973 Yom Kip­pur War and ends with the 2014 Gaza War — chron­i­cles my time as a for­eign cor­re­spon­dent cov­er­ing inter­na­tion­al con­flicts for the Wall Street Jour­nal and as the wife of a U.S. ambas­sador. Journalism's trans­for­ma­tion dur­ing those years, both in its dis­sem­i­na­tion and in the role of its prac­ti­tion­ers, is noth­ing short of remarkable.
Much of the change is due, obvi­ous­ly, to the advent of the Inter­net and the rise of social media. When I start­ed out at the Jour­nal in the ear­ly 1980s, we were still using type­writ­ers to bang out our copy. (That thump­ing noise you hear is my dinosaur tail being tucked dis­crete­ly behind me.) Back then, when I want­ed to file a sto­ry to the States while cov­er­ing the wars in Cen­tral Amer­i­ca, say, I had to be beg, plead, cajole — bribe, even — the telex oper­a­tor at my hotel. And that assumed the pow­er grid hadn't been attacked. Bar­ring a sym­pa­thet­ic hotel typ­ist, I had to strike out, often in the dead of night to make my dead­line, to the city's cen­tral tele­phone exchange. Still, there was some­thing thrilling about the clack­ing, clat­ter­ing noise of the machine send­ing your story.
The years passed, and the tech­nol­o­gy improved. My first portable com­put­er could accom­mo­date about three sen­tences on the screen; to send a sto­ry, I had to fit rub­ber cups over the ear- and mouth­piece of a tele­phone. (That tele­phones even had mouth­pieces tells you right there this is ancient his­to­ry.) Those com­put­ers were prone to epic fail­ures. Once, after writ­ing up a sto­ry in Buenos Aires that I had spent sev­er­al days report­ing, I flew to Rio de Janeiro with the inten­tion of fil­ing the piece from there. (I was on a crazy dead­line to fin­ish a Brazil­ian sto­ry as well.) As soon I got to my stringer's office, I attached the cups, dialed New York, pressed ​"send" — and pouf! The sto­ry dis­ap­peared. Gone. Van­ished for­ev­er. The com­put­er had nei­ther hard dri­ve nor mem­o­ry — and I had noth­ing to file. So I did what any self-respect­ing reporter on dead­line would do: I pan­icked. Once I'd fin­ished hyper­ven­ti­lat­ing, though, I sat down and mirac­u­lous­ly recre­at­ed the sto­ry from mem­o­ry. After I made dead­line, my edi­tor — who appar­ent­ly liked the arti­cle I'd pieced togeth­er — said: ​"Maybe you ought to try los­ing your sto­ries more often."
Fast for­ward to today, with all the fan­cy, light-as-air lap­tops and instan­ta­neous means of trans­mis­sion. But while the Inter­net has made the actu­al job of jour­nal­ism eas­i­er, social media is, in many ways, ren­der­ing reporters super­flu­ous. That's espe­cial­ly true when it comes to for­eign reportage.
First, con­sid­er the vital role as con­duits that we jour­nal­ists used to play. When I cov­ered south­ern Africa in the late 1980s, the civ­il war in Ango­la — a proxy con­flict for Cold War suprema­cy in the region — had been rag­ing for almost fif­teen years. Amid talk of a pos­si­ble peace accord, anoth­er reporter and I were flown by the South African mil­i­tary to Ango­la to inter­view the head of the rebels. We arrived at their base — only to find the rebel leader had flown off an hour ear­li­er to con­sult with the pres­i­dent of a West African coun­try. His armed sol­diers made it clear, how­ev­er, that we were to remain as their ​"guests" until the leader returned. And there we were, stuck in a place so remote the for­mer Por­tuguese colonists called it ​"the land at the end of the earth." No means of com­mu­ni­ca­tion, no way of get­ting out (the South Africans left after drop­ping us off), noth­ing to do but sit in a hut and wait. For days. Until the leader returned: laugh­ing off our con­ster­na­tion at being held hostage, he gave us a lengthy inter­view, then sum­moned a plane to return us to South Africa.
The rebel chief had want­ed his opin­ion of the pend­ing peace accord trans­mit­ted to the world — and we were the only means to do so. Nowa­days, that wouldn't hap­pen. The rebels most like­ly would pos­sess their own web­site, Face­book and Twit­ter accounts, all man­ner of meth­ods to dis­sem­i­nate their mes­sage with­out hav­ing to rely on jour­nal­ists. Which accounts, in some ways, for tragedies such as the behead­ing by ISIS of reporter James Foley in 2014: we are more valu­able as pawns to gar­ner inter­na­tion­al atten­tion than as interlocutors.
Yet one essen­tial thing about the pro­fes­sion hasn't changed. Wit­ness the remark­able report­ing of late by the New York Times and Wash­ing­ton Post, among oth­ers, on mat­ters that oth­er­wise would have remained unknown to us cit­i­zens. No amount of tech­no­log­i­cal trans­for­ma­tion can ever replace that cor­ner­stone of our democracy.
Lyn­da Schus­ter is a for­mer for­eign cor­re­spon­dent for the Wall Street Jour­nal and Chris­t­ian Sci­ence Mon­i­tor. She report­ed from Cen­tral and South Amer­i­ca Mex­i­co the Mid­dle East and Africa. Her writ­ing has appeared in the New York Times Sun­day Mag­a­zine, The Atlantic, Gran­ta, and Utne Read­er. She is also the author of A Burn­ing Hunger: One Fam­i­ly's Strug­gle Against Apartheid.