Gwen Edel­man​'s first nov­el, War Sto­ry, was trans­lat­ed into eight lan­guages, won the Prix du Pre­mier Roman Etranger in France, and was a Koret Jew­ish Book Award final­ist. Her most recent nov­el, The Train to War­saw (Grove Press), is now avail­able. She will be blog­ging here all week for Jew­ish Book Coun­cil and MyJew­ish­Learn­ing.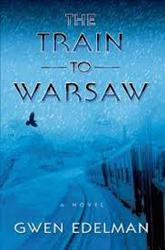 One Sep­tem­ber after­noon I took the train from Berlin to War­saw, as my char­ac­ters had done. I want­ed to see what they had seen. For the five and a half hours of that train ride I saw noth­ing but end­less miles of birch­es, pines, fields… It was a warm and sun­ny day. The blue sky was cloud­less. The sun­light glint­ed on the fields and stip­pled the birch­es with light. For my nov­el The Train to War­saw, I would have to imag­ine those same birch­es and pines and fields in the dead of win­ter, coat them with snow and frost and turn the sky white.
I had an appoint­ment to meet a jour­nal­ist from one of the major War­saw news­pa­pers. He had sug­gest­ed we meet in a tiny park near Gryzbows­ka St., a street that had once been inside the ghet­to. And so I set off from my hotel to meet him.
There is noth­ing left of the for­mer ghet­to. In the more than 800 acres that once encom­passed the ghet­to, white Sovi­et real­ist style apart­ment build­ings now cov­er block after block. Of the apart­ment build­ings, the shops, the syn­a­gogues from before the war (with the excep­tion of the Nozyk Syn­a­gogue), noth­ing remains. On one block sev­er­al red brick build­ings from before the war are still stand­ing; in the court­yard of an apart­ment build­ing a piece of the red brick ghet­to wall still exists. One or two oth­er build­ings are still there. But that is all. The ghet­to was burned to the ground by the Nazis dur­ing the Ghet­to Upris­ing of April 1943.
And of the for­mer life that once hummed in this cor­ner of the earth, noth­ing remains.
The jour­nal­ist and I sat down on a small stone bench. Scat­tered around the pock­et park, sev­er­al moth­ers sat rock­ing baby car­riages beneath a sun­ny sky. There was no one else. The jour­nal­ist and I talked qui­et­ly. All of a sud­den I heard, com­ing from the left, the tramp­ing of boots on cob­ble­stone. The sound grew loud­er. Five SS men in uni­form, smok­ing, armed, came into view. They did­n't look like extras in a film; in fact there were no cam­eras or crew any­where. The uni­forms looked lived-in, the boots were creased with wear. I thought I was hal­lu­ci­nat­ing. I had done so much research on the War­saw Ghet­to that I had begun to see visions. I turned to the jour­nal­ist. Are those SS men? I asked, incred­u­lous. Absolute­ly, he replied.
Now I heard the tramp­ing of boots com­ing from the right. I turned my head and saw a strag­gling group of par­ti­sans com­ing toward us, walk­ing sin­gle file. One had his head ban­daged, all wore out­fits that were ragged and torn. One had a blood­ied shirt sleeve, all had tin cups attached to their belts. They too were armed. The Pol­ish Home Army? I whis­pered. Absolute­ly, he informed me. An SS man had placed a straw bas­ket on the ground. Backs bent, a look of res­ig­na­tion on their faces, each one came up to the SS man and dropped his weapon in the basket.The last man shook the hand of the SS man, who dropped his cig­a­rette and ground it out with the toe of his leather boot. They turned and walked off.
What just hap­pened? I asked the jour­nal­ist. The Pol­ish Home Army has just sur­ren­dered to the SS, he informed me. What? I asked in dis­be­lief. Every year on the same date, in the same place, at the same time, the Pol­ish Home Army sur­ren­ders to the SS. But why? I asked. Why in the world would they re-enact their sur­ren­der of all things? He shrugged. He had no answer.
This part of town was so qui­et now, the streets near­ly desert­ed. Once there had been an ungod­ly din here. Crowds of up to 500,000 indi­vid­u­als surg­ing through the streets, a mad­house swarm­ing with peo­ple, the pave­ment and streets clogged with the dying and dead. Then there had been no peace, only ter­ror. Every­one in a mad rush, run­ning, push­ing for­ward against the crowds. Back then to stop was to die, to slow down was to be shot or dragged off.
Now a small boy pushed a scoot­er beneath a soft blue sky, a woman re-tied the strings of a baby's bon­net. Now the place was so peace­ful you could hear the sound of leaves soft­ly blown by the wind. How was I to imag­ine what had once tak­en place here?
Check back here tomor­row to hear more from Gwen Edeleman.
Relat­ed Content:
Gwen Edel­man's first nov­el, War Sto­ry, was trans­lat­ed into eight lan­guages, won the Prix du Pre­mier Roman Etranger in France, and was Koret Jew­ish Book Award final­ist. She lived for many years in Paris and now lives in New York.While work­ing on The Train to War­saw, Gwen walked the entire for­mer War­saw Ghet­to: north to south, east to west.