Ear­li­er this week, Liana Finck wrote about how she dis­cov­ered A Bin­tel Brief and shared the his­to­ry behind the col­umn. Her graph­ic nov­el, A Bin­tel Brief, was pub­lished by Ecco. She has been blog­ging here all week for Jew­ish Book Coun­cil andMyJew­ish­Learn­ing.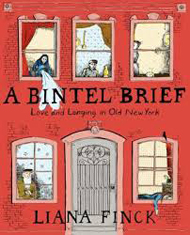 Abra­ham Cahan loved Yid­dish, but he was not afraid of change. He urged his read­ers to be less reli­gious, and to learn how to be Amer­i­cans. While oth­er Yid­dish news­pa­pers refused to print Amer­i­can­ized Yid­dish, Cahan's For­ward wel­comed the Eng­lish words that found their way into Yid­dish — vin­da (win­dow), boy­chik (boy).
The ear­ly Bin­tel Brief let­ters are time­less and could have been writ­ten any­where, by any­one who had left his old life behind and trav­eled across the ocean to a new world. To read them is to get to the essence of things. The lat­er Bin­tel Brief let­ters, on the oth­er hand, are bit­ter. As the For­ward​'s read­er­ship aged and dwin­dled, the let­ters were more often writ­ten by old­er peo­ple, no longer new to Amer­i­ca. They were the last bas­tions of the Yid­dish lan­guage, watch­ing sad­ly as their chil­dren grew up, went to col­lege, made mon­ey, and became ashamed of their par­ents. ​'Dear Mr. Edi­tor,' peo­ple would write, ​'Our chil­dren have a Christ­mas tree;' ​'Our chil­dren don't keep kosher;' ​'Our chil­dren don't want us to read a Yid­dish news­pa­per in pub­lic. It embar­rass­es them.'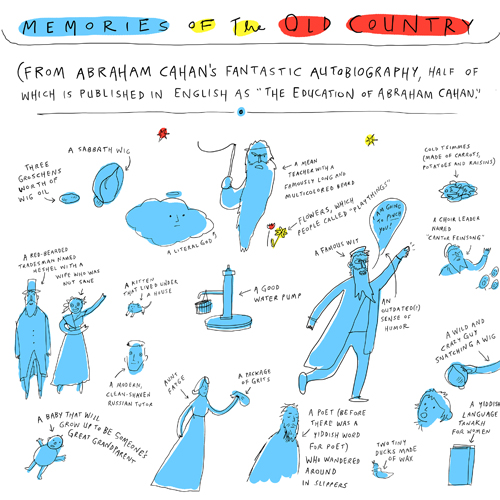 If the ear­ly Bin­tel Brief let­ters make me feel con­nect­ed to my great-grand­par­ents and to my past, the lat­er let­ters hold an uneasy mir­ror up to my new­found nos­tal­gia. To me, the let­ters embod­ied a bit­ter-sweet kind of long­ing for my own cul­ture, and home­sick­ness for my own city. Not many peo­ple speak Yid­dish any­more — a loss that is too big to fath­om; our cul­ture lived in that lan­guage, more than in any place.
While I worked on my book, I felt like I was writ­ing my own Bin­tel Brief let­ter to Abra­ham Cahan: ​"Where are the Jews I can relate to," I asked. ​"Where is the old, scrap­py New York, the New York that cor­re­sponds to my intense, wor­ried, immigrant's soul?"
How did Cahan answer the late Bin­tel Brief let­ters? He didn't.
Not one for sen­ti­men­tal­i­ty, he hand­ed off the role of advice colum­nist to a staff-mem­ber at the For­ward, occu­py­ing him­self with more inter­est­ing mat­ters, such as writ­ing a great Amer­i­can nov­el, eat­ing schav (a green soup), and tak­ing up bird watch­ing. If Cahan were alive now, I don't think he'd have been the edi­tor of a Yid­dish news­pa­per. He'd be one step ahead of the rest of us, find­ing the new zeit­geist before we knew it exist­ed. I love the past, and long for it, and seek it always. But Cahan's spir­it is not in the past. It is here. It is now. It does many good things in the world, includ­ing teach­ing nos­tal­gic mis­fits like me to under­stand that we do belong in the here and the now.
Liana Finck is an emerg­ing graph­ic nov­el­ist. She was a Ful­bright Fel­low in Brus­sels in 2009-10 and is a Six Points Fel­low in New York. She pub­lish­es in The For­ward News­pa­per and Tablet Mag­a­zine. Read more about her here.
Relat­ed Content:
Liana Finck is the author of Pass­ing for Human and Excuse Me and a reg­u­lar con­trib­u­tor to The New York­er. She is a recip­i­ent of a Ful­bright Fel­low­ship, a New York Foun­da­tion for the Arts Fel­low­ship, and a Six Points Fel­low­ship for Emerg­ing Jew­ish Artists. She has had artist res­i­den­cies with Mac­Dow­ell, Yad­do, the Low­er Man­hat­tan Cul­tur­al Coun­cil, Head­lands Cen­ter for the Arts, and Willa­pa Bay.