Ear­li­er this week, Liana Finck shared the his­to­ry behind the For­ward​'s Bin­tel Brief col­umn. Her graph­ic nov­el, A Bin­tel Brief, was pub­lished by Ecco. She will be blog­ging here all week for Jew­ish Book Coun­cil and MyJew­ish­Learn­ing.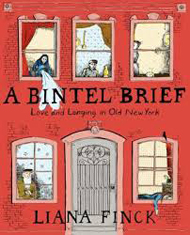 I did not mean to fall in love with the Bin­tel Brief let­ters. I grew up Jew­ish in the New York sub­urbs and defined myself by what the Jew­ish sub­urbs were not — I was an odd, shy kid who loved ani­mals and nature and who drew, and I felt like an alien among the mall rats. (At least, that is how I remem­ber things.) I escaped as soon as I could, to art col­lege in New York, in search of ​'my peo­ple' — artists and writ­ers — and art, and books. I knew before I grad­u­at­ed that I want­ed to make graph­ic nov­els, but it didn't mat­ter to me what sto­ry I told. The medi­um was the mes­sage. After col­lege, I went to Bel­gium on a Ful­bright grant. I had want­ed to get away from every­one I knew; I still felt more com­fort­able with art and books than with peo­ple. I sensed that the soon­er I made a book of my own, the soon­er I would feel that I had a rea­son to exist; and I believed that the fastest way to cre­ate that book would be in a kind of social vac­u­um. But I sunk under the weight of the graph­ic nov­el I was try­ing to work on (which was to be about a comics artist's tor­tured friend­ship with a fine artist); I was frus­trat­ed by what I lat­er real­ized was a lack of flu­en­cy in the craft of comics-mak­ing. Mid-way into my year abroad, my grand­moth­er sent me the first half of Isaak Metzker's two-vol­ume col­lec­tion of Bin­tel Brief let­ters trans­lat­ed into Eng­lish—A Bin­tel Brief: Six­ty Years of Let­ters from the Low­er East Side to the Jew­ish Dai­ly For­ward (Dou­ble­day, 1971).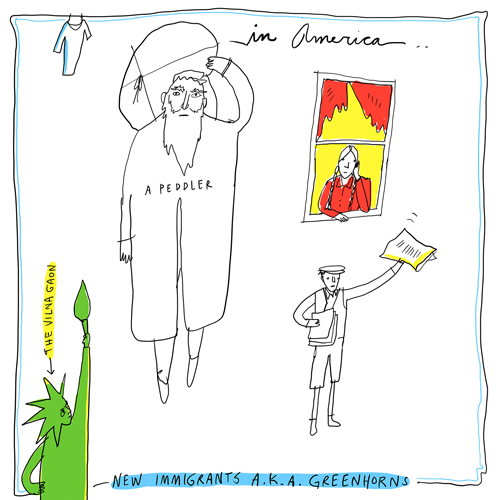 Read­ing the col­lec­tion of Bin­tel Brief let­ters was the most urgent thing that hap­pened to me that year. I hadn't brought any Eng­lish books to Brus­sels because I want­ed to force myself to learn French; so the book was rare and pre­cious, like a rel­ic from my lost civ­i­liza­tion. When I start­ed read­ing, the let­ters remind­ed me why I want­ed to make a book in the first place. They made me cry. I also began to relate to the let­ter-writ­ers — who had left home in search of a new life, and land­ed in New York. Then, with a shock, I real­ized that the let­ter-writ­ers could have been my great-grand­par­ents. I'd set out on a jour­ney look­ing for a trea­sure, only to find it buried deep down under my own doorstep. When I got home from Bel­gium, I chose some of the Bin­tel Brief let­ters from Metzker's book — and some oth­er, untrans­lat­ed let­ters from micro­film copies of The For­ward—and began adapt­ing them into a graph­ic nov­el. I still wres­tled with my medi­um, but less. It was eas­i­er because I had a sto­ry to tell.
Liana Finck is an emerg­ing graph­ic nov­el­ist. She was a Ful­bright Fel­low in Brus­sels in 2009-10 and is a Six Points Fel­low in New York. She pub­lish­es in The For­ward News­pa­per and Tablet Mag­a­zine. Read more about her here.
Relat­ed Content:
Liana Finck stud­ied fine art at Coop­er Union Col­lege in New York on a full schol­ar­ship. She is the recip­i­ent of a Ful­bright Fel­low­ship to Brus­sels to make a graph­ic nov­el based on
Tintin
cre­ator Georges Remi's bad dreams. She was
Tablet Mag­a­zine
​
'
s Artist in Res­i­dence in
2011
, and a
2012
recip­i­ent of a
NYFA
grant in fiction.