Liana Finck is an emerg­ing graph­ic nov­el­ist. She was a Ful­bright Fel­low in Brus­sels in 2009-10 and is a Six Points Fel­low in New York. She pub­lish­es in The For­ward News­pa­per and Tablet Mag­a­zine. Her graph­ic nov­el, A Bin­tel Brief, was pub­lished by Ecco. She will be blog­ging here all week for Jew­ish Book Coun­cil and MyJew­ish­Learn­ing.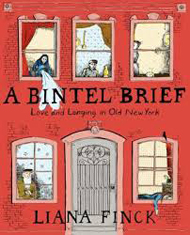 In Jan­u­ary 1906, a woman wrote a let­ter to a Yid­dish dai­ly news­pa­per called the For­ward, to com­plain that her watch had dis­ap­peared. The let­ter was writ­ten in chop­py Yid­dish; the woman was not used to writ­ing and it was obvi­ous­ly a strug­gle for her to put her thoughts on paper. The watch was the woman's only valu­able pos­ses­sion. When her son, who sup­port­ed the fam­i­ly, couldn't find work, she would pawn the watch so that they'd be able to buy food. The woman sus­pects her neigh­bor, an even poor­er woman, of tak­ing the watch. She writes ​"Now the watch lies in the hands of your pawn­shop man and not in the hands of my pawn­shop man."
At first, the news­pa­per edi­tor who read the let­ter thought the woman had writ­ten it in spite, and was try­ing to shame her neigh­bor. But on clos­er inspec­tion, he real­ized that the let­ter was actu­al­ly an exer­cise in tact. The woman didn't want to hurt her neighbor's feel­ings by con­fronting her; but she knew the neigh­bor read the For­ward, and hoped to plead with her anony­mous­ly through its pages. The let­ter ends: ​"I swear on the life of my sick hus­band that I will remain your friend…just send me the pawn tick­et in the mail and I won't say a word… But give me back my bread."
The For­ward​'s edi­tor, Abra­ham Cahan, pub­lished the let­ter the next day, under a new head­ing, ​"A Bin­tel Brief" — a bun­dle of let­ters. The advice col­umn ran in For­ward for the next six­ty years. A Bin­tel Brief was an advice col­umn to the high­est degree and the most oper­at­ic pow­er. Through it, young, alien­at­ed Jew­ish immi­grants from East­ern Europe were giv­en a rare chance to be heard. Moth­ers wrote in to find the chil­dren they'd put up for adop­tion; despair­ing peo­ple were urged against sui­cide; starv­ing fam­i­lies were direct­ed to char­i­ty orga­ni­za­tions; fathers with tuber­cu­lo­sis bared their sor­rows about not being allowed to hug their chil­dren; women pub­licly shamed their ​'miss­ing' hus­bands. Heavy stuff. And yet: the let­ters have the anec­do­tal light­ness you'd expect of a more nor­mal advice col­umn. They are sur­pris­ing­ly sweet, often fun­ny — like small, bright­ly lit win­dows into the lives of peo­ple caught at their most vul­ner­a­ble, who, through some trick of the print­ed word, seem like char­ac­ters in the best kind of fairy­tale; their lives are hard, but their sad­ness has mean­ing, their dif­fi­cul­ties are tem­pered by some­thing oth­er­world­ly. Cahan read the let­ters and answered them con­cise­ly, in a father­ly, rab­bini­cal voice.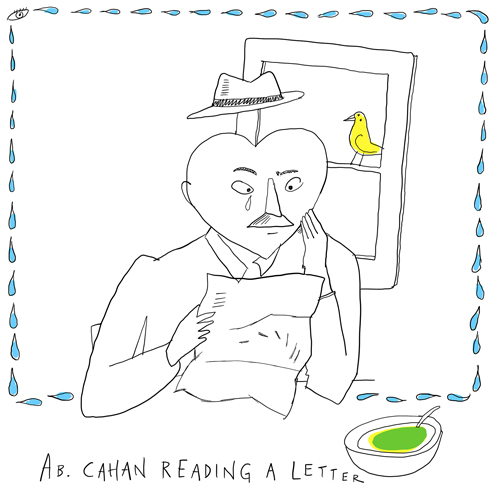 On the side, Cahan wrote nov­els in Eng­lish about his world. He want­ed to edu­cate the Amer­i­can pub­lic about the Jew­ish immi­grants and where they'd come from. His books were rad­i­cal — no one want­ed to read a nov­el about the New York slums, or the Jews. His most famous nov­el is called The Rise of David Levin­sky. It is a Dick­en­sian tragedy about the Amer­i­can dream, and is full of vivid details from a van­ished New York, as well as the thriv­ing Jew­ish towns in East­ern Europe that have been destroyed since then.
Read more about Liana Finck here.
Relat­ed Content:
Liana Finck is the author of Pass­ing for Human and Excuse Me and a reg­u­lar con­trib­u­tor to The New York­er. She is a recip­i­ent of a Ful­bright Fel­low­ship, a New York Foun­da­tion for the Arts Fel­low­ship, and a Six Points Fel­low­ship for Emerg­ing Jew­ish Artists. She has had artist res­i­den­cies with Mac­Dow­ell, Yad­do, the Low­er Man­hat­tan Cul­tur­al Coun­cil, Head­lands Cen­ter for the Arts, and Willa­pa Bay.