by Boris Fishman
This essay appeared in some­what dif­fer­ent form on the web­site of The Cen­ter for Fiction.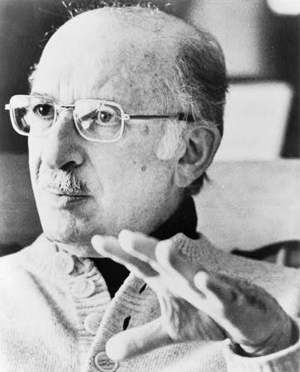 Bernard Mala­mud (1914−1986) is the wrong writer for our age. Today's young fic­tion writ­ers live in an Age of Me: Mem­oirists in nov­el­ist cloth­ing, we under­stand the world by under­stand­ing our­selves. Mala­mud was the son of a Brook­lyn gro­cer who fled tsarist Rus­sia. Hav­ing come of age dur­ing the Depres­sion, the same era that shaped his con­tem­po­rary Saul Bel­low, Mala­mud wrote about Them: The unad­justable Old World elders who were his milk at home and his give­away when Mala­mud was try­ing to make him­self an Amer­i­can out of it; the Chris­tians who seemed as gen­er­al in Amer­i­ca as they had been in the Pale (The Assis­tant); the inex­plic­a­ble blacks, who seemed to suf­fer just as the Jews did but saw in it com­pe­ti­tion rather than kin­ship (The Ten­ants).
Malamud's con­cerns were as broad as God's world would allow: God's Grace was about ther­monu­clear war. They were just as grave when he looked in a man's heart: The Fix­er, which, in 1967, won a Nation­al Book Award and Pulitzer Prize both (one of only sev­en books in his­to­ry to have done that), stands with William Styron's The Con­fes­sions of Nat Turn­er as the great Amer­i­can tes­ta­ment of a sufferer's dis­cov­ery of himself.
It is these qual­i­ties that give the lie to the usu­al group­ing Mala­mud receives, along­side Bel­low and Philip Roth. (Invari­ably, Mala­mud gets the bronze.) Malamud's con­cerns sat poor­ly on Bel­low; the lat­ter broke through as a nov­el­ist only after he sang the hymn of the Amer­i­can Me in Augie March. Philip Roth, the son of entire­ly dif­fer­ent times, has done his most con­sci­en­tious work in non­fic­tion. Until the end, Malamud's con­cern was moral­i­ty; he wrote as if from a deathbed.
As the lit­er­ary crit­ic Philip Rahv put it: "[A] ​'Jew­ish' trait in Mala­mud… is his feel­ing for human suf­fer­ing on the one hand and for a life of val­ue, order, and dig­ni­ty on the oth­er. Thus he is one of the very few con­tem­po­rary writ­ers who seems to have escaped the clutch of his­tor­i­cal cir­cum­stance that has turned nihilism into so pow­er­ful a temp­ta­tion; nihilis­tic atti­tudes, whether of the hedo­nis­tic or absur­dist vari­ety, can nev­er be squared with Malamud's essen­tial­ly human­is­tic inspi­ra­tion." Rahv points out, in com­par­ing Mala­mud with a fabled pre­de­ces­sor, ​"The feel­ing for human suf­fer­ing is of course far from being an exclu­sive­ly ​'Jew­ish' qual­i­ty. It fig­ures even more promi­nent­ly in Dos­to­evsky. The Russ­ian nov­el­ist, how­ev­er, under­stands suf­fer­ing pri­mar­i­ly as a means of purifi­ca­tion and of eter­nal sal­va­tion, where­as in Mala­mud suf­fer­ing is not ide­al­ized: suf­fer­ing is not what you are look­ing for but what you are like­ly to get… Dos­to­evsky ​'s cor­rel­a­tive idea that ​'we're all cru­el, we're all mon­sters'… is quite alien to Malamud."
The writer Alek­san­dar Hemon, an admir­er of Mala­mud, won­dered, dur­ing a 2008 New York­er pod­cast about the old­er author, whether it is this that accounts for Malamud's down­sized posi­tion in our times, which seem more devot­ed to daz­zle and irony. I am far more devot­ed to Mala­mud than the times, then. For Rahv, Mala­mud is an heir to ​"Kaf­ka​'s moral earnest­ness in his approach to the mak­ing of lit­er­a­ture, of which he con­ceived as a sacred expen­di­ture of ener­gy, an effort at com­mu­nion with his fel­low men, the reflect­ed splen­dor of reli­gious per­cep­tion." That is the kind of lit­er­a­ture that I, as a start­ing nov­el­ist, wish to inherit.
Unlike Bel­low and Roth, Mala­mud did not feel parochial­ized by the label of Jew­ish-Amer­i­can writer. ​"I'm an Amer­i­can, I'm a Jew, and I write for all men," he told The Paris Review in 1974. ​"A nov­el­ist has to, or he's built him­self a cage. I write about Jews, when I write about Jews, because they set my imag­i­na­tion going… I was born in Amer­i­ca and respond, in Amer­i­can life, to more than Jew­ish expe­ri­ence. I wr[i]te for those who read." In oth­er words, if you write sto­ries of uni­ver­sal predica­ments, that the char­ac­ters are Jew­ish rather than Zulu is, in some ways, a technicality.
No one has writ­ten of those uni­ver­sal predica­ments as mov­ing­ly as Mala­mud. His work epit­o­mizes the writer's first les­son: Only the spe­cif­ic can hope to speak uni­ver­sal­ly. Malamud's heroes – Dubin, Less­er, Levin, Fidel­man – usu­al­ly wear only last names, for they are Every­men grap­pling with exis­ten­tial quan­daries (what is love? how to make sense of one's oblig­a­tions to fam­i­ly?) that would hard­ly sur­prise that hypo­thet­i­cal Zulu. Impor­tant­ly, though, they are not Every­men, that is, types or sym­bols – they are Dubin, Less­er, Levin, and Fidel­man, with all the stub­born par­tic­u­lar­i­ties of those indi­vid­ual lives. And their pre­oc­cu­pa­tions are sub­merged in rich­ly detailed, real­ist nar­ra­tives. But their quan­daries are so basic and essen­tial that one might as well be read­ing a myth. Malamud's style con­tributes to the feel­ing: Through end­less rewrit­ing Mala­mud removed every extra­ne­ous word – and then anoth­er. Philip Roth poked fun at this in The Ghost­writer, where an alter ego of Malamud's says: ​"I turn sen­tences around. That's my life. I write a sen­tence and then I turn it around. Then I look at it and I turn it around again." How­ev­er, the result is sto­ries that have been reduced to essen­tials, like liq­uid in a pan, with such force that the bedrock that remains feels like para­ble. Mala­mud wrote fairy tales for grown-ups.
And so, arguably no age has need­ed him more, for it is brains, tech­nique, and self-inter­est that we young nov­el­ists, and our gen­er­a­tion, own in excess; and heart, vision, con­science, and dis­ci­pline where we lack. We must lift our heads from our navels and try to mea­sure the world; we will find Bernard Mala­mud hold­ing out a ruler to help us. I owe the pub­li­ca­tion of my first nov­el in no small mea­sure to Malamud's extend­ed hand. In the late fall of 2012, I was at an artist colony in south­east­ern Wyoming work­ing through the umpteenth draft of the nov­el, about a failed young jour­nal­ist in Malamud's Brook­lyn (that is, the unfash­ion­able part) who starts forg­ing Holo­caust-resti­tu­tion claims for those very same elders with whom the author had tried to rec­on­cile himself.
I had read most of the author's oeu­vre by then, leav­ing only The Ten­ants and Dubin's Lives, two books, one about Brook­lyn and the oth­er about rur­al Con­necti­cut, that couldn't have had less to do with my set­ting at the time. But Mala­mud built the bridge. Every morn­ing, I would trudge in the piney, astrin­gent cold to my writ­ing stu­dio and take an hour­long hit of Mala­mud before sit­ting down to my own work. I had to ration: the books had to last the month. The draft that I, an Old World Jew in the New West (which also host­ed Mala­mud when he taught at Ore­gon State from 1949 – 61, the basis for his nov­el A New Life), fin­ished under Malamud's tute­lage was the one that got me a con­tract with HarperCollins.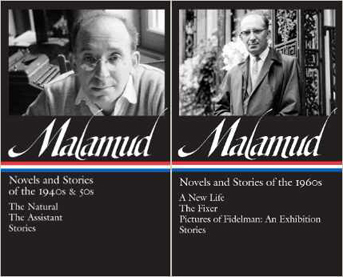 I couldn't have been hap­pi­er to learn recent­ly that I am wrong at least in some of my con­cerns about Malamud's decline. This year, the Library of Amer­i­ca is com­mem­o­rat­ing his cen­ten­ni­al with the pub­li­ca­tion of a com­pendi­um of his work. (On May 1, I am host­ing a kind of 100th birth­day par­ty for ​"Bernie" at The Cen­ter for Fic­tion in Mid­town Man­hat­tan, fea­tur­ing a diverse set of admir­ers, such as the nov­el­ists Tea Obre­ht, Bharati Mukher­jee, Kevin Bak­er, and Alan Cheuse, as well as mem­bers of Malamud's fam­i­ly.) The two vol­umes offer a rare oppor­tu­ni­ty to re-acquaint one­self with the work of a true master.
If you are look­ing for a place to begin, open to The Assis­tant, for me Malamud's finest nov­el. The sto­ry of Mor­ris Bober, a poor Brook­lyn gro­cer, and his wife Ida; their oppressed but oblig­ing daugh­ter Helen; and Frank Alpine, the local thug who upends their lives and is trans­formed by the Bobers in turn, it is as con­cen­trat­ed an evo­ca­tion of the mys­te­ri­ous work of the heart as any you'll come across. Then go on to The Fix­er. More than any­thing, how­ev­er, I envy you the dis­cov­ery of Malamud's short sto­ries, part of both vol­umes. Just about each of the strange, gleam­ing jew­els includ­ed in the Library of Amer­i­ca trib­ute is like a knife past the heart down deep into the very skin of the soul.
Boris Fishman's debut nov­el A Replace­ment Life, about a failed young jour­nal­ist who starts forg­ing Holo­caust-resti­tu­tion claims for old Russ­ian Jews in Brook­lyn, is out from Harper­Collins June 3. Read more about Boris Fish­man and A Replace­ment Life here.
Relat­ed Content:
Boris Fish­man was born in Min­sk, Belarus. He is the author of the nov­els A Replace­ment Life (win­ner of the VCU Cabell First Nov­el­ist Award and the Amer­i­can Library Asso­ci­a­tion's Sophie Brody Medal) and Don't Let My Baby Do Rodeo. Both were New York Times Notable Books of the Year. Sav­age Feast, a fam­i­ly mem­oir told through recipes, will be out in paper­back in ear­ly 2020. His jour­nal­ism has appeared in The New York­er, The New York Times Mag­a­zine, and many oth­er pub­li­ca­tions. He lives in New York and teach­es cre­ative writ­ing at Prince­ton University.