Ear­li­er this week, Boris Fish­man wrote about suf­fer­ing, vic­tim­hood, evil, and the space in between as well as the impor­tance of doc­u­ment­ing your fam­i­ly his­to­ry. His debut nov­el A Replace­ment Life was pub­lished this week by Harper­Collins. He has been blog­ging here all week for Jew­ish Book Coun­cil and MyJew­ish­Learn­ing.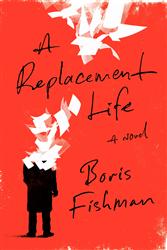 I sub­ject­ed you to quite a bit of fire and brim­stone on Wednes­day, so let's end the week on a lighter note. That's right, a pop quiz. Don't wor­ry, it's only five ques­tions and they're all True or False. And there's a car­rot: The first read­er to answer all five accu­rate­ly in an e‑mail to contact@​borisfishman.​com will receive a free auto­graphed copy of my nov­el A Replace­ment Life, out this week.
The sub­ject of the quiz: Grandfather's Shenani­gans. A Replace­ment Life tells the sto­ry of a young man who starts forg­ing Holo­caust-resti­tu­tion claims for old Russ­ian Jews in Brook­lyn on the insti­ga­tion of his grand­fa­ther. My real-life grand­fa­ther didn't ask me to do that, but he shares quite a bit tem­pera­men­tal­ly with his avatar in the nov­el. What kind of men are they? Men who get things done, in the old-fash­ioned sense: Resource­ful, swash­buck­ling, unboth­ered by niceties. But I am no schlub – I know how to lie, too; I am my grandfather's grand­son, after all. So: Below find five sto­ries about things that sup­pos­ed­ly hap­pened to my real-life grand­fa­ther. Did they hap­pen? Or did I make them up? You be the judge.
1. State-spon­sored anti-Semi­tism decreased dur­ing World War II; all Sovi­ets had a com­mon ene­my in the Ger­mans. But it was revived after the war; in the 1960s, all Min­sk Jews with Rus­si­fied names – say, Mikhail in place of Mor­dukh – were ordered to appear at police precincts to have their pass­ports ​"restored" for eas­i­er ​"iden­ti­fi­ca­tion." Grand­fa­ther went around the homes of fam­i­ly and close friends, col­lect­ing pass­ports in a sack. Then he went to the police precinct. There he found a Cap­tain Grishelev. ​"I brought you a sack of pass­ports, Cap­tain Grishelev," Grand­fa­ther said. Only that on the way, Grand­fa­ther had added to the sack three bot­tles of vod­ka. Cap­tain Grishelev decid­ed to leave the pass­port-alter­ing until the vod­ka was done. He and Grand­fa­ther went through the first bot­tle, the sec­ond, the third. By then, Cap­tain Grishelev would have kissed my grand­fa­ther soon­er than touch one of those pass­ports. He sent Grand­fa­ther home and all the Mikhails stayed Mikhails.
2. While we're on the sub­ject of drink­ing: Grand­moth­er need­ed her gall­blad­der removed. Grand­fa­ther didn't like leav­ing things to chance. He found the best sur­geon in Min­sk and showed up on his doorstep the night before the oper­a­tion with three bot­tles of Armen­ian cognac. There was no way the sur­geon would work cav­a­lier­ly on some­one whose hus­band had made him such a gift. They drank and drank, into the wee hours, becom­ing friends and eas­ing Grandfather's heart. The next morn­ing, how­ev­er, Grand­fa­ther saw what all this new cama­raderie cost: The sur­geon was still drunk. In which con­di­tion he oper­at­ed on my grand­moth­er. And they doubt the mir­a­cles of Sovi­et medicine.
3. Grand­fa­ther was part of a gold-smug­gling ring. (Pos­ses­sion of gold, as a for­eign cur­ren­cy, was ille­gal in the USSR.) There were five mem­bers; the four oth­ers were caught. They were not espe­cial­ly close with Grand­fa­ther; the five were asso­ciates of con­ve­nience. When the four were asked who else was part of the ring, they said: No one. If they didn't pony up their con­fed­er­ates, they were told, they would be exe­cut­ed. No one, they repeat­ed. They were exe­cut­ed. Grand­fa­ther lived.
4. Grand­fa­ther was on a busi­ness trip to Moscow when he heard they were offer­ing bras at the depart­ment store. You might find noth­ing odd in this, Amer­i­can read­er – that is, after all, what depart­ment stores are sup­posed to do. Not Sovi­et depart­ment stores, which offered great vari­ety in Short­ages and Emp­ty Shelves, but not as much in actu­al prod­ucts. By the time Grand­fa­ther got to the depart­ment store, the line was out the door and down the block. He didn't have that kind of time. With a friend, he climbed to the sec­ond-floor gallery, right above the spot on the ground floor where the bras were being dis­pensed. ​"Now you take me by the ankles and hang me over the ban­is­ter," he instruct­ed his friend. His friend com­plied. This put Grand­fa­ther, upside down, at eye lev­el with the bra sales­woman. ​"A bra for my wife, quick!" he yelled. ​"But what size?!" the poor sales­woman demand­ed. What size! A man is hang­ing off the sec­ond-floor land­ing by his ankles and still it isn't enough! ​"I don't know what size!" he yelled. ​"Like this!" He fit his hand around an imag­i­nary grape­fruit. That told the sales­woman what she need­ed to know. She gave him two bras and a com­pli­ment for being a devot­ed husband.
5. Grand­fa­ther was on his way home from the mar­ket with a fresh chick­en. On the way home, he saw an old friend of the fam­i­ly stand­ing in her door­way. ​"Avremele!" she called out to him. ​"How much did you get that chick­en for?" Avremele liked to brag once in a while so he said half of what he had actu­al­ly paid. ​"Avremele…" the old lady drawled. ​"I'm an old lady, weak… Sell it to me. And then run on back to the mar­ket with your young legs and get your­self anoth­er." How can an upstand­ing boy say no to a plea of that kind? Only that on that day, Avremele paid price and a half for his chicken.
A win­ner was select­ed on Mon­day, June 9th. The win­ning answer is that all five sto­ries are true!
Boris Fish­man immi­grat­ed from the USSR at nine. He stud­ied Russ­ian lit­er­a­ture at Prince­ton, was on staff at The New York­er, co-wrote the US Senate's Hur­ri­cane Kat­ri­na report, and has received a Ful­bright to Turkey. He has writ­ten for The New York­er, The New York Times, The Wall Street Jour­nal, Tablet, The For­ward, The Jerusalem Report, and many oth­ers. He lives in New York. Read more about him here.
Relat­ed Content:
Boris Fish­man was born in Min­sk, Belarus. He is the author of the nov­els A Replace­ment Life (win­ner of the VCU Cabell First Nov­el­ist Award and the Amer­i­can Library Asso­ci­a­tion's Sophie Brody Medal) and Don't Let My Baby Do Rodeo. Both were New York Times Notable Books of the Year. Sav­age Feast, a fam­i­ly mem­oir told through recipes, will be out in paper­back in ear­ly 2020. His jour­nal­ism has appeared in The New York­er, The New York Times Mag­a­zine, and many oth­er pub­li­ca­tions. He lives in New York and teach­es cre­ative writ­ing at Prince­ton University.