Boris Fish­man immi­grat­ed from the USSR at nine. He stud­ied Russ­ian lit­er­a­ture at Prince­ton, was on staff at The New York­er, co-wrote the US Senate's Hur­ri­cane Kat­ri­na report, and has received a Ful­bright to Turkey. His debut nov­el A Replace­ment Life will be pub­lished tomor­row by Harper­Collins. He will be blog­ging here all week for Jew­ish Book Coun­cil and MyJew­ish­Learn­ing.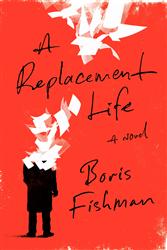 I've day­dreamt for more than a decade about what a day like tomor­row – pub­li­ca­tion date for my debut nov­el A Replace­ment Life – might feel like. But there's a sor­row­ful under­tow to this week's joy – it marks a decade since the pass­ing of my mater­nal grand­moth­er, a ver­sion of whom plays a cen­tral role in the nov­el. That's no acci­dent. In the nov­el – the sto­ry of a young man who starts forg­ing Holo­caust-resti­tu­tion claims for old Russ­ian Jews in Brook­lyn – the nar­ra­tor, Sla­va Gel­man, agrees to break the law in part because it's an oppor­tu­ni­ty to recre­ate on the page a grand­moth­er he nev­er got to know in real life. Want­i­ng to ​"dia­lyze" Sovi­et Brook­lyn out of him­self, Sla­va runs off to Man­hat­tan (think­ing that'll do it), and miss­es the last year of her life (she has a slow-mov­ing, ter­mi­nal ill­ness). Filled with regret, he begins invent­ing her per­son­al his­to­ry in the false claim let­ters – now his only way to ask her the things he didn't get to ask her when she was alive.
I'm often asked how much my appar­ent­ly auto­bi­o­graph­i­cal nov­el – like Sla­va, I emi­grat­ed from the for­mer Sovi­et Union as a kid; I also grew up in south Brook­lyn – shares with real life, and the sto­ry of Slava's rela­tion­ship with his grand­moth­er, as com­pared to my with mine, is a good illus­tra­tion of the way fact and inven­tion blend in this kind of sto­ry. Like Slava's grand­moth­er, mine was a sur­vivor of the Min­sk ghet­to. Like his, she wasn't eager to recall the details of that expe­ri­ence when I pressed her. Unlike Sla­va, how­ev­er, I declined to respect my grandmother's ret­i­cence. (Why did I press her? I'm not sure. Could I, as a teenag­er, under­stand that it was valu­able to know, for one rea­son or anoth­er? I didn't begin to artic­u­late the answer until I came up with one for Sla­va in the nov­el: ​"Already, by then, he was vis­it­ed by the Amer­i­can under­stand­ing that it was bet­ter to know than not to know." In this way, fic­tion pro­pos­es answers that life fails to find.)
The offi­cial rea­son my grand­moth­er didn't want to talk was that she ​"didn't want to upset [me]." But in a Sovi­et-Jew­ish fam­i­ly, where forth­right­ness is often tak­en as rude­ness and ask­ing for what you need as a kind of self­ish­ness, this kind of ​"con­sid­er­ate­ness" is often cov­er for per­son­al motive. I nev­er asked, but hers must have been: She didn't want to remem­ber. So I tricked her into it. I told her I had an assign­ment to cre­ate a fam­i­ly-his­to­ry nar­ra­tive for his­to­ry class. Grand­moth­er wouldn't dare cost me a good grade, and the sto­ries came – imag­i­na­tion-bog­gling sto­ries that pro­found­ly deep­ened our con­nec­tion, my con­science, and also my consciousness.
In trans­mut­ed form, her sto­ries – her his­to­ry – are now enshrined in a nov­el that will live longer than she could. But when I inter­viewed her, the nov­el was less than a glim­mer in my eye. I pressed her because she had gone through some­thing extra­or­di­nary, and her descen­dants, this one includ­ed, deserved to know what, even if it meant sub­ject­ing her to duress. Self­ish­ly, I had decid­ed that price worth it. Six­ty years lat­er, I want­ed to be able to hand my own grand­son a stack of inter­view notes and say: ​"Here. This is who your great-great-grand­moth­er was." And why is that valu­able? Again, the nov­el answered: ​"Tell me because I'd like to tell my grand­chil­dren one day. Tell me because it hap­pened to you, and so I should know. Tell me because it will bring me clos­er to you, and I want to be close to you."
I believe there is a dig­ni­ty to being able to trace your­self back through his­to­ry – via genes, via sto­ries, via what­ev­er you've got. That man­date has spe­cial mean­ing for Jews – because there is so much suf­fer­ing for us to remem­ber, so many calami­ties that remem­brance must fore­stall from occur­ring ever again. For immi­grants also – in emi­grat­ing to the Unit­ed States, my fam­i­ly trad­ed gen­er­a­tions of life in East­ern Europe to start from zero in Amer­i­ca. We gave up the soil, and many oth­er, less tan­gi­ble, things. Until my great-great-great-great grand­chil­dren, born Amer­i­cans six times over, read my inter­views with my grand­moth­er 150 years from now, all we've got is stories.
So, sit down your elders. Bet­ter yet, make your chil­dren do it. Ask your old ones to talk. And – gen­tly, lov­ing­ly, apolo­get­i­cal­ly – ignore them when they try to demur. Your children's descen­dants are count­ing on you for their patrimony.
Stay tuned for more from Boris all week, includ­ing a spe­cial treat for our read­ers on Friday!
Boris Fish­man has writ­ten for The New York­er, The New York Times, The Wall Street Jour­nal, Tablet, The For­ward, The Jerusalem Report, and many oth­ers. He lives in New York. Read more about him here.
Relat­ed Content:
Boris Fish­man was born in Min­sk, Belarus. He is the author of the nov­els A Replace­ment Life (win­ner of the VCU Cabell First Nov­el­ist Award and the Amer­i­can Library Asso­ci­a­tion's Sophie Brody Medal) and Don't Let My Baby Do Rodeo. Both were New York Times Notable Books of the Year. Sav­age Feast, a fam­i­ly mem­oir told through recipes, will be out in paper­back in ear­ly 2020. His jour­nal­ism has appeared in The New York­er, The New York Times Mag­a­zine, and many oth­er pub­li­ca­tions. He lives in New York and teach­es cre­ative writ­ing at Prince­ton University.