Yes­ter­day, Boris Fish­man wrote about the impor­tance of doc­u­ment­ing your fam­i­ly his­to­ry. His debut nov­el A Replace­ment Life was pub­lished today by Harper­Collins. He will be blog­ging here all week for Jew­ish Book Coun­cil and MyJew­ish­Learn­ing.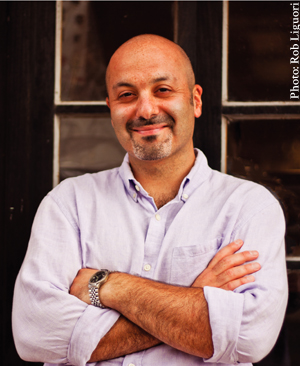 Don­na Tartt, the author of this year's Pulitzer Prize win­ner The Goldfinch, was once told by Ken Kesey, the author of One Flew Over the Cuckoo's Nest, nev­er to read her press: ​"I'll tell you why, kid. The good things don't help and the bad things still hurt." A mod­i­fied ver­sion of this guid­ance appears in vir­tu­al­ly every tes­ti­mo­ni­al by a fabled writer: You can't wor­ry about your audi­ence; you must write for yourself.
Read with­out nuance, sen­ti­ments like these sure­ly encour­age the view that writ­ers are elit­ist, self-serv­ing navel-gaz­ers. The truth feels more com­plex. As a writer, I am deeply engaged with my imag­i­nary audi­ence. I write because I have things I want to say, and a way I want to say them, but I want them to be heard. I write to con­nect. I write to have a con­ver­sa­tion. At the same time, bad things hap­pen on the page when you start writ­ing with an over­ly con­crete audi­ence in mind. Instead of look­ing for new expres­sion, you start say­ing things you think your audi­ence will like. Enter­tain­ment is a per­fect­ly hon­or­able rea­son to write and read. But I believe writ­ers have an oblig­a­tion to push their read­ers – and them­selves – to think about things they may not be over­ly eager to think about. It's how lit­er­a­ture, and, in some ways, the world moves forward.
I bring all this up because my debut nov­el, A Replace­ment Life, out this week, is on a sub­ject that gets read­ers going: A young man starts forg­ing Holo­caust-resti­tu­tion claims for old Russ­ian Jews in Brook­lyn. I began writ­ing the nov­el in the fall of 2009, inspired by my expe­ri­ence fill­ing out my grandmother's resti­tu­tion paper­work in the 1990s (she was an inmate of the Min­sk ghet­to). My fam­i­ly had emi­grat­ed from the for­mer Sovi­et Union only a decade before; I was just a teenag­er, but had the best Eng­lish, so the paper­work was hand­ed to me.
Two things about the appli­ca­tion struck me – first, the bur­den of proof seemed remark­ably low. Under­stand­ably – ghet­to inmates didn't get con­fir­ma­tion vouch­ers on being incar­cer­at­ed. So a mat­ter of the his­tor­i­cal record became a mater of sto­ry­telling – if you could tell the sto­ry per­sua­sive­ly, you were in. This was cat­nip for a young writer. The oth­er thought was less pret­ty – it felt like only a mat­ter of time before some­one decid­ed to take advan­tage of that low bur­den of proof and col­lect mon­ey for invent­ed, but well-relayed, suf­fer­ing. And so I decid­ed to write a nov­el imag­in­ing exact­ly that.
Was this sac­ri­le­gious? Is it sac­ri­le­gious to imag­ine Jews abus­ing the mem­o­ry of the Holo­caust for prof­it? The answer is com­pli­cat­ed by the fact that in the nov­el, the antag­o­nists are ex-Sovi­et Jew­ish émi­grés, exploit­ing the sys­tem just as they had in the Sovi­et Union. In the USSR, this behav­ior was far more jus­ti­fied, if not hon­or­able: They lived in a vicious, abu­sive state that nei­ther pro­vid­ed enough for, nor trust­ed, its cit­i­zens; dis­crim­i­nat­ed ter­ri­bly against Jews; and pun­ished inno­va­tion, destroyed oppor­tu­ni­ty, and fos­tered para­noia. Amer­i­ca is far, far more gen­er­ous, but it's hard to shift habits formed over decades, espe­cial­ly as this coun­try, too, pro­vides too many exam­ples of peo­ple in pow­er exploit­ing it. If you are mid­dle-aged or old­er, think of your­self mov­ing to Chi­na, or, bet­ter yet, North Korea, because that is how alien the USSR was to Amer­i­ca. Do you think it would be easy to adopt your new legal and cul­tur­al norms?
Add to this the fact that the ​"suf­fer­ers" forg­ing claims in my nov­el did not need those quo­ta­tion marks – they had suf­fered unimag­in­ably dur­ing the war; as Jews in the Sovi­et Union; and as immi­grants. Only they hadn't suf­fered in the exact way they need­ed to have suf­fered in order to qual­i­fy for repa­ra­tions legal­ly. The peo­ple who tru­ly owed them – the Sovi­ets, the Rus­sians, though the Ger­mans, too – weren't offer­ing, not for what they went through. How would God – as opposed to the Con­fer­ence on Mate­r­i­al Claims Against Ger­many – adju­di­cate the false claim of some­one who had three limbs blown off defend­ing against the Ger­man inva­sion, but did not qual­i­fy for repa­ra­tions legal­ly because Red Army sol­diers were inel­i­gi­ble? The false claim of the sole sur­vivor of a fam­i­ly that lost six, eight, twelve, sev­en­teen mem­bers – six, eight, twelve, sev­en­teen peo­ple for­ev­er too dead to apply for resti­tu­tion legal­ly? And yet: They were break­ing the law. I want­ed to present my read­ers with char­ac­ters, and a sit­u­a­tion, that refused to dis­solve into easy classification.
What I didn't count on was how pre­scient my imag­in­ing was. A year after I start­ed writ­ing, the FBI and the Dis­trict Attorney's Office in New York exposed a mas­sive Holo­caust-resti­tu­tion-claim fraud ring, con­sist­ing large­ly of ex-Sovi­et Jews, defraud­ing resti­tu­tion funds large­ly in the ways I imag­ined. (The fraud had been going on since the 1990s, but was not exposed till 2010.) I wrote an arti­cle in Tablet Mag­a­zine mak­ing some of the points above – pros­e­cute the indict­ed to the fullest extent of the law, I wrote, but let's not dis­miss them as evil.
The com­ments that rained down on the arti­cle were unspar­ing. I was evis­cer­at­ed for defend­ing ​"gonefs," for moral rel­a­tivism regard­ing the Holo­caust, for exploit­ing the occa­sion to pro­mote my book, for cel­e­brat­ing resti­tu­tion-claim fraud. Per­haps I failed in achiev­ing, in the arti­cle, the nuance I hoped for, but I was also dis­ap­point­ed in the reac­tion. I wish I could have been like Ken Kesey and looked away; I couldn't; I want­ed to have the con­ver­sa­tion. It was a hard one.
In that arti­cle, I was describ­ing the book. Near­ly four years (and eleven drafts) lat­er, the ​"fin­ished" ver­sion of that man­u­script is see­ing the light of day. I know I shouldn't pay atten­tion to what my read­ers will say. Only I don't think I will man­age it.
Check back on Fri­day for more from Boris, includ­ing a spe­cial treat for our readers!
Boris Fish­man immi­grat­ed from the USSR at nine. He stud­ied Russ­ian lit­er­a­ture at Prince­ton, was on staff at The New York­er, co-wrote the US Senate's Hur­ri­cane Kat­ri­na report, and has received a Ful­bright to Turkey. He has writ­ten for The New York­er, The New York Times, The Wall Street Jour­nal, Tablet, The For­ward, The Jerusalem Report, and many oth­ers. He lives in New York. Read more about him here.
Relat­ed Content:
Boris Fish­man was born in Min­sk, Belarus. He is the author of the nov­els A Replace­ment Life (win­ner of the VCU Cabell First Nov­el­ist Award and the Amer­i­can Library Asso­ci­a­tion's Sophie Brody Medal) and Don't Let My Baby Do Rodeo. Both were New York Times Notable Books of the Year. Sav­age Feast, a fam­i­ly mem­oir told through recipes, will be out in paper­back in ear­ly 2020. His jour­nal­ism has appeared in The New York­er, The New York Times Mag­a­zine, and many oth­er pub­li­ca­tions. He lives in New York and teach­es cre­ative writ­ing at Prince­ton University.