with Sophie Siegel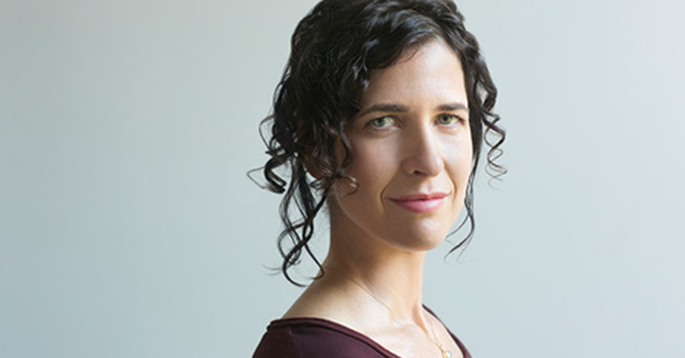 Image: Beowulf Sheehan
Anna Solomon's lat­est nov­el, Leav­ing Lucy Pear, delves into rela­tions between rich and poor, Jew­ish and Irish in Pro­hi­bi­tion-era New Eng­land, around the sto­ry of a baby aban­doned in a pear orchard. Jew­ish Book Coun­cil sat down with the author to dis­cuss her cur­rent and pre­vi­ous books this summer.
Sophie Sie­gal: Your first nov­el The Lit­tle Bride was very suc­cess­ful, how­ev­er, its con­tent is very dif­fer­ent from that of Leav­ing Lucy Pear. How did you come to think of the idea behind each nov­el, and how did your writ­ing process dif­fer between the two books?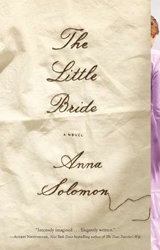 Anna Solomon: I gen­er­al­ly write pret­ty lin­ear­ly and work my way to the end. The biggest dif­fer­ence between these two books is that the point of view for The Lit­tle Bride is a very close third-per­son, some­what claus­tro­pho­bic, which fits the sub­ject mat­ter of the book. In Leav­ing Lucy Pear I jumped to an omni­scient nar­ra­tor who can real­ly go any­where she wants, and kind of plays God. That was a great joy and also a chal­lenge and prob­a­bly the big leap that I made in the book, which required a lot of revi­sion and also a lot of study­ing of oth­er texts.
Each nov­el start­ed in some­what dif­fer­ent ways. For The Lit­tle Bride, my ideas start­ed to form when I was on this web­site on Jew­ish woman pio­neers, which that set me off on this path. For Leav­ing Lucy Pear, it was also a lit­tle piece of his­to­ry, which I came across in a book called The Saga of Cape Ann. Cape Ann is the place where I grew up, north of Boston, and the book is about a wealthy Boston­ian sum­mer­ing on Kaden and suf­fer­ing from a ner­vous dis­or­der. The pro­tag­o­nist is aggra­vat­ed by a screech­ing whis­tle buoy that had been put in to keep fish­er­man and sailors from crash­ing into shore, and she does what I guess any well-con­nect­ed per­son would do: she called the Navy and demand­ed they take out the whis­tle buoy, which they did, and by the next sum­mer when she was feel­ing much bet­ter. But I was left with a ques­tion of what hap­pens when the whis­tle buoy is out there, and what are the con­se­quences for which this woman is responsible?
SS: The cov­er of the nov­el is beau­ti­ful; I hear there is a great sto­ry behind it…
AS: I feel so lucky for the cov­er. It is tak­en from a paint­ing by a British artist named Lau­ra Knight, who was quite con­tro­ver­sial in her time. She was one of the first, if not the first, female painter to make a paint­ing of her­self that shows her­self paint­ing a nude mod­el. This was a real chal­lenge to restric­tions on women painters at the time — they were sup­posed to work from casts, not nudes — and while it brought Knight a lot of flak it also made her a pio­neer in the broad­er move­ment for wom­en's rights. I was real­ly excit­ed that the artist who had made the paint­ing end­ed up on the cov­er because her sto­ry felt real­ly in-tune with the women in my book — and myself, as well: Knight was push­ing the bound­aries of what a woman painter could do in her time.
Ini­tial­ly I saw only the front cov­er for the book, and it took me a while to notice that there were these boots lying on the rocks. I became fas­ci­nat­ed with whose boots they were; there was this mys­tery to the image that made me even more in love with it. When they final­ly sent me the whole jack­et and it wraps around to the book, you can actu­al­ly see the woman who belongs to those boots on the back cov­er, look­ing out at the view­er. The image just grew and grew for me in terms of its mean­ings and the lay­ers. I feel like the women in the paint­ing are ulti­mate­ly the same as the main char­ac­ters of my nov­el, Bea — and at oth­er times Emma — and Lucy Pear.
SS: The descrip­tions of the time peri­od are so vivid. What kinds of his­tor­i­cal research did you do to begin your writing?
AS: I start­ed in the way that I think a lot of peo­ple do, which is a lot of his­to­ry books and news­pa­pers. I spent a lot of time on the micro­film in my home­town pub­lic library, look­ing back at old issues of the Boston Dai­ly Times, look­ing at adver­tis­ing, pho­tographs, and still film, but I always find that talk­ing with peo­ple is the most plea­sur­able way to get infor­ma­tion. I spoke with one woman who had been alive dur­ing that time — she has since passed away — who talked about things like how the gran­ite dust felt on her bare feet as she walked through the woods. I talked to some­one else who was a grand­son of a boot­leg­ger and he remem­bered his grand­fa­ther talk­ing about how they would blast out the walls of the courts to make these panes where they would hide all the booze.
SS: Each char­ac­ter in the nov­el faces dis­tinct forms of gen­der oppres­sion and soci­etal expec­ta­tions that affect their lives. As a Jew­ish woman, moth­er, and daugh­ter, how do you deal with society's expec­ta­tions of you? Do you see parts of your­self in each char­ac­ter, and which char­ac­ter do you iden­ti­fy with most?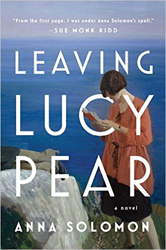 AS: I do see parts of myself in each char­ac­ter — the Jew­ish ones and the non-Jew­ish ones: Bea grew up in this fierce­ly assim­i­la­tion­ist fam­i­ly, as my own moth­er did; Emma, who has more chil­dren than she prob­a­bly wants; and even Susan­nah Stan­ton, who is unable to have chil­dren. What dri­ves each of these women is an exag­ger­a­tion of feel­ings that I have had myself, feel­ings I have had at times of being over­whelmed in the tran­si­tion to moth­er­hood and my self­hood being threat­ened, and feel­ings of fear that I wasn't going to be able to have children.
One of the biggest chal­lenges of becom­ing a moth­er, and a Jew­ish moth­er now, is that in some ways we have more choic­es than we have ever had. I could go and do any­thing, which doesn't mean it wouldn't be hard, but the options are there for me and yet… I grew up in this very fem­i­nist fam­i­ly; I went to a very fem­i­nist camp; I am teach­ing my chil­dren, both my boy and my girl, to be fem­i­nists, while at the same time I have made a mar­riage in which I am the one who does all of the menu-mak­ing and the cook­ing. What I observe in the world around me is that women con­stant­ly feel judged by some­body for the way they are bal­anc­ing their work, par­ent­ing, and part­ner­ships, and often that per­son is them­selves. In my fic­tion, I seek to observe and to empathize in a way that allows my read­ers to not only under­stand the choic­es my char­ac­ters make but respect them for those choices.
SS: Each of the char­ac­ters faces life-alter­ing deci­sions — most sig­nif­i­cant­ly aban­don­ing one's child, and decid­ing to raise an orphan as one's own. Can you tell me any dif­fi­cult deci­sions that you had to make as a writer while writ­ing Leav­ing Lucy Pear? What advice would you give to aspir­ing writers?
AS: In ear­li­er ver­sions of the nov­el, I had even points of view I real­ly want­ed to dive into, includ­ing those of the crazy woman who lives up the hill from the Mur­phy fam­i­ly, and Caleb Stan­ton. I had so many pages of scenes that I loved and my read­ers also said they loved, but did not belong there. I agree with them, but those moments are hard and mak­ing that final deci­sion and say­ing good­bye are hard, even when it is the right one.
My advice is that you have to keep read­ing and read­ing and read­ing, even as you start to write. It's impor­tant to real­ly see your­self as a stu­dent of the books that you read, with­out being afraid to stray in terms of form with those books; I wrote a lot of poet­ry before I ever turned to fic­tion and it def­i­nite­ly informed the way I hear lan­guage and the way I write. The biggest thing is real­ly to work to sur­round your­self with a com­mu­ni­ty of writ­ers and to do that by form­ing a writ­ing group where you live or find­ing writer work­shops. The rela­tion­ships that you make in those places are crit­i­cal to keep­ing going and con­tin­u­ing to write through rejec­tion and through drafts that don't work. Hav­ing peo­ple cheer­ing you on and peo­ple that will read for you is so important.
SS: What can we look for­ward to next?
AS: I am work­ing on a new book, which I am not real­ly able to talk about yet. It involves the Book of Esther and 1970s fem­i­nism and Brook­lyn life.
Sophie Siegel is a stu­dent at Emory Uni­ver­si­ty inter­est­ed in Holo­caust Stud­ies and Film. She worked with the Jew­ish Book Coun­cil as a 2016 sum­mer intern.
Relat­ed Content:
Sophie Siegel is a stu­dent at Emory Uni­ver­si­ty inter­est­ed in Holo­caust Stud­ies and Film. She worked with the Jew­ish Book Coun­cil as a
2016
sum­mer intern.