with Daniel Estrin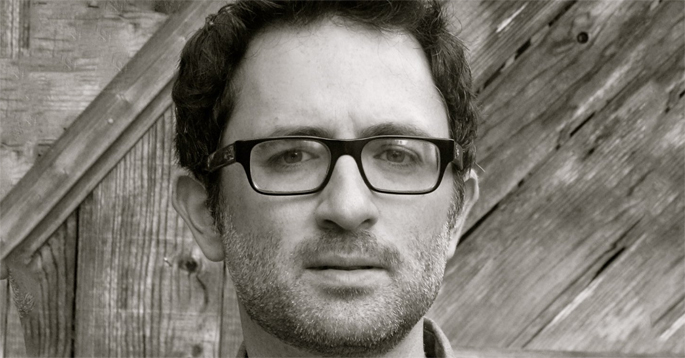 For Jew­ish Book Month, Jew­ish Book Coun­cil spoke with Chanan Tigay about his debut book, The Lost Book of Moses: The Hunt for the World's Old­est Bible, about the author's quest to find a lost bib­li­cal man­u­script, and to solve the his­tor­i­cal rid­dle of its alleged forg­er, nine­teenth-cen­tu­ry Jerusalem antiq­ui­ties deal­er Moses Wil­helm Shapira.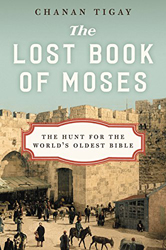 Daniel Estrin: Your book seeks to solve a real-life mys­tery of a lost ancient man­u­script. How did you come across this story?
Chanan Tigay: I first heard of Moses Wil­helm Shapi­ra from my father, a Bible schol­ar and rab­bi who spent 15 years writ­ing a com­men­tary on the Book of Deuteron­o­my for the Jew­ish Pub­li­ca­tion Soci­ety. We were sit­ting around the Shab­bat table one Fri­day night. I'm a jour­nal­ist, and I start­ed talk­ing about some arti­cles I had recent­ly writ­ten — they had dis­cov­ered Noah's Ark again, which seems to hap­pen at least annu­al­ly. It was a team of Chi­nese Evan­gel­i­cals this time, and they had come out with the news that they dis­cov­ered wood­en beams that had been a por­tion of Noah's Ark on top of Mount Ararat in Turkey. It became a big sto­ry in the news, as it tends to be, and then with­in days, of course, a guy who had been a part of the expe­di­tion came for­ward and admit­ted that it was all a hoax. I was telling my fam­i­ly about some arti­cles I had writ­ten about all this, and the inter­views I was doing. When I was fin­ished, my dad said, ​"Hey, speak­ing of Bib­li­cal hoax­es, there was this guy named Shapi­ra who in 1883 showed up at the doorstep of the British Muse­um claim­ing to have the old­est copy of a por­tion of the Bible in the world." And then he went on to tell the sto­ry in fair­ly light detail, because he knew the gen­er­al out­lines but he was not an expert on the case. Like many bible schol­ars, he knew the con­tours of the sto­ry — which imme­di­ate­ly attract­ed me.
DE: That led to a four-year quest to solve the case. At what point did you decide to write a book about it?
CT: Ini­tial­ly, I was just inter­est­ed in it the way I might be inter­est­ed in astron­o­my. I didn't nec­es­sar­i­ly think I was going to write about it. But being a jour­nal­ist and a writer, there's always that spark when you hear some­thing inter­est­ing that gets you think­ing, ​"Hey, that sounds like a good sto­ry." And the more I dug, the more I real­ized this sto­ry had end­less, unex­pect­ed twists and turns. At that point, I real­ized I could write some­thing about this, but the ini­tial thought was that it would be an arti­cle about the case. Very grad­u­al­ly, I came to the idea that it might actu­al­ly be a book. I think that hap­pened when I came to the real­iza­tion that I want­ed to hunt down Shapira's miss­ing Deuteron­o­my man­u­script. At that point, it sort of solid­i­fied itself as an idea for a book.
DE: What has been the pre­vail­ing wis­dom about Shapi­ra's scrolls and why did you doubt it?
The pre­vail­ing wis­dom pret­ty much until today had been that Shapi­ra him­self had forged the man­u­script of Deuteron­o­my — a very odd man­u­script, I should add, with many, many vari­ant read­ings from the tra­di­tion­al text of Deuteron­o­my, includ­ing a shuf­fling of the Ten Com­mand­ments, and the addi­tion of a new com­mand­ment. The idea was that Shapi­ra had forged this man­u­script; that he tried to sell it to the British Muse­um; that he had been caught; that, humil­i­at­ed over hav­ing been caught, he had killed him­self; and then, once that hap­pened, that the man­u­script had made its way to Sotheby's. Sotheby's auc­tioned it off: it was pur­chased by a British book deal­er named Bernard Quarich, and Quarich, it was believed, sold the man­u­script to an Eng­lish-Aus­tralian noble­man named Sir Charles Nichol­son. Nichol­son lived in Aus­tralia, but at the end of his life lived in the north of Lon­don. His large estate burned down in 1899, and, the think­ing went, the great like­li­hood was that Shapira's man­u­scripts went up in flames along with the rest of Nicholson's home.
The more research I did, the more it seemed to me that this the­o­ry was, at best, unlike­ly — or that I could think of oth­er pos­si­bil­i­ties of what had hap­pened to Shapira's scrolls that were at least as like­ly if not more so.
DE: There are oth­er detec­tives out there who have been on this hunt, too. You men­tion a par­tic­u­lar­ly ded­i­cat­ed one, an Israeli doc­u­men­tary film­mak­er named Yoram Sabo. Why did you think you could find answers when oth­ers hadn't?
CT: Ini­tial­ly, I didn't. When I first met Yoram Sabo and he put out the faint pos­si­bil­i­ty that he and I might work togeth­er, my instinct was to go for it. Because I felt like he had a 30-year head start on me, and there was no way I was ever going to catch up to him, that's just seemed impos­si­ble. This guy was the Shapi­ra­ma­ni­ac as far as I could tell. He'd been search­ing for three decades at that point and so I didn't think I was like­ly to be the one to find it. So I want­ed to work with him. And ulti­mate­ly that didn't work out, so I was left with two pos­si­bil­i­ties: one was to quit, and the oth­er was to say, hey, if he hasn't found it in 30 years, maybe he's not going to find it, and maybe what I need to do is start look­ing for dif­fer­ent approach­es, dif­fer­ent angles from which to search, angles no one else has tried before.
DE: You trav­eled to sev­en coun­tries, across four con­ti­nents over the course of four years. Some­times you won­dered whether a trip was a ​"colos­sal waste." You men­tion ​"grasp­ing at straws," and a ​"series of extreme long shots." Trip after trip, and archive after archive, led to a lot of dead ends. I found myself won­der­ing: did you ever lose faith that you would find anything?
CT: I did, for sure. Here's the thing: you're right in say­ing it was dead end after dead end. But the oth­er side of that was, each one of those dead ends taught me some­thing new. Even if it was a tiny lit­tle new fact, often times it gave me some new insight, some new avenue that I thought I could fol­low up, that maybe then would hold out the hope of mak­ing a great dis­cov­ery in the end. And so, even though stop after stop I didn't find what I was look­ing for — and yes, that was extreme­ly frus­trat­ing, because I want­ed to find it, because I was spend­ing time and mon­ey try­ing to find it, and because I had a pub­lish­ing house wait­ing for this book that want­ed me to find it, so there was a lot of stress and a lot of weight on my shoul­ders — I was always learn­ing some­thing new and poten­tial­ly important.
Daniel Estrin is an Amer­i­can jour­nal­ist in Jerusalem. He has report­ed on archae­ol­o­gy for The Asso­ci­at­ed Press, NPR and The New Repub­lic.
Relat­ed Content: