Yes­ter­day, Jan­ice Stein­berg wrote about Yid­dish inflect­ed Eng­lish and the audio­book ver­sion of her nov­el The Tin Horse. She will be blog­ging here all week for Jew­ish Book Coun­cil and MyJew­ish­Learn­ing.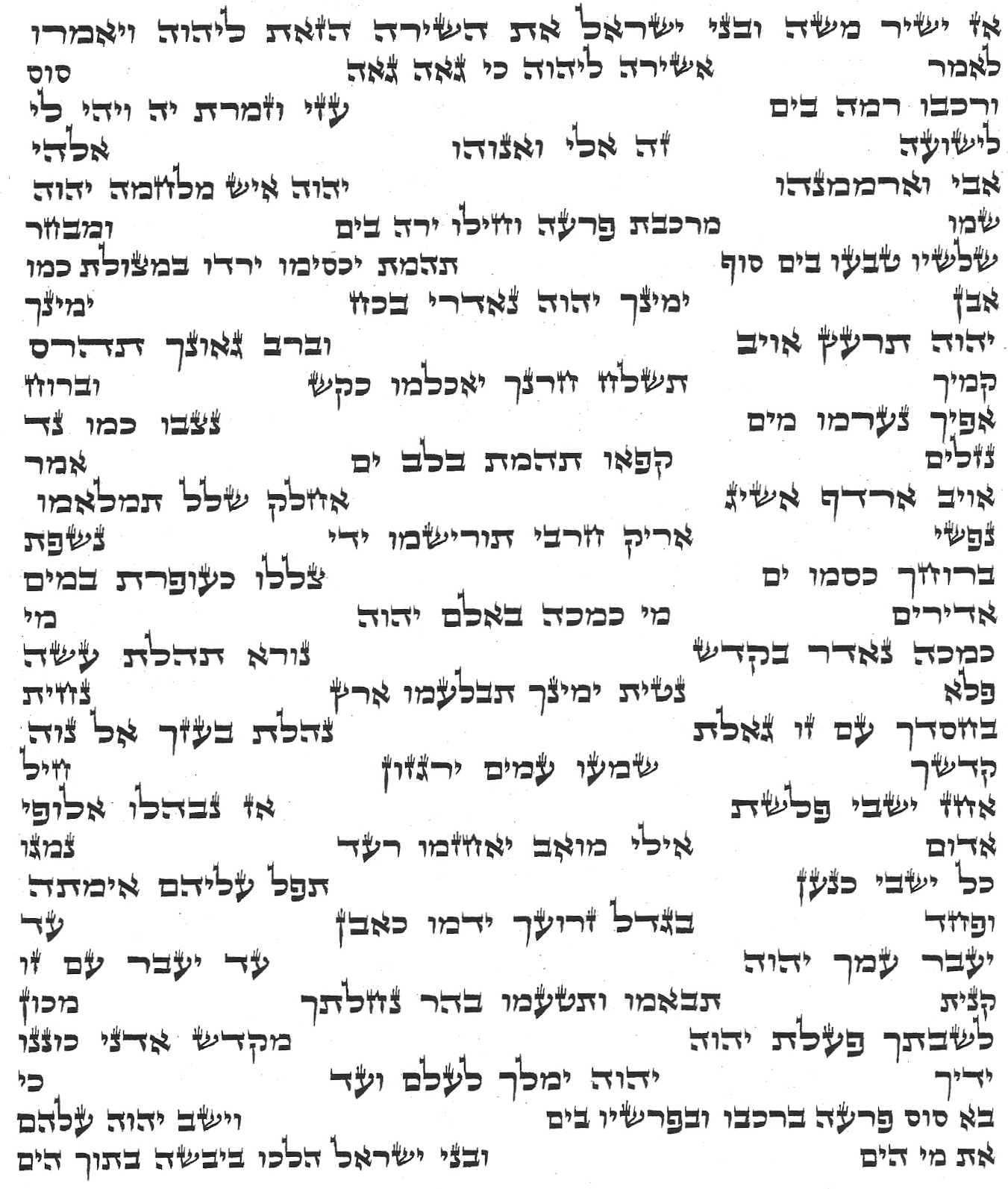 Although I live in Cal­i­for­nia, I don't share the New Age belief that there are no coin­ci­dences. I think many things occur by chance. And that makes me all the more delight­ed that my nov­el, The Tin Horse, is being pub­lished this week, the same week in which the Torah por­tion includes the Song of the Sea.

Song of the Sea is the exul­tant out­pour­ing by Moses and the Israelites after they've crossed the Sea of Reeds and escaped Pharao­h's army. Poet­ry ver­sus the prose of most of Torah, it dances down the page, three- and four-word phras­es cre­at­ing a chop­py sur­face like ocean waves. It's even chant­ed to a spe­cial tune, a sweet melody used for no oth­er text.

What most fas­ci­nates me isn't the song itself, though, but anoth­er song, a mere scrap of which appears in the Torah. Fol­low­ing the 18-verse song of Moses, Miri­am picks up her tim­brel, leads the women in dance, and sings her own song. But all of this hap­pens in just two vers­es, and can that real­ly be the whole sto­ry?

I'm not the only one who's won­dered. The­olo­gian Dr. Judith Plaskow wrote in Stand­ing Again at Sinai, ​"The dance at the Sea links Miri­am with a foun­da­tion­al event of Israelite his­to­ry, but she appears in the nar­ra­tive with no intro­duc­tion and no account of her rise to reli­gious lead­er­ship. This sur­pris­ing silence sug­gests that there were oth­er Miri­am tra­di­tions that were exclud­ed from the Torah."

Plaskow's book — and her insis­tence on find­ing a place for women as ​"shapers of the holy" — helped me recon­nect to Judaism after a long absence. So did com­posers Deb­bie Fried­man z"l and Can­tor Lin­da Hirschhorn with their stir­ring ver­sions of Miri­am's song; and so do con­tem­po­rary midrash writ­ers who pick up on whis­pers of the divine fem­i­nine in Torah and imag­ine our fore­moth­ers' voic­es.

Though the inspi­ra­tion for my nov­el was­n't sacred text, I too want­ed to give voice to a woman stand­ing in the shad­ows of anoth­er sto­ry: Ray­mond Chan­dler's noir clas­sic The Big Sleep. In one scene, the detec­tive, Philip Mar­lowe ques­tions a woman work­ing in a book­store. From the begin­ning, when we see the woman read­ing a law book (in a nov­el pub­lished in 1939), she's intrigu­ing; she con­tin­ues to intrigue as she match­es wits with Mar­lowe. The woman, who's unnamed, is described as hav­ing the face of ​"an intel­li­gent Jew­ess." That term — and her being pegged as Jew­ish on sight — con­veyed such a pro­found sense of oth­er­ness and sug­gest­ed to me that, despite this moment when their paths crossed, the woman lived in a very dif­fer­ent Los Ange­les than Mar­lowe's mean streets. I want­ed to dis­cov­er her Los Ange­les. I want­ed to hear her song.
Vis­it the offi­cial web­site for
The Tin Horse
here.
Jan­ice Stein­berg is author of
The Tin Horse and of five mys­tery nov­els. She is also an award-win­ning arts jour­nal­ist and has pub­lished over

400

arti­cles in the San Diego Union-Tri­bune, Dance Mag­a­zine, Los Ange­les Times, and else­where. A Mil­wau­kee native, she holds a B.A. and M.A. from the Uni­ver­si­ty of Cal­i­for­nia-Irvine. She lives in San Diego with her husband.