Ear­li­er this week, Lenore Weiss wrote about Rab­bi Levi Sel­wyn and Torah ​"Kosher­ing" and asked Rab­bi Sel­wyn a few ques­tion about the process. Her most recent col­lec­tion,Two Places, is now avail­able. She has been blog­ging here all week for Jew­ish Book Coun­cil's Vis­it­ing Scribe series.
When I moved to Ster­ling­ton, Louisiana, the first ques­tion any per­son meet­ing me asked was, why did I move from Cal­i­for­nia? After a cer­tain time had passed, I began to ask that same ques­tion. The imme­di­ate answer was obvi­ous: I had packed up my books and bags because I had fall­en deeply in love and believed my mate and I could make a life togeth­er. I con­tin­ue to believe that, but I'm not sure you can remove a city girl from every­thing she knows. Maybe I had to give up too much. It wasn't a slam-dunk deci­sion either. It had tak­en me two years to decide to move south. My friends and fam­i­ly watched me ago­nize: to move or not to move? It's true. I've always had dif­fi­cul­ty mak­ing tran­si­tions. Dur­ing my ele­men­tary school years, just start­ing a new grade fanned me into nau­sea and cold sweats. So why should I expect this move to be any different?
I reflect upon Ruth and Nao­mi. While there isn't a real par­al­lel here, there are enough — both my mate and I met after we had already been sea­soned by dif­fi­cult mar­riages, enough to rec­og­nize our heart's desire. But at issue is the ques­tion of devot­ed loy­al­ty. After Nao­mi entreats Ruth to return to her own fam­i­ly in Beth­le­hem, Ruth tells her, ​"entreat me not to leave thee [or] to return from fol­low­ing after thee: for whith­er thou goest, I will go; and where thou lodgest, I will lodge…"
I've often won­dered what allowed Ruth to make that unequiv­o­cal dec­la­ra­tion. Was it devo­tion to her deceased hus­band, Mahlon that allowed her to stand by her moth­er-in-law? Did she not wish to return to an unsup­port­ive fam­i­ly where she knew she would lan­guish and die? Or was she just young, want­i­ng to see more of the world and knew she could do that at Naomi's side? What­ev­er the rea­son, she did. Maybe she didn't even have to think about it.
Which leads me to my own ques­tion. Can I love with­out nur­tur­ing who I am, and leave behind the mul­ti­tude of flow­ers that the but­ter­fly of my soul needs to drink? There's always a chance I will dis­cov­er some­thing I nev­er could imag­ine on the thresh­ing floor of life by remain­ing at the side of a per­son who brings me joy.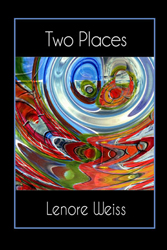 Maybe I'm look­ing at this the wrong way — maybe there's a chance of cre­at­ing a new amal­gam. Because when it comes down to it, I'm not sure if G‑d placed me south so I could con­front myself and my writ­ing with­out the dis­trac­tions of city life — some­thing I could put off doing as long as there was some­where else to go. Or maybe this was not meant to be a long-term assignment.
Or just maybe I need a new Bible story.
I drove to the mall today, not one of my favorite pas­times. I want­ed to be around peo­ple and didn't know what else to do with myself.
I hear my girl­friends talk­ing in my head.
Read more of Lenore Weis­s's work here.
Relat­ed Content:
Lenore Weis­s's most recent col­lec­tion, Two Places, is now avail­able. Read more of Lenore's work here.
2014
2012