Post­ed by Nat Bernstein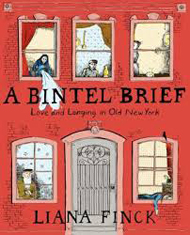 Thurs­day evening Stephanie Feld­man, Liana Finck, and Boris Fish­man sat down with a micro­phone and a mod­er­a­tor at Green­light Book­store for a pan­el dis­cus­sion on Jew­ish Life and Lit­er­a­ture. Author and jour­nal­ist Carmela Ciu­raru facil­i­tat­ed the event, prompt­ing the authors with ques­tions of iden­ti­ty, com­mu­ni­ty, and the writ­ing process.
Stephanie, Liana, and Boris are all par­tic­i­pat­ing authors in the 2014 – 2015 JBC Net­work, a Jew­ish Book Coun­cil pro­gram that con­nects cur­rent writ­ers and Jew­ish com­mu­ni­ty orga­ni­za­tions as a means of fur­ther­ing Jew­ish book fairs and lit­er­ary events through­out North Amer­i­ca. Hav­ing embraced this par­tic­u­lar mar­ket in pro­mot­ing their respec­tive works—A Bin­tel Brief: Love and Long­ing in Old New York, Liana's graph­ic nov­el ren­der­ing of Abra­ham Cahan's famous col­umn in Forverts; The Angel of Loss­es, a nov­el by Stephanie explor­ing the leg­end of the White Rebbe; A Replace­ment Life, Boris's debut nov­el about a young man embroiled in the Holo­caust ret­ri­bu­tion cas­es of his grand­par­ents' gen­er­a­tion — the three authors in con­ver­sa­tion named a num­ber of endur­ing ques­tions and quan­daries about them­selves as writ­ers, as artists, and as Jews.
Asked how she feels about being a ​"Jew­ish writer," Liana described the chang­ing land­scape of the lit­er­ary and artis­tic world, and her per­son­al tran­si­tion with­in it: ​"I'm in a place where I love niche — I feel like it's become this whole post­mod­ern thing," she observed. ​"There's a lot you can do as a niche writer that you can't do as a 5'10" white man." The audi­ence, Liana feels, for labeled writ­ing has also changed rapid­ly between gen­er­a­tions. ​"The peo­ple read­ing pigeon­holed books are a lot smarter, and it's going to become an hon­or to be a pigeon­hole author," she predicts.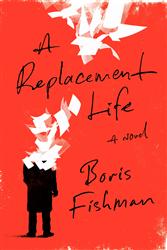 "Read­ers respond to what you give them," Boris fol­lowed up. He added emphat­i­cal­ly that ​"craft goes beyond clas­si­fi­ca­tion," that read­ers will remem­ber a book in its own right — inde­pen­dent of mar­ket­ing labels — if the writ­ing is good and the sto­ry is well-told.
The sto­ry must be also be well-researched. Liana described her strug­gles with depict­ing his­tor­i­cal­ly accu­rate fash­ions and facial expres­sions in the art­work for A Bin­tel Brief, not­ing that the most infor­ma­tive and most enjoy­able piece of the process was read­ing Abra­ham Cahan's biog­ra­phy, ​"one of the great­est Amer­i­can sto­ries ever writ­ten — sec­ond only, maybe, to Ben­jamin Franklin's auto­bi­og­ra­phy." Stephanie shared her ini­tial inspi­ra­tion for The Angel of Loss­es, how she had intend­ed to fol­low the Goth­ic tra­di­tion of the Wan­der­ing Jew — only to dis­cov­er that the lore is a strict­ly Chris­t­ian nar­ra­tive, with no Jew­ish basis or con­text. (For a full account of how Stephanie expand­ed her search of sojourn­ing sages in Jew­ish his­to­ry and mythol­o­gy, read her 8 Favorite Wan­der­ing Jews blog post on The Pros­en­Peo­ple Vis­it­ing Scribe series.)
Boris's research process hit much clos­er to home, involv­ing fre­quent and dif­fi­cult inter­views with his grand­par­ents. On top of the gen­er­a­tional divide and ret­i­cence to talk about the past, Boris artic­u­lat­ed his strug­gle to spend the nec­es­sary time in his immi­grant grand­par­ents' com­pa­ny: ​"In ex-Sovi­et fam­i­lies — Jew­ish ex-Sovi­et fam­i­lies, espe­cial­ly — there's this idea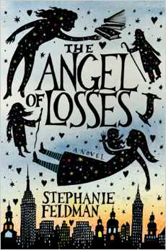 that your chil­dren are sup­posed to be your friends, which is impos­si­ble, because you've brought them to a coun­try that's made them com­plete­ly dif­fer­ent peo­ple from you." The expec­ta­tion of tac­it inter­gen­er­a­tional con­nec­tion placed a heavy strain on Boris's vis­its, but per­haps noth­ing was as chal­leng­ing as the dis­com­fort faced as soon as the research reached its end, with no objec­tive remain­ing to dri­ve Boris to his grand­par­ents' home.
The rela­tion­ship between the authors and their upbring­ing held par­tic­u­lar inter­est to their audi­ence at Green­light Book­store — and to the authors them­selves. The first ques­tion from the audi­ence raised the role of rebel­lion in the three nov­els and their com­po­si­tion. Liana acknowl­edged the ​"lit­er­ary tra­di­tion that a char­ac­ter rebels against the reli­gion they were raised in," but expe­ri­enced her own reli­gious tra­jec­to­ry as more of a placid pro­gres­sion from the Judaism instilled in her child­hood; Stephanie ​"start­ed the nov­el on the idea that rebel­lion is impos­si­ble — how fright­en­ing it is when you can't rebel." Boris, how­ev­er, point­ed out that writ­ing is itself an act of rebel­lion, espe­cial­ly in his case: ​"If you are going to write about the Holo­caust, you need to find new forms; those forms have to be by def­i­n­i­tion rebel­lious because rev­er­ence alone for the Holo­caust doesn't work anymore."
Just before the pan­el dis­cus­sion came to an end, the authors turned the con­ver­sa­tion back to their audi­ence. ​"Can you be a nar­row­ly cul­tur­al Jew — can there be a strict­ly cul­tur­al Judaism — with­out a reli­gious con­text?" Boris pon­dered. The crowd chimed in, shar­ing a diverse array of opin­ions, expe­ri­ences, and anec­dotes on Jew­ish iden­ti­ty, reli­gious prac­tice, and com­mu­ni­ty par­tic­i­pa­tion. Stephanie reflect­ed on the response to her colleague's ques­tion, con­clud­ing the event with an obser­va­tion on the vast and dif­fer­ing cus­toms and tra­di­tions between Jews across the world: ​"The thing that is uni­ver­sal about Judaism is this idea that Jew­ish iden­ti­ty and reli­gious prac­tice can be sep­a­rate. How we struc­ture iden­ti­ty is so vital in Judaism, and as a nov­el­ist I think that Judaism will con­se­quent­ly con­tin­ue to inspire and influ­ence me — even if the sto­ry isn't Jew­ish, the char­ac­ter isn't ​'Jew­ish.'"
Relat­ed content:
Nat Bern­stein is the for­mer Man­ag­er of Dig­i­tal Con­tent & Media, JBC Net­work Coor­di­na­tor, and Con­tribut­ing Edi­tor at the Jew­ish Book Coun­cil and a grad­u­ate of Hamp­shire College.