Ear­li­er this week, Lenore Weiss wrote about Rab­bi Levi Sel­wyn and Torah ​"Kosher­ing." Her most recent col­lec­tion, Two Places, is now avail­able. She is blog­ging here all week for Jew­ish Book Coun­cil's Vis­it­ing Scribe series.
I was moved by Rab­bi Sel­wyn​'s expla­na­tion of Torah ​"Kosher­ing" at Tem­ple B'nai Israel in Mon­roe, Louisiana, and fol­lowed up with sev­er­al questions.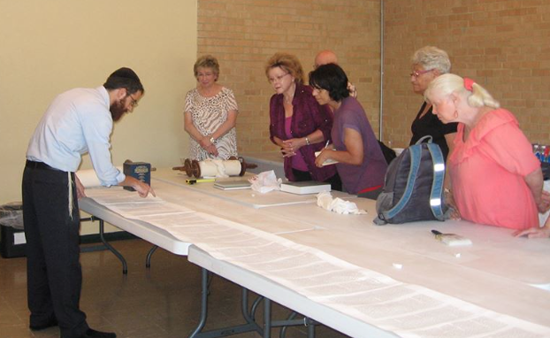 Lenore Weiss: It must be a won­drous expe­ri­ence to repair the liv­ing words of the Torah. I see you as a ​"com­put­er tech" who knows how the sys­tem oper­ates and fits togeth­er. You under­stand the entire ​"moth­er­board," work­ing to repair parch­ment, let­ters, what­ev­er the Torah asks of you.
Rab­bi Levi Sel­wyn: That's a great anal­o­gy. Phys­i­cal­ly — yes. How­ev­er the depth to the mean­ing of the Torah is infi­nite, so that's a work in progress.
LW: I'm won­der­ing how you approach each Torah, unscrolling the parch­ment for that first time to eval­u­ate what it needs. Does the scroll speak to you in some way?
RLS: When I get to a place I am always excit­ed to see what this Torah is going to have for me that day. Many times I open up the Torah I gasp — oh, I love this Torah, and that is usu­al­ly when the script of the Torah is beau­ti­ful. Some of the very old Torahs have such beau­ti­ful writ­ing. As I look through the Torahs I real­ly take notice of all the details from the type of parch­ment to the stitch­ing at the back of it and the re-enforced parch­ment behind the stitch­ing. I browse through and try to notice how the let­ters are hold­ing up and what they might need to keep them from dete­ri­o­rat­ing and by the time I get to the end or rather the begin­ning — I feel like I know this Torah and I am ready to repair it and make it good and Kosher.
LW: How does it feel to be the con­ser­va­tor of these scrolls?
RLS: I know that before I leave a Torah, it has to be in the best shape pos­si­ble and that all my repairs must be done accord­ing to the laws of Safrut. It takes many hours of con­cen­trat­ed work. When I'm back on the plane I go through my head many times to be sure that I did not leave any­thing out.
LW: How many states/​synagogues have you helped in this way?
RLS: I've been to about ten states and many con­gre­ga­tions in each state. I could­n't give you a pre­cise num­ber unless I beat through my cal­en­dar. How­ev­er, between us here at Sofer On Site, we have prob­a­bly done the entire states a few times over and in a few countries.
Read more of Lenore Weis­s's work here.
Relat­ed Content:
Lenore Weis­s's most recent col­lec­tion, Two Places, is now avail­able. Read more of Lenore's work here.
2014
2012