Israeli author Etgar Keret is inter­na­tion­al­ly known for his short sto­ries, graph­ic nov­els, and screen­plays. His lat­est book, The Sev­en Good Years, is his first work of non­fic­tion. The mem­oir spans the peri­od of Keret's life between the birth of his son and the death of his father.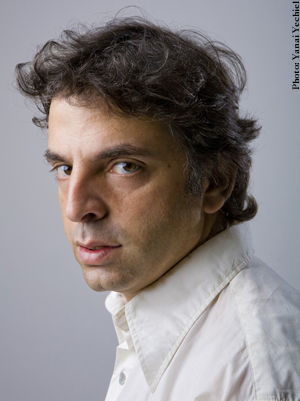 Bec­ca Kan­tor: The Sev­en Good Years is your first auto­bi­o­graph­i­cal work. In the past you've pub­lished sev­er­al short sto­ry col­lec­tions, and this mem­oir is also writ­ten as a series of vignettes. What in par­tic­u­lar attracts you to the short form? What inspired you to turn the expe­ri­ences you describe in The Sev­en Good Years into an auto­bi­o­graph­i­cal work and not into fiction?
Etgar Keret: I don't expe­ri­ence my fic­tion and non­fic­tion as short, but as con­cise. There is some­thing very inten­sive and full of ener­gy in my writ­ing expe­ri­ence. I once said that, for me, writ­ing feels very much like an explo­sion — and I haven't yet learned how to explode slowly.
As for my per­son­al non­fic­tion writ­ing: I think that the urge to direct­ly doc­u­ment some of my per­son­al expe­ri­ences began, lit­er­al­ly, the day my son was born. It is as if my entire con­cep­tion of time had changed and I no longer lived in a nev­er-end­ing present. Becom­ing a father made the terms ​"past" and ​"future" become more tan­gi­ble, and overnight I became my family's his­to­ri­an. The idea to make a book out of these pieces doc­u­ment­ing the life of my fam­i­ly between the birth of my son and the death of my father became clear only very close to my father's death.
BK: Tell me about the title. Did you always have ​"the sev­en good years" as a uni­fy­ing theme for the mem­oir, or did the idea for the title come lat­er on in your process? The bib­li­cal allu­sion is also very intriguing.
EK: The work­ing title was ​"Insin­cere­ly Yours," but as soon as my father died I found myself return­ing to The Sev­en Good Years both because those years in which I had the gift of being both a child and had a father were prob­a­bly the best I've ever had, and also because I couldn't ignore the par­al­lel between my father's ter­mi­nal ill­ness and the unsta­ble future of the coun­try in which I live. This is because of the exis­ten­tial dan­gers it faces both from the changes in the region we live in, and from the changes in the Israeli soci­ety itself.
BK: In ​"Imag­i­nary Home­land," you describe your com­pli­cat­ed feel­ings about Poland: ​"Although most of my fam­i­ly had per­ished under hor­ren­dous cir­cum­stances there, Poland was also the place where they had lived an thrived for gen­er­a­tions, and my attrac­tion to that land and its peo­ple was almost myth­ic." Has your rela­tion­ship with Poland changed as a result of the time you've spent there? Has liv­ing in War­saw demythol­o­gized the city for you? If so, how do you feel about this as a writer?
EK: I have quite a few close and dear friends in War­saw. I'm sure the inti­ma­cy I've reached with them had to do with the dif­fi­cul­ty my fam­i­ly has had with the coun­try. Next month I'll vis­it War­saw with my fam­i­ly. My broth­er, my wife, my son, and I will join my moth­er for her first trip there since the war, and I have to admit that I'm both antic­i­pat­ing and dread­ing this upcom­ing trip. Poland might become demythol­o­gized for me at some point, but that time seems — at least for now — as though it will be in the dis­tant future.
BK: You write about your height­ened aware­ness of being Jew­ish when you're out­side Israel — espe­cial­ly when you're in East­ern Europe and Ger­many. Do you feel that your books have helped to nor­mal­ize Jew­ish peo­ple for those who haven't had much pre­vi­ous con­tact with them? Has this ever been a con­scious goal for you when you write?
EK: I don't have any con­scious goals or artic­u­lat­ed plans when I sit down and write, but writ­ing, when it finds a curi­ous read­er, has the ten­den­cy to human­ize. That's why I've always loved read­ing and that is also, I guess, why I began to write. The Sev­en Good Years has already been pub­lished in quite a few coun­tries. From read­ers' respons­es I've felt that, more than it has human­ized Jews in the eyes of non-Jew­ish read­ers, it has human­ized Israelis in the eyes of many Euro­peans whose infor­ma­tion about Israel comes most­ly from news shows and news mag­a­zines. Read­ing about the parental prob­lems a per­son expe­ri­ences when he is caught in the mid­dle of the street with his sev­en-year-old child in the mid­dle of a mis­sile attack seems to tran­scend — at least with some of the book's read­ers — polit­i­cal views, and reminds them for a moment that the human expe­ri­ence is more com­plex and ambigu­ous than a Star Wars movie.
BK: When your first book came out in Poland, your moth­er told you that you weren't an Israeli writer, but rather a ​"Pol­ish writer in exile." Your father cer­tain­ly seems to have shared your love of sto­ry­telling and your abil­i­ty to address tragedy through sym­pa­thet­ic humor. How much do you feel your par­ents influ­enced style of writing?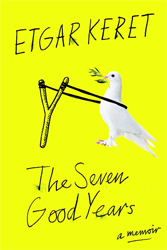 EK: I think that my par­ents had a huge effect on my writ­ing. The bed­time sto­ries they invent­ed formed the most pow­er­ful sto­ry­telling expe­ri­ence I've ever had. My father's infi­nite empa­thy and com­pas­sion for peo­ple togeth­er with my moth­er's amaz­ing imag­i­na­tion were the best adver­tise­ments a kid could have had for human­i­ty and mankind. I think that the fairy-tale qual­i­ty of many of my sto­ries comes from my con­tin­u­ous, uncon­scious attempt to echo some­thing from those amaz­ing bed­time sto­ries that had a cru­cial role in form­ing my iden­ti­ty and yearn­ings as a child.
BK: Can we look for­ward to more auto­bi­o­graph­i­cal works from you in the future — or to works inspired by fam­i­ly history?
EK: The prime cat­a­lyst to pub­lish this book was the death of my father. I think that this book is my way of say­ing good­bye to him. But my default when it comes to writ­ing has been, and prob­a­bly will always be, fic­tion. So I don't real­ly see myself return­ing to writ­ing non­fic­tion in the near future.
Bec­ca Kan­tor received her B.A. from the Uni­ver­si­ty of Penn­syl­va­nia and her M.A. in Cre­ative Writ­ing from the Uni­ver­si­ty of East Anglia. She has lived in Esto­nia, Eng­land, and Ger­many; cur­rent­ly she lives and writes in her native Philadelphia.
Relat­ed Content:
Bec­ca Kan­tor is the edi­to­r­i­al direc­tor of Jew­ish Book Coun­cil and its annu­al print lit­er­ary jour­nal, Paper Brigade. She received a BA in Eng­lish from the Uni­ver­si­ty of Penn­syl­va­nia and an MA in cre­ative writ­ing from the Uni­ver­si­ty of East Anglia. Bec­ca was award­ed a Ful­bright fel­low­ship to spend a year in Esto­nia writ­ing and study­ing the coun­try's Jew­ish his­to­ry. She lives in Brooklyn.