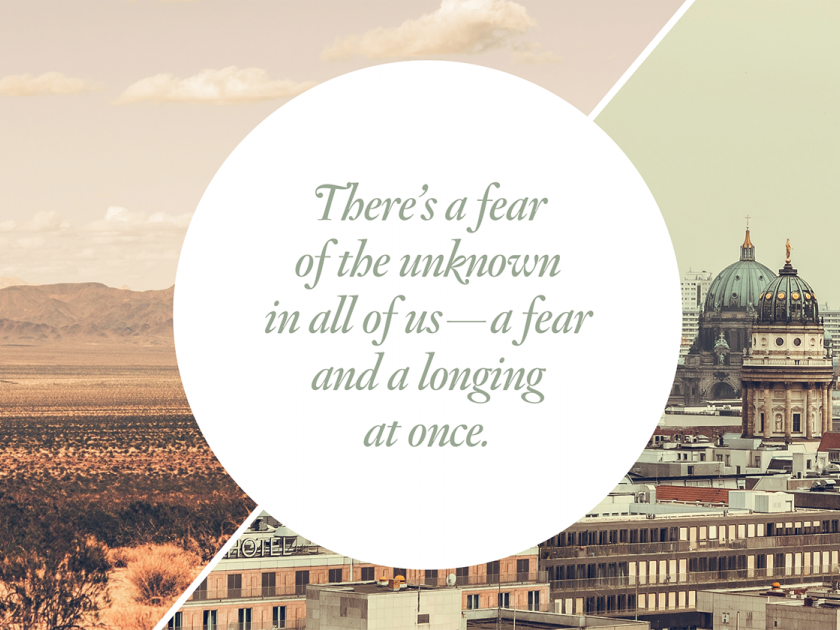 Ger­many and Israel are per­haps the two coun­tries most affect­ed by the Holo­caust, and this lega­cy is felt anew as both nations deal with a con­tem­po­rary human­i­tar­i­an cri­sis: the plight of refugees.
Two authors have writ­ten strik­ing­ly par­al­lel — but also telling­ly diver­gent — nov­els that address this top­ic. In Ger­man author Jen­ny Erpenbeck's Go, Went, Gone, Richard, a retired pro­fes­sor who lives in Berlin, becomes intrigued by African refugees in the city and begins to vis­it their shel­ter. In Israeli author Ayelet Gundar-Goshen's Wak­ing Lions, a doc­tor, Eitan Green, kills an Eritre­an migrant in a dri­ving acci­dent near the city of Beer­she­ba — and decides not to report it to the police. Lat­er, the Eritrean's wid­ow, Sirk­it, black­mails Eitan into work­ing in an ille­gal clin­ic she has set up in an aban­doned garage. In the con­ver­sa­tion that fol­lows, Gun­dar-Goshen and Erpen­beck dis­cuss their writ­ing, and the ways in which their nov­els are — and aren't — emblem­at­ic of their respec­tive countries.
It's not easy to fic­tion­al­ize a cri­sis that's still unfold­ing, espe­cial­ly when, as Erpen­beck notes, there's ​"no end­ing or solu­tion to the sit­u­a­tion in real­i­ty." But these two authors do so with sub­tle­ty and finesse. They not only tack­le the chal­lenges faced by migrants as well as the lay­ers of inter­nal prej­u­dice in both soci­eties today; they have also cre­at­ed unique, time­less sto­ries that, as Gun­dar-Goshen hopes, ​"one hun­dred years from now, or even twen­ty years from now … will still be rel­e­vant in people's minds and hearts."
Bec­ca Kan­tor: I was struck by the fact that both pro­tag­o­nists have pro­fes­sions that deal with the mind — but in very dif­fer­ent ways. Richard is a retired clas­sics pro­fes­sor, and his ini­tial attempts to under­stand the refugees are cere­bral and emo­tion­al­ly removed: he reads arti­cles, writes up inter­view ques­tions, et cetera. Eitan, on the oth­er hand, is a neu­ro­sur­geon. He inter­acts with oth­ers' brains in a way that's lit­er­al­ly hands-on, and his rela­tion­ship with the migrants is cor­re­spond­ing­ly less reflec­tive and more urgent.
How did each of you decide on your protagonist's pro­fes­sion, and what do you feel is its sig­nif­i­cance? Can your pro­tag­o­nist be seen as an every­man, rep­re­sent­ing the atti­tude of your coun­try as a whole?
Ayelet Gun­dar-Goshen: I want­ed my pro­tag­o­nist to be the every­day man — the typ­i­cal Israeli. In a way, I want­ed him to be my read­er, so that when an Israeli is read­ing Wak­ing Lions, he or she could pic­ture him- or her­self in this sit­u­a­tion. It's a sto­ry about a man who thinks of him­self as a good man, and most Israelis tend to think of them­selves as good peo­ple. And then his idea of him­self is chal­lenged by his deci­sion, which sud­den­ly changes every­thing. So yes, I want­ed Eitan to be the every­day man. But then again, I chose for him the pro­fes­sion of a doc­tor, which isn't very ​"every­day man" because most of the pop­u­la­tion doesn't get to be a doc­tor. But, I thought, a doc­tor is some­body who is used to know­ing things. He uses sci­ence in order to know stuff, and to feel that he's in con­trol over not just his own life, but also the lives and deaths of oth­er peo­ple. And I want­ed this char­ac­ter — a per­son who is used to always being in con­trol — to com­plete­ly lose con­trol over his life, over the life and death of his fam­i­ly, of his sur­round­ings, of himself.
I see Eitan as rep­re­sen­ta­tive of Israel as a whole because, just like he has this nar­ra­tive about him­self being a good guy, I think Israelis have this nar­ra­tive about our­selves as being in the right, as being the vic­tims of his­to­ry — which is of course very much true for most of Jew­ish his­to­ry. But some­times I feel the way we look at the refugee cri­sis in Israel is more affect­ed by our his­to­ry than by the actu­al facts of what's hap­pen­ing right here, right now.
Jen­ny Erpen­beck: For me it was impor­tant that Richard, my main char­ac­ter, approach­es the refugees as some­one who has a real, deep, exis­ten­tial inter­est in their life expe­ri­ence. He under­stands that they're peo­ple who suf­fer because of the deep rift between their for­mer lives and their lives as refugees, and suf­fer because they're not allowed to work in Ger­many and are thus con­front­ed with a nev­er-end­ing sit­u­a­tion of wait­ing. After hav­ing retired, Richard also strug­gles with being thrown from his dai­ly rou­tine of uni­ver­si­ty life, and faces lots of emp­ty time. How can one live in this kind of lim­bo? How can one stand to be con­front­ed with his mem­o­ries all day long? The ques­tion of how to make sense of one's own exis­tence with­out being want­ed by soci­ety any­more — this ques­tion is the ini­tial con­nect­ing point between Richard and the refugees.
So in the begin­ning there's just inter­est the dri­ving force for the for­mer sci­en­tist, not empa­thy or com­pas­sion. Richard is not some­one who wants to help or be a ​"good" per­son. He's kind of naïve about the sit­u­a­tion of the refugees in many respects, no doubt, but he demands the same respect for the young Africans as for peo­ple who have always lived in Berlin.
That Richard is a philol­o­gist has to do with my fond­ness for Ovid's Meta­mor­phoses—the book about change over the course of a life, about the good and the evil rea­sons for tak­ing on a new iden­ti­ty, about the con­nec­tions between all things in the world. I also had in mind Homer's Odyssey—which is, in my opin­ion, the book about some­one who has sur­vived a war, but who is main­ly famous for his strug­gle to sur­vive the jour­ney home. I deeply believe in a con­nec­tion between all human beings based on expe­ri­ences of death, loss, and fear. By invent­ing a char­ac­ter like Richard, I want­ed to remind read­ers of the poten­tial for a fruit­ful dis­course between peo­ple at the so-called ​"heights" of Euro­pean edu­ca­tion and peo­ple who have a dif­fer­ent, but no less rich cul­tur­al background.
BK: Richard him­self is very aware of the lay­ers of his­to­ry that sur­round him in Berlin. At one point in the nov­el, he reflects, ​"The Africans prob­a­bly had no idea who Hitler was, but even so: only if they sur­vived Ger­many now would Hitler tru­ly have lost the war." I was struck by this state­ment — could you elab­o­rate on it? How does the lega­cy of the Holo­caust shape Richard's per­spec­tive on the refugees?
JE: Every Ger­man knows where con­tempt of the so-called ​"oth­er" can lead — all of us have to live with the sto­ries and pic­tures of the peo­ple killed in the Holo­caust. It's very clear to me that Germany's 2015 move­ment to wel­come refugees had a lot to do with feel­ings of guilt and shame about all this. But the new Ger­man nation­al­ists' racism and hatred also have a lot to do with the same lega­cy, which for some peo­ple seems to be too heavy a load on their shoul­ders. So they react by mak­ing it worse. Only that now it's not only the right-wing Ger­mans, but also nation­al­ists all over Europe who seem to be hap­py about every refugee who los­es his or her life in the Mediter­ranean Sea, or in some refugee camp before even cross­ing the Sea. It's an absolute dis­grace that many Cen­tral Euro­pean gov­ern­ments refuse to take even one sin­gle refugee — and leave the coastal coun­tries of Italy, Greece, and Spain to cope with the prob­lem of hun­dreds of refugees arriv­ing every day. The offi­cial res­cue boats have long ago quit their job, and the pri­vate ones are hin­dered, so that month after month, thou­sands of human beings — men, women, and chil­dren — drown in the Mediter­ranean. This is noth­ing but selec­tion. The Mediter­ranean Sea is the Auschwitz of our day.
BK: Ayelet, as you said ear­li­er, Israel's cre­ation was a direct result of the Holo­caust — the coun­try was found­ed as a home­land for all Jews. It's implied that Eitan has Euro­pean her­itage, so there's a good chance that his own rel­a­tives in par­tic­u­lar were affect­ed by the Holo­caust, too. But, unlike Richard, Eitan nev­er thinks about his country's past, nev­er draws a par­al­lel between the state­less Jews post – World War II (many of whom came to Israel) and the African refugees he comes to know. Could you say more about how the Holo­caust and Israel's past have affect­ed Israelis' atti­tude toward present-day migrants? Does Eitan's atti­tude mir­ror one you've often seen?
AGG: Eitan indeed comes from a Euro­pean fam­i­ly, an Ashke­nazi fam­i­ly. So of course some of his rel­a­tives suf­fered dis­crim­i­na­tion and racism in Nazi Ger­many. And you're right, it's not men­tioned in Wak­ing Lions because, for him, this is far in the back­ground. I don't think he, as a char­ac­ter, draws this par­al­lel. But I do hope that the read­er thinks about this fact.
As the Eritre­ans cross the Sinai desert to get to Israel, they're actu­al­ly walk­ing the same road as the bib­li­cal Israelis walked when they got out of Sinai. But today the jour­ney to the promised land is made by Eritre­an peo­ple, while Jew­ish peo­ple are the gate­keep­ers. So there is a lot of his­tor­i­cal irony in the fact that Eitan, being the descen­dant of refugees, doesn't show — at least in the begin­ning of the nov­el — any com­pas­sion, or give any thought to the cur­rent stream of refugees com­ing into Israel. In that, I think he's no dif­fer­ent from any oth­er Israeli, because most of us don't think of our­selves as the gate­keep­ers. We draw a very clear line from the Sec­ond World War to the Israel of today, and of course this line exists — Israel is a nation of refugees. But we don't always think about the moral respon­si­bil­i­ty that comes with being a nation of refugees. What does it mean in regard to the way we're deal­ing with the sit­u­a­tion of refugees today?
BK: I was also struck by the nuance with which both of you por­tray the prej­u­dice and racism that exists with­in a soci­ety. Ayelet, your char­ac­ters reveal that being vic­tims of prej­u­dice doesn't nec­es­sar­i­ly exempt peo­ple from being racist them­selves. One of many exam­ples: although Eitan's wife, Liat, has encoun­tered dis­crim­i­na­tion for being Mizrahi, she also strug­gles with her own pre­con­cep­tions of Arabs. Did this explo­ration of the com­plex­i­ties of racism evolve organ­i­cal­ly, or did you con­scious­ly include it?
AGG: The atti­tude of Liat toward the Israeli Arabs is indeed racist, which is inter­est­ing because she comes from a Jew­ish Arab back­ground. But we do see a lot of racism in Israel, which is some­times real­ly iron­ic because some of the Jews who hate the Arabs the most are Jews who were born in Moroc­co, in Egypt — Jews who speak Ara­bic and share many char­ac­ter­is­tics with those Arabs whom they hate. So yes, it was impor­tant for me to explore not just the racism toward the oth­er — the Eritre­an refugees — but also the inter­nal racism: the racism inside Israeli soci­ety, and also inside a Jew­ish soci­ety. Liat, being a Mizrahi woman, expe­ri­enced a lot of racism from Ashke­nazi Jews.
BK: The sto­ry of an Israeli doc­tor help­ing African migrants could eas­i­ly have fall­en into the ​"white sav­ior" trope — but instead it sub­verts this cliché com­plete­ly. Eitan's patients think of him as an ​"angel," and even Liat is ulti­mate­ly con­vinced that he act­ed out of altru­ism, but we the read­ers know the truth: he's moti­vat­ed entire­ly by self-preser­va­tion. What do you think of Eitan as an anti­hero, and why are his flaws so inte­gral to the book?
AGG: Eitan wouldn't help the Eritre­an refugees if he weren't black­mailed to do so — if he weren't forced to do so. So he's not a sav­ior; he's not an angel in a white robe. Peo­ple always look at him as if he were — most of the Eritre­an refugees whom he meets admire and thank him. Only he and Sirk­it, who black­mails him, know the secret: that he is not altru­is­tic at all, that he is actu­al­ly there because he killed some­body and didn't care enough to stop and call the police because the guy he killed was black. It was very impor­tant to me for Eitan to be an anti­hero, but not in the sense that he's just a vil­lain. I do hope that some­thing inside of him changes. At the same time, I didn't want him to be a Dis­ney cliché of a bad guy who turns com­plete­ly good. I love it that both the bad guy and the good guy are actu­al­ly the same guy — that's the way it is in reality.
BK: Jen­ny, as we've dis­cussed, Richard is very much aware of the lega­cy of the Holo­caust. He's also high­ly attuned to oth­er parts of Ger­man his­to­ry, like com­mu­nism and col­o­niza­tion. A key part of Richard's iden­ti­ty is that he isn't sim­ply Ger­man, but from the for­mer East Ger­many (as you are, too). What does this mean for him? Were his expe­ri­ences informed by your own?
JE: Like the refugees, East Ger­mans had the expe­ri­ence of need­ing to get used to a com­plete­ly new sys­tem from one day to the next. Even if the change was want­ed in gen­er­al, there were many dif­fi­cul­ties involved. For exam­ple, it was an exis­ten­tial shock when we under­stood that all of a sud­den we had to pay ten times more for our apart­ments. How would we make so much mon­ey? Not to men­tion that many peo­ple lost their jobs at this time because fac­to­ries were being sold to the West and imme­di­ate­ly closed. In uni­ver­si­ties, the elites were replaced by for­mer West Ger­mans. Even now, you won't find many for­mer East Ger­mans among the direc­tors of big Ger­man com­pa­nies, uni­ver­si­ties, and muse­ums. So it was a deep cut in the col­lec­tive expe­ri­ence — and not in all regards a good one. His­to­ry, as always, is writ­ten by the win­ner. So inter­est in biogra­phies of East Ger­man fig­ures isn't very strong — and the same is true of biogra­phies of refugees. But his­to­ry hasn't come to an end yet. As long as there's inequal­i­ty, there will be change. It's worth look­ing at our world through the eyes of some­one who's been denied acceptance.
BK: Go, Went, Gone also does an excel­lent job of demon­strat­ing the insid­i­ous­ness of racism. Toward the end of the book, one of the refugees, Khalil, says that while Ger­man women have dat­ed his friends, they nev­er actu­al­ly seem to want a seri­ous rela­tion­ship with an African. What do roman­tic rela­tion­ships reveal about the lim­its of acceptance?
JE: It's one thing to have a nice love affair with some­one who comes from some­where far away and per­haps has a dif­fer­ent skin col­or — and a very dif­fer­ent thing to con­nect your life to his or hers, have chil­dren togeth­er, and present him or her to your par­ents at the din­ner table. How can you trust some­one who is per­haps deeply trau­ma­tized, has lit­er­al­ly no belong­ings, and maybe didn't even have the oppor­tu­ni­ty to attend school as a child? Should some­one like this one day inher­it the chi­na your grand­par­ents man­aged to save dur­ing the war? In truth, these are very seri­ous questions.
There's a fear of the unknown in all of us — a fear and a long­ing at once. We want to lose our­selves by lov­ing some­one — give up our per­son­al bor­ders, the bor­ders of our body. But in day­light oth­er things gain impor­tance. More than any­thing else, the reli­gious ques­tions: would you, as a mod­ern Euro­pean woman, be hap­py if your Mus­lim part­ner doesn't want you to drink alco­hol? Would he be hap­py to find a self-con­fi­dent and finan­cial­ly inde­pen­dent wife? Would a young Jew­ish man be able to stand his par­ents' com­ments about him mar­ry­ing a ​"shik­sa"? Would some­one with a Catholic back­ground have a prob­lem if you told him that you were brought up with­out believ­ing in God?
It's nev­er easy to com­mit to some­one whose polit­i­cal, cul­tur­al, and social back­ground is dif­fer­ent from yours — it could go well and it could fail. It's always a chal­lenge. And mar­ry­ing some­one who has a dif­fer­ent skin col­or means that both part­ners, from that moment on, will have to strug­gle with the prej­u­dices of their own ances­tors. As stu­pid as it is, com­bin­ing two dif­fer­ent kinds of skin pig­ment in a mar­riage still means that each per­son in the cou­ple will have to ​"change sides." Not every­one is strong enough to do so. The task for the cen­turies to come will be learn­ing how to leave the idea of human races and nations behind and become humankind. And, as we all know, love is the loveli­est way to learn.
BK: On that top­ic, erot­ic desire is tied up with secre­cy and guilt for both pro­tag­o­nists. Their rela­tion­ships with refugees bring this to the fore — although in very dif­fer­ent ways. Eitan ini­tial­ly hates Sirk­it, but as they spend more time togeth­er, he becomes increas­ing­ly attract­ed to her. Ayelet, when you came to the JBC office a few months ago, you made a fas­ci­nat­ing point about this phe­nom­e­non: we fall in love with some­one when they know our secrets. Could you say more about this?
AGG: When I was study­ing to become a psy­chol­o­gist, I had an instruc­tor who told me, ​"Peo­ple are going to come into your clin­ic and they're going to fall in love with you. But make no mis­take — it's not about you. It's about the secrets that they're putting in your clin­ic. That's what they fall in love with. That's the source of desire." We always have desire, or some sort of eroti­cism, for the per­son who knows our biggest secret. The knowl­edge in itself has some­thing erot­ic in it. In bib­li­cal days, the Hebrew word ​"to know some­body" actu­al­ly meant sex­u­al inter­course. And I think there is some­thing beau­ti­ful about the bib­li­cal Hebrew because it real­ly con­veys this feel­ing that there is some­thing erot­ic about ful­ly know­ing some­body else. We are always attract­ed to those who tru­ly know us. We are ter­ri­fied of the pos­si­bil­i­ty of being ful­ly known, but we are also very attract­ed to it.
BK: Richard, on the oth­er hand, has pla­ton­ic rela­tion­ships with the refugees he meets. He has a his­to­ry of infi­deli­ty, though, and it's through his inter­ac­tions with the refugees that he final­ly seems able to admit how deeply his affair with a col­league affect­ed his wife. Jen­ny, could you talk more about this? Did you ever con­sid­er giv­ing Richard a present-day love interest?
JE: Richard was used to lead­ing two par­al­lel lives, as many peo­ple do: the one he
led with his wife, and the one with this or that lover. Now, after retir­ing, he's fac­ing a new kind of lone­li­ness. His wife passed away some years ago, the last lover left him, and the affec­tion he devel­ops for the Ethiopi­an teacher whom he meets in the asy­lum seek­ers' house doesn't lead to any­thing — so he finds him­self all alone, forced to con­tem­plate his past, his age, the lack of love in his life, the mis­takes he has made. The absence of women, the miss­ing women — in the lives of the refugees as well — is some­thing like the secret core of the book.
BK: What was your expe­ri­ence writ­ing fic­tion about a con­tem­po­rary cri­sis? Were there chal­lenges, and if so, what were your meth­ods for deal­ing with them?
JE: From the begin­ning, it was clear that this book couldn't be planned out in advance. The research and the writ­ing were par­al­lel process­es, and many things that I learned and expe­ri­enced dur­ing the research were unex­pect­ed. The main chal­lenge while writ­ing this book was gain­ing the dis­tance that is need­ed for reflec­tion — and com­ing clos­er and clos­er to the sub­ject at the same time. It was dif­fi­cult to cre­ate an end­ing for the book while there was, and still is, no end­ing or solu­tion to the sit­u­a­tion in reality.
AGG: When you deal with a con­tem­po­rary cri­sis, you're always ask­ing your­self, ​"What is the dif­fer­ence between writ­ing a nov­el and writ­ing an opin­ion col­umn in the news­pa­per?" You don't want your nov­el to be just one more peti­tion: ​"help the refugees." Not that I'm against those peti­tions — I actu­al­ly sign them — but I don't think a nov­el should be a peti­tion. It should be some­thing much deep­er. It should be more about ques­tion marks than excla­ma­tion marks. So when you write a nov­el about some­thing that is con­tem­po­rary, you should always ask your­self, ​"How can I write about this sub­ject so that one hun­dred years from now, or even twen­ty years from now, it will still be rel­e­vant in people's minds and hearts?" And here you have to go beyond the news, into what is not new — into what is old, which is the human con­di­tion. The basic ques­tions: what does it mean to be human? What kind of moral respon­si­bil­i­ties do we have?
BK: Both of your books deal with lan­guage on mul­ti­ple lev­els. (To begin with, most Amer­i­cans, includ­ing me, will read both of them in trans­la­tion from the orig­i­nal Hebrew and Ger­man …). Ayelet, you made an intrigu­ing deci­sion with your char­ac­ters' dia­logue: Sirk­it speaks Hebrew, but when she speaks to Eitan, her words are ital­i­cized (rather than in quo­ta­tion marks, as the rest of the dia­logue is). Could you tell me more about this, and why you decid­ed to for­mat the book in this way?
AGG: Sirk­it speaks in ital­ics because her whole exis­tence inside the Israeli real­i­ty is in ital­ics. She isn't like oth­er Israelis, who can walk straight and tall in the street, because she has to hide, she has to dis­guise her­self — oth­er­wise she'll be deport­ed in a sec­ond. The ital­ics are a sym­bol­ic rep­re­sen­ta­tion of her place — not just her place in the print­ed text, but also the place she takes, or dares to take, in Israeli society.
BK: Jen­ny, even your book's title refers to con­ju­gat­ing a verb in a for­eign lan­guage — and the impor­tance of lan­guage con­tin­ues to be empha­sized through­out the nov­el. (Ear­ly on, for exam­ple, Richard is relieved when he has to speak in Eng­lish with a refugee because it allows him to avoid decid­ing whether to address him by the infor­mal or for­mal ​"you" in Ger­man. Men­tal­ly, he finds him­self address­ing the migrants in the infor­mal form, as if they were ​"inmates.") Could you talk more about lan­guage and its politics?
JE: Of course it is impor­tant to choose your words care­ful­ly. But lan­guage can hide things as well as reveal them. At a time when some peo­ple use lan­guage to sell lies, and oth­ers try to make lan­guage as pure and fair as pos­si­ble, we should step back a bit and pay more atten­tion to the things some­one says with­out words, just by doing good or bad. That should remain the ulti­mate bench­mark for any judg­ment. In lit­er­a­ture, both good and bad words can be good — as long as they seri­ous­ly try to tell the truth.
Bec­ca Kan­tor is the edi­to­r­i­al direc­tor of Jew­ish Book Coun­cil and its annu­al print lit­er­ary jour­nal, Paper Brigade. She received a BA in Eng­lish from the Uni­ver­si­ty of Penn­syl­va­nia and an MA in cre­ative writ­ing from the Uni­ver­si­ty of East Anglia. Bec­ca was award­ed a Ful­bright fel­low­ship to spend a year in Esto­nia writ­ing and study­ing the coun­try's Jew­ish his­to­ry. She lives in Brooklyn.