In part­ner­ship with Jew­School, JBC sat down with Leah Vin­cent to dis­cuss her recent­ly pub­lished mem­oir, Cut Me Loose: Sin & Sal­va­tion After My Ultra Ortho­dox Girl­hood (Nan A. Talese). Below, JBC and Leah dis­cuss writ­ing, the Hare­di world, and her rela­tion­ship with her parents.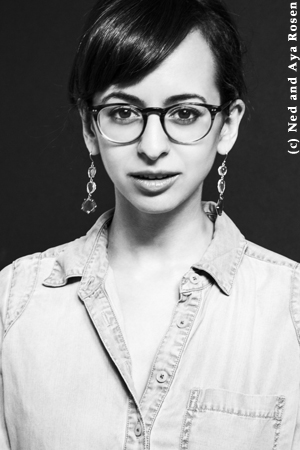 JBC Staff: I'm curi­ous about your habits of writ­ing. Where do you write? When do you write? Do you have spe­cif­ic habits around the craft?
Leah Vin­cent: No. And I feel very guilty about this. I feel like I need to be more dis­ci­plined. That's my con­stant res­o­lu­tion — to get more dis­ci­plined about it. I have a tod­dler, so my writ­ing revolves around what­ev­er time the babysit­ter is there and [whether] I don't have oth­er press­ing things. I write on the couch, or chair, on my bed with my lap­top and just type fran­ti­cal­ly. I'm a real­ly big believ­er in the bad first drafts. So I'm just always try­ing to just push myself to write when­ev­er it comes and not judge it. And come back to it. And rework it and rework it and rework it.
I would love to be able to say, ​"I sit down in my office from 9 AM to 5 PM." That does not hap­pen at all: of course, every time I come to a dif­fi­cult scene, I'm check­ing on Face­book every ten sec­onds. Some­thing on Twit­ter has become very, very impor­tant instant­ly. I know that I should shut off the inter­net, but I don't. It's a very organ­ic, mean­der­ing engage­ment. If I could go to an office every­day, doing some­thing like being a pedi­a­tri­cian, I'd have the time for my work. But because I'm a writer, some­how I have to fight a lit­tle bit hard­er to be tak­en seri­ous­ly — by myself maybe more than any­body else. I'm allowed to say, ​"I'm not tak­ing every­thing else. I'm just writ­ing for two hours." There's this con­stant push­ing for space that one needs to live and that one has to do on one's own.
JBC Staff: Do you see your work as a break or a con­tin­u­a­tion of an old­er genre of lit­er­a­ture — some­thing like the Auto­bi­og­ra­phy of Solomon Mai­mon or the trea­tis­es of that oth­er rab­ble rouser, Baruch Spin­oza?
LV: I def­i­nite­ly think we have a claim to the Haskalah (Enlight­en­ment). Before OTD ["Off the Derech" — leav­ing Ortho­doxy] became as pop­u­lar as it was two, three years ago, I was say­ing we have to call our­selves Mask­il­im ("enlight­ened"), not because we're iden­ti­cal to the orig­i­nal Mask­il­im, but because we car­ry some of their spir­it for­ward and it's impor­tant for us to real­ize that we have a lin­eage; that we're not com­ing out of nowhere. It's not, obvi­ous­ly, an unbro­ken chain: the themes are very dif­fer­ent — the Mask­il­im are, for the most part, much more intel­lec­tu­al than my book is. But I'm proud to claim them. I don't know how they would feel about being claimed, but I'm proud to claim them — and I think we should. I do think that, espe­cial­ly when you've been reject­ed — as some of us have, by every­one we knew and cared about — to claim kin­ship with peo­ple who are dead, to be able to look out onto a much wider world, and say, ​"Lis­ten, the imme­di­ate world has reject­ed me, but I'm going to find fam­i­ly or intel­lec­tu­al coun­ter­parts or peo­ple I can to con­nect to," is huge­ly pow­er­ful. I wouldn't want to deny myself or oth­er peo­ple who find com­fort and con­fi­dence and ideas and inspi­ra­tion from that.
JBC Staff: Peo­ple have been pre­sum­ably going ​"off the derech" since the legal brick­lay­ers paved the path. But leav­ing the Hare­di world is no longer enough — there's a dri­ve now to change it, whether it be through writ­ing, protests, bill­boards, or non-prof­its. Hav­ing spo­ken to peo­ple who went off the derech over twen­ty to twen­ty-five years ago, they've noticed that change, too. How do you account for this change? Why do you think that there's been a cul­tur­al shift now?
LV: I think that con­text is impor­tant. I firm­ly believe the ultra-Ortho­dox com­mu­ni­ty did not exist in its cur­rent incar­na­tion a hun­dred years ago and even fifty years ago. And even in my life­time (I'm thir­ty-two) I've seen a dra­mat­ic change in the ultra-Ortho­dox com­mu­ni­ty. I can't speak as author­i­ta­tive­ly about the Hasidic world, which I know is dif­fer­ent, but the Yeshiv­ish world, twen­ty years ago, was a lot more open to influ­ences and real­i­ties of the out­side world than it is today — so you could exist in it with­out feel­ing like you were exist­ing in some­thing that was caged or enclosed in the way it is now. The more the Hare­di com­mu­ni­ty tight­ens its grip, the more you're going to have a back­lash because the more you need to have a backlash.
The OTD com­mu­ni­ty real­ly only formed in the way it has in the past three years, real­ly — five years, maybe. But part of it is that there's some­thing to real­ly talk about. I respect the right of peo­ple to live in many dif­fer­ent ways. I don't have a fun­da­men­tal prob­lem, a foun­da­tion­al prob­lem, with Yeshiv­ish life; I have a prob­lem with cer­tain parts of it that have become worse and worse and worse now. So now there's some­thing to talk about. We're becom­ing activists because of what we see and what we feel we have an oblig­a­tion to change. I don't think that it exist­ed in the same extreme way thir­ty years ago as it exists now.
JBC Staff: Your book is so much about the body and the bod­i­ly — con­t­a­m­i­na­tion, puri­ty, mod­esty, just to name a few. When your moth­er pro­hib­it­ed you from eat­ing on the plates when you returned home, didn't it func­tion as a metaphor, too? Or do you think the OTD body, in your case, was under­stood in strict­ly lit­er­al terms — as a ​"real" site of contamination?
LV: I think what you're ask­ing is: was my moth­er lit­er­al­ly think­ing I'm going to spread dis­ease? So I don't know. There's no way of know­ing; only my moth­er knows. I thought, at the time, that she did not under­stand how sex­u­al­ly trans­mit­ted dis­eases could work — or what­ev­er she thought I had — and that she thought I could lit­er­al­ly some­how pass this thing on. When I look back that seems kind of ridicu­lous. It seems that she's more like­ly send­ing me a mes­sage and a mes­sage to the oth­er chil­dren that I am the Oth­er. But I do remem­ber at the time being con­fused myself. I was strug­gling to put togeth­er pieces and knowl­edge about the world.
I don't under­line it enough in the book, but I think a lot of my par­ents' actions, the mes­sage I always got was: they're pro­tect­ing their oth­er chil­dren. There def­i­nite­ly is this con­t­a­m­i­na­tion anx­i­ety. Peo­ple say, ​"How could your par­ents do this to you?" I don't think that my par­ents were doing this to me: I think they were being good par­ents to all the oth­er kids they had in the family.
JBC Staff: The lan­guage of sav­ing is curi­ous when talk­ing about Hared­im. Most state pow­ers don't have vest­ed inter­ests in ​"lib­er­at­ing" Hare­di women by start­ing wars, but even so, how do you strike that bal­ance — the fine line between refus­ing apolo­get­ics for the ways that Hare­di women's bod­ies are dis­ci­plined, their choic­es are made, and their edu­ca­tion admin­is­tered, while at the same time resist­ing that sec­u­lar urge to ​"lib­er­ate" them, to paint them as peo­ple robbed of agency and choice?
LV: This is some­thing I've been think­ing about a lot late­ly — and try­ing to fig­ure out how to express it. I wish I had more sophis­ti­cat­ed aca­d­e­m­ic train­ing to be able to express it bet­ter than I will.
Pro­gres­sives are too nice. I resent this idea of pro­gres­sives' respect for extrem­ism — to the detri­ment of some peo­ple. There is a hier­ar­chy of moral or eth­i­cal rights, and a com­mu­ni­ty does not get the right to self-auton­o­my until it has ful­filled the right of allow­ing peo­ple to leave. Until the Hare­di world lets peo­ple leave, I'm going to crit­i­cize the fact that they don't let peo­ple leave and I'm going to crit­i­cize them on the two oth­er major issues which I care most about: the role and rights of women and the safe­ty of chil­dren. If peo­ple could leave eas­i­ly, then peo­ple could say that I should low­er the tem­per­a­ture on some of my oth­er issues.
JBC Staff: You men­tion in the book that your grand­fa­ther marched with black preach­ers in the 1960s and that ​"your father had called his own father ​'Dad.' " How does this col­lec­tive for­get­ting occur?
LV: I don't know if it's a col­lec­tive for­get­ting as much as a col­lec­tive wish­ful think­ing. I think that after a trau­ma like the Holo­caust, what­ev­er grows in that ground is going to be warped. I think it's inevitable.
After the Holo­caust, we saw this spring­ing up of the Yeshiv­ish com­mu­ni­ty, which, fueled by that great inten­si­ty and trau­ma, was able to cre­ate this myth that they had exist­ed for­ev­er. And for­get that this is not the case. And for­get that many mem­bers, like my father, came from much more pro­gres­sive back­grounds — and Ortho­dox Judaism in the 1960s looked noth­ing like Ortho­dox Judaism in the 1990s. And nobody was will­ing to admit that. And I think that this ter­ri­ble trau­ma is real­ly respon­si­ble for so much of this — and I think it's played out in dif­fer­ent Jew­ish com­mu­ni­ties in dif­fer­ent ways. And this is the way that it played out in the Yeshiv­ish community.
JBC Staff: You begin the mem­oir by inscrib­ing your father into the past, despite the fact that he's still alive: ​"my father, Rab­bi Shaul Kaplan, was a short, stiff-shoul­dered man" — not is. Is he dead to you?"
LV: He's not dead to me as a per­son; he's still not dead to me as a father. It would be hard to talk about him in the present tense, although I do some­times. It's not just a sto­ry about the past: he is a per­son who is alive today, and I engage with him today. But I don't have a rela­tion­ship with him any­more, so in a way the rela­tion­ship is dead and the per­son I have to relate to is not the per­son walk­ing on the earth today, but the per­son who exist­ed in the past.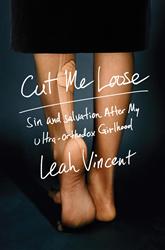 I often call myself a ​"zom­bie orphan." It's a spe­cial kind of orphan­hood where your par­ents are alive, but they treat you like you're dead. And it comes with its own rules. Like zom­bies, they pop up into life and you think they're going to be there for you and then they dis­ap­point you by going for your guts. It's a very strange state to be in — where you nev­er get to vis­it somebody's grave and cry for them. Instead, you have cold dis­tance, and then some­times you get engaged again, which is ter­ri­fy­ing. To have my father issue a state­ment that he still loves me, while call­ing me a liar or what­ev­er else he said to Katie Couric and to Tablet, when he didn't call me after my baby was born…
It's a zom­bie orphan­hood, where you have this very weird and painful and strange rela­tion­ship. I've nev­er been able to give up hope that we can rec­on­cile because I know he's still alive and because we have had this weird, strange con­tact. I can't give up. And that hope has been incred­i­bly dam­ag­ing to me. But I hold on to it, that one day, some­how, this will all be cleaned up, and he'll find a way that I can have a father again.
It's unlike­ly.
Read more from Leah Vin­cent here.