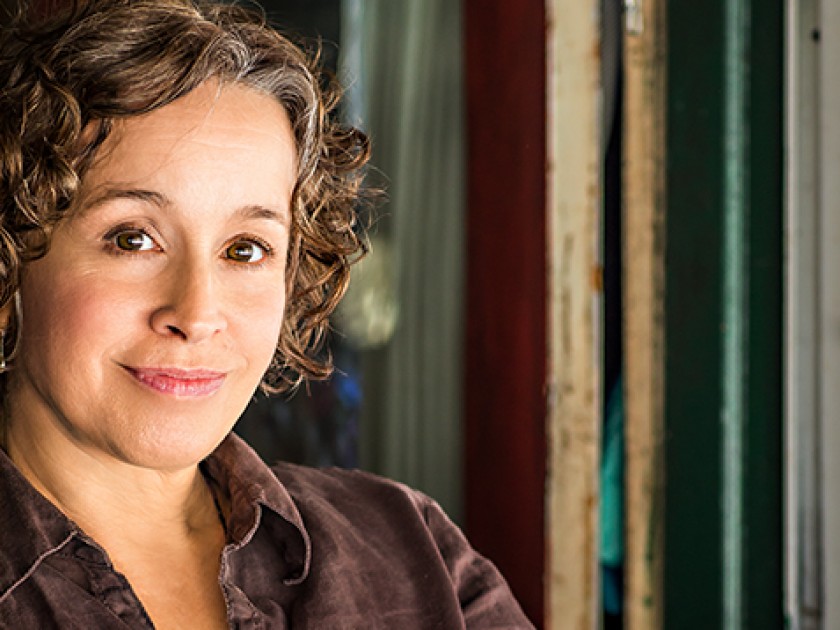 Michal Hoschan­der Malen, our edi­tor of chil­dren's and young adult book reviews, recent­ly had the chance, as part of the Syd­ney Tay­lor Book Award blog tour, to talk to Susan Krawitz about her book Viva, Rose!, a debut fic­tion final­ist in this year's Nation­al Jew­ish Book Awards. Viva, Rose! was also hon­ored in this year's Syd­ney Tay­lor Book Awards, a pro­gram of the Asso­ci­a­tion of Jew­ish Libraries. The star of Kraw­itz's sto­ry is thir­teen-year-old Rose, part of a tra­di­tion­al and obser­vant Jew­ish fam­i­ly in El Paso, Texas. When her old­er broth­er joins Pan­cho Vil­la's army, she decides she has to res­cue him and embarks on a fright­en­ing but excit­ing desert adventure.
Michal Hoschan­der-Malen: The his­tor­i­cal set­ting of Viva, Rose! is unusu­al in young adult Jew­ish lit­er­a­ture. What moti­vat­ed you to write a Jew­ish Western?
SK: This fic­tion­al sto­ry was inspired by a true one; my grandfather's fam­i­ly set­tled in the west when they immi­grat­ed from Rus­sia around the turn of the twen­ti­eth cen­tu­ry, and one of his first cousins rode with Pan­cho Villa's army dur­ing the Mex­i­can Rev­o­lu­tion. I'd heard sto­ries of this cousin Abra­ham and his sis­ter Rose as I was grow­ing up, but they seemed too wild to be true. Rose was a cabaret singer? Abra­ham played chess on horse­back? But then my old­er sis­ter found an actu­al arti­cle about Abe's life in a 1932 San Anto­nio news­pa­per. The first sen­tence read: ​"Every once in a while you come across a life sto­ry that in its col­or and action seems almost fic­tion­al." Even this jour­nal­ist thought Abra­ham was quite a char­ac­ter! I'd already start­ed writ­ing short children's fic­tion by then, but these words lit a fire that would smol­der inside of me until I this took these ​"almost fic­tion­al" sto­ry parts and turned them into a novel.
MHM: What kinds of research did you do to make the era and the set­ting so vivid? How much fact is mixed in with the fiction?
SK: I crawled all over the inter­net to learn about Jew­ish set­tle­ment in the west and research fam­i­ly records and geneal­o­gy; I also watched every movie I could find about Pan­cho Vil­la, and read every book, both fac­tu­al and fic­tion, about him. One of my most valu­able resources was Insur­gent Mex­i­co, writ­ten by a well-known jour­nal­ist of that time named John (aka Jack) Reed. (He was por­trayed by War­ren Beat­ty in the 1981 movie, Reds.) He lived and trav­eled with Villa's gang for sev­er­al months, and may have been not only the first jour­nal­ist embed­ded with an army, but also the first to use an impas­sioned nar­ra­tive style that brought read­ers into scenes and sit­u­a­tions in an up-close and per­son­al way. His elo­quent­ly detailed first-per­son view­point offered me invalu­able flesh to put on the bones of the leg­endary villain/​hero Pan­cho Villa.
You could also say my life expe­ri­ences were a sort of research as well. Many years of rid­ing hors­es gave col­or to Rose's eques­tri­an scenes, and a long-ago rock climb­ing trip to Hue­co Tanks State Park in El Paso, Texas offered the loca­tion of Villa's desert hide­away. Not all research needs to be con­duct­ed indoors!
Regard­ing the mix of fact and fic­tion, I found the real-life ele­ments of Pan­cho Villa's army were, like Abraham's life, too ​"almost fic­tion­al" to be true. The Mex­i­can Rev­o­lu­tion, which had a main goal of ensur­ing equal­i­ty for peas­ant farm work­ers, was an impor­tant social jus­tice move­ment of the ear­ly twen­ti­eth cen­tu­ry, and all kinds of peo­ple came from all kinds of places to sup­port Villa's efforts. I based many of the char­ac­ters in the Vil­la camp on actu­al peo­ple, includ­ing barn­storm­ers Far­nam T Fish and Wild Bill Heath, and a San Fran­cis­co bank rob­ber named Oscar Creighton. Leg­endary silent movie cow­boy Tom Mix declared he'd spent time there (though some say he just said so for pub­lic­i­ty) and of course, I had to put Jack Reed in the camp with Rose as well. Addi­tion­al­ly, Rose and Abra­ham and their fam­i­ly are drawn from research and rel­a­tives' sto­ries of their lives.
MHM: Can you tell us some­thing about the Jew­ish life of the period?
SK: An 1878 sur­vey by the Union of Amer­i­can Hebrew Con­fer­ence showed that 21,465 Jews were liv­ing in eleven west­ern states and ter­ri­to­ries. Incred­i­bly, it's been esti­mat­ed that by 1880, California's Jew­ish pop­u­la­tion was big­ger than that of New York State.
Jews worked as ped­dlers, mer­chants and trades­peo­ple, led wag­on trains, and explored the fron­tier. My rel­a­tive Solomon Solomon, Rose and Abraham's father, immi­grat­ed to San Anto­nio at the very end of the 1800s, and worked as a kosher butch­er and an Ortho­dox rab­bi. The city had a well-estab­lished Jew­ish com­mu­ni­ty by then. The first syn­a­gogue, Beth-El, was opened in 1874; a Ladies Hebrew Benev­o­lent Soci­ety and a Young Men's Hebrew Asso­ci­a­tion soon fol­lowed. By the time my rel­a­tives arrived, there were sev­er­al syn­a­gogues and a Jew­ish cemetery.
MHM: Rose faces moral dilem­mas one after anoth­er as she nav­i­gates the events of the excit­ing plot. She tries to do the right thing even as she lies, deceives her par­ents, and con­fronts peo­ple she orig­i­nal­ly per­ceives as ​"bad guys." She faces com­pli­cat­ed choic­es for which she's had no prepa­ra­tion. What is your intend­ed take­away for a young read­er watch­ing Rose han­dle these tricky situations?
SK: I'd guess my goals for a young reader's take­away are the same as my sto­ry-goals for Rose: to begin to move away from the black and white think­ing of ear­ly ado­les­cence towards a more com­pli­cat­ed, but more reward­ing and self-actu­al­ized way of being in the world. Life would cer­tain­ly be eas­i­er if the good guys wore white hats and the bad ones black, but with­out this cod­ing, we're per­pet­u­al­ly chal­lenged to cre­ate our own unique moral path. In a world that seems to be expe­ri­enc­ing a moment of deep polar­iza­tion, I think we can't overem­pha­size the con­cept that most of life actu­al­ly exists not in the blacks and whites, but the var­ied shades of grey.
I think we find some of the truest, most grat­i­fy­ing parts of life in the cracks between every­thing we've always thought to be true.
MHM: What excit­ing things can we expect next from the pen of Susan Krawitz?
SK: I'm cur­rent­ly fin­ish­ing an adult nov­el set in Ire­land, blow­ing the dust off some pic­ture book man­u­scripts, and work­ing on a sequel to Viva, Rose! The real-life Rose had yet anoth­er broth­er who did incred­i­ble things and he did them in New York City, which offers me anoth­er chance to get Rose out of her com­fort zone and into some deli­cious­ly chal­leng­ing hot water.
Michal Hoschan­der Malen is the edi­tor of Jew­ish Book Coun­cil's young adult and children's book reviews. A for­mer librar­i­an, she has lec­tured on top­ics relat­ing to lit­er­a­cy, run book clubs, and loves to read aloud to her grandchildren.