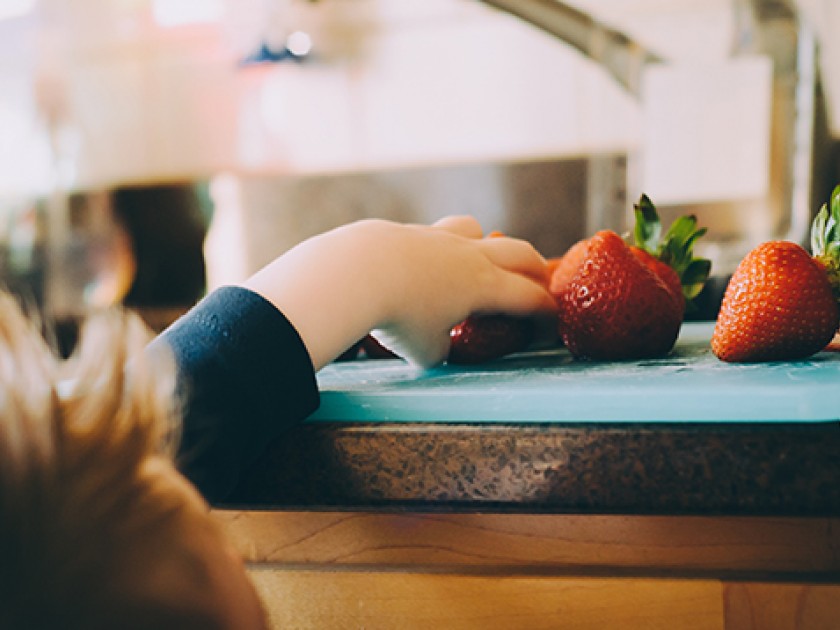 Jonathan K. Crane is the author of Eat­ing Eth­i­cal­ly: Reli­gion and Sci­ence for a Bet­ter Diet. He is blog­ging for the Jew­ish Book Coun­cil as part of our Vis­it­ing Scribe series.
I vivid­ly remem­ber one evening when I, a rav­en­ous teenag­er, sat before a heap­ing pile of chick­en bones. For rea­sons now lost to leg­end, I had just fin­ished some kind of fried chick­en eat­ing com­pe­ti­tion. Irre­spec­tive if it was with my two broth­ers or just with myself, I recall now how my stom­ach ached then. I had glut­ted my gut. And it hurt. I wad­dled over to the couch, flopped down, and wheezed into oblivion.
One Purim we guz­zled haman­taschen. But who could blame us? Our mother's were famous for their home­made jam fill­ing and orange zest crust. Then there were her blintzes for Tu B'Shvat, the Pesach charosets, the dozen pies for Thanks­giv­ing, the five fla­vors of home­made ice cream on the Fourth of July, and don't get me start­ed on the dou­ble-choco­late brownies.
I also remem­ber the many years when my par­ents would take us across the Kent Val­ley south of Seat­tle to a pea patch. Hun­ker­ing down into our plot's dark dirt, we would pluck weeds, har­vest edi­bles, and talk about what we would can and pre­serve that sea­son. Every sum­mer we'd find a near­by alley where wild black­ber­ries aggres­sive­ly vied for dom­i­nance. Armed with thick gloves, sticks to lever­age back vines, long sleeves, and buck­ets strung to car­ry around our necks, we'd pick gal­lons of suc­cu­lent berries, a few of which we'd put in the buck­ets instead of our mouths. When we were espe­cial­ly hot from pluck­ing straw­ber­ries off ankle-high plants or apples from an orchard in the Cas­cade foothills or blue­ber­ries in an island's grove, we'd stop on the way back home for root beer floats at a local dri­ve-through. Back in the kitchen, tak­ing over every sur­face avail­able, we'd clean, prep, and cook up a storm — jams, pick­les, apple­sauce, whole fruits, savory and sweet sauces, breads of all sorts — lay­ing away goods in the store­room and freez­er to enjoy in the long drea­ry North­west winters.
Through­out, my moth­er repeat­ed her mantra: get the best ingre­di­ents you can and do very lit­tle with them. In her view, fan­cy recipes often under­mine both the taste and nutri­tion of ingre­di­ents. Sim­plic­i­ty allows foods to express them­selves with­out being gussied up or dis­guised. This nev­er stopped her, how­ev­er, from exper­i­ment­ing with dif­fer­ent cuisines. Our table fare ranged broad­ly and my broth­ers and I were oblig­ed to at least have a ​"no thank you" por­tion of things we antic­i­pat­ed dis­lik­ing. For eigh­teen years I ate at that round table in our kitchen. Dur­ing those eigh­teen years, my par­ents rarely asked, ​"Are you full?" or imposed ​"Have more!" Rather, I recall them ask­ing, ​"Have you had enough?" or, with a slight con­cerned tone and wrin­kled brow: ​"Are you sure you've had enough?"
They asked this, too, of my child­hood friend, Steve, every Fri­day evening. His Catholic fam­i­ly ate din­ner at 5:00. Upon fin­ish­ing that meal, he would wan­der down the street, open the kitchen door with a hearty ​"Good evening, Mr. and Mrs. Crane. Shab­bat shalom!" and slide on into his chair next to me. He'd sing the Shab­bat bless­ings with us, thank­ful­ly more on tune than my par­ents. He loved our family's Shab­bat din­ner: fresh­ly made chal­lah with but­ter and jam, roast­ed chick­en, veg­eta­bles galore, and invari­ably some sea­son­al dessert. Dur­ing the years we lum­bered through puber­ty, my moth­er and father asked Steve if he had had enough with deep parental joy.
While I am ever grate­ful my moth­er and father taught me how food gets from seed to sauce, how to chop onions and not my fin­gers, how to read recipes and nav­i­gate gro­cery stores, I am more thank­ful for their atti­tude toward eat­ing itself. They impressed upon me the impor­tance of lis­ten­ing to my body. Except when ill, eat­ing noth­ing was not accept­able, as it would only under­mine my well-being if done chron­i­cal­ly. At the oth­er extreme, eat­ing too much was dis­cour­aged. Of course, there were excep­tions. Some­times my par­ents would ask which of us could ​"help out man­age­ment" and eat the last few pota­toes or green beans. Steve invari­ably vol­un­teered, say­ing that his karate class was espe­cial­ly chal­leng­ing that day. On the whole, we were to eat to sat­is­fy our per­son­al hungers yet nev­er so much as to deny oth­ers access to the food. I came to real­ize that ​"fam­i­ly style" means more than cook­ing large por­tions; its most sig­nif­i­cant mean­ing is shar­ing and ensur­ing oth­ers have the oppor­tu­ni­ty to partake.
Now it's my turn.
Now I ask my three sons to have a ​"no thank you" por­tion. I ask them to ensure that oth­ers at the table also get some of that dish. I inquire whether they have had enough.
When we vis­it Seat­tle, they cook with my mom, rel­ish­ing the chance to make jams, ice creams, apple­sauce, and more. At home some Fri­days, they bake chal­lah with me or my wife, super­vise French toast the next morn­ing, and eager­ly shuck corn. They love host­ing guests and espe­cial­ly shar­ing Shab­bat din­ner with friends and family.
When­ev­er I can, I take my boys to farms, orchards, vine­yards, even alley­ways. Grab­bing bags and bas­kets from the trunk, they race to see who can pick the most apples or blue­ber­ries or green beans — and of course, wild black­ber­ries. Some­times they even put one or two in their buckets.
Jonathan K. Crane, PhD and Rab­bi, teach­es Jew­ish ethics at Emory Uni­ver­si­ty's Cen­ter for Ethics. Com­mu­ni­ties and orga­ni­za­tions around the world invite him to speak on press­ing moral issues of the day. He serves on the board of Farm For­ward and the Soci­ety of Jew­ish Ethics. Jonathan lives in Atlanta with his wife, Lindy Miller, and their three boys.