Men­achem Z. Rosen­saft is the edi­tor of the recent­ly pub­lished God, Faith & Iden­ti­ty from the Ash­es: Reflec­tions of Chil­dren and Grand­chil­dren of Holo­caust Sur­vivors (Jew­ish Lights Pub­lish­ing). Jew­ish Book Coun­cil had the oppor­tu­ni­ty to dis­cuss his book with him and learn more about his process.
Nat Bern­stein: I'm inter­est­ed in the process of mak­ing this book, par­tic­u­lar­ly because you includ­ed such a wide range of writ­ers. How did you select and seek out con­trib­u­tors? Did you approach each one with a spe­cif­ic theme, or did you orga­nize all of the essays into the four parts of God, Faith & Iden­ti­ty from the Ash­es after col­lect­ing the entire body of writing?
Men­achem Z. Rosen­saft: One of my prin­ci­pal goals was to have as broad and diverse a rep­re­sen­ta­tion of chil­dren and grand­chil­dren of sur­vivors, known in short­hand as 2Gs and 3Gs — reli­gious­ly, polit­i­cal­ly, pro­fes­sion­al­ly, geo­graph­i­cal­ly, etc. — as pos­si­ble. And I want­ed each to be accom­plished and rec­og­nized in his or her cho­sen field. Of course, I have known many of those whom I invit­ed to con­tribute to the book for a long time, some for decades, but there are also a large num­ber whom I knew only by rep­u­ta­tion. In addi­tion, numer­ous friends and col­leagues gen­er­ous­ly gave of their time and made recommendations.
It was extreme­ly impor­tant to me that the book should not be seen as hav­ing an agen­da, as it were. Since 2Gs and 3Gs are not in any way a polit­i­cal­ly, the­o­log­i­cal­ly, or intel­lec­tu­al­ly homo­ge­neous group, the book had to reflect all our views, beliefs and per­spec­tives. In my let­ter invit­ing 2Gs and 3Gs to par­tic­i­pate in this project, I made clear that the book was not meant to have an intro­spec­tive or psy­cho-social focus, ask­ing each of them to write about how their respec­tive knowl­edge of their par­ents' or grand­par­ents' expe­ri­ences dur­ing and after the Shoah have shaped their lives, thoughts and careers. The book, most sim­ply put, was meant to reflect what we believe, who we are, and how that informs what we are doing.
I had no idea at the out­set what the essays for would be like, and I did not want to influ­ence or pre­de­ter­mine what the dif­fer­ent con­trib­u­tors would write; I there­fore gave them a great deal of lee­way. For exam­ple, I expect­ed the Rab­bis in the book to empha­size issues of faith, and most but not all did so. At the same time, equal­ly pro­found and poignant reli­gious points were made by 2Gs and 3Gs who are not trained or ordained theologians.
NLB: What has the response been since the book's pub­li­ca­tion? Did you have an objec­tive in mind when you set out to com­pile God, Faith & Iden­ti­ty from the Ash­es, and if so do you feel that it has been met?
MZR: The response has been extra­or­di­nary and, most grat­i­fy­ing to me, uni­form­ly pos­i­tive. I want­ed the book to con­vey an image — which I believe to be an accu­rate one — of 2Gs and 3Gs not as some­how trau­ma­tized or weighed down by our iden­ti­ty and her­itage, but rather as a col­lec­tive of cre­ative, high­ly intel­li­gent, often bril­liant, in many cas­es icon­o­clas­tic indi­vid­u­als endowed with a bal­anced, for­ward-look­ing view of the world and our dif­fer­ent roles with­in it. I also want read­ers of the book to come away with an under­stand­ing and appre­ci­a­tion that who we are is a direct result and reflec­tion of who our par­ents and grand­par­ents were or are. I think it's clear that almost with­out excep­tion, the con­trib­u­tors to God, Faith & Iden­ti­ty from the Ash­es see our par­ents or grand­par­ents as role mod­els and sources of strength, and that our accom­plish­ments are a trib­ute to them.
I want the book to be read wide­ly not just by mem­bers of the Jew­ish com­mu­ni­ty but also by non-Jews, and it is my fer­vent hope that it will com­fort and inspire the vic­tims and descen­dants of vic­tims of oth­er geno­cides and atroc­i­ties. After all, if the sur­vivors could emerge from the hor­rors of the Shoah 70 years ago and, instead of turn­ing their back on humankind — some­thing they would have had every right to do — chose to rebuild their lives in new, not always wel­com­ing sur­round­ings and to start new fam­i­lies, and that we, their chil­dren and grand­chil­dren, con­sid­er their lega­cy to be not a bur­den but a hal­lowed birthright , then there is no rea­son why the vic­tims and the descen­dants of vic­tims of geno­cides in Rwan­da, Bosnia or Dar­fur, or of atroc­i­ties in Syr­ia or else­where, can­not do so as well.
NLB: Is there a voice or per­spec­tive miss­ing from this col­lec­tion? Whether by inten­tion or by hap­pen­stance, do you feel that there are nar­ra­tives that didn't make into the book?
MZR: Unfor­tu­nate­ly, the book — like all books — had a length lim­i­ta­tion, which meant that I could not include all the 2Gs and 3Gs I want­ed to include. For each con­trib­u­tor whose essay is in the book, there are many whom I sim­ply could not invite because of this space lim­i­ta­tion. Also, Stu­art Matlins, the edi­tor in chief and pub­lish­er of Jew­ish Lights Pub­lish­ing, and I worked very close­ly togeth­er to have as much bal­ance in the book as pos­si­ble, and not to have any one per­spec­tive — again, whether reli­gious, polit­i­cal, geo­graph­ic, or pro­fes­sion­al — over­shad­ow the oth­ers. We also had to lim­it the num­ber of con­trib­u­tors from any one field — aca­d­e­mics, nov­el­ists, judges, physi­cians, reporters, psy­chol­o­gists, polit­i­cal activists, etc. — and to make sure that we had a broad geo­graph­ic dis­tri­b­u­tion. As a result, I regret that I sim­ply could not invite many tal­ent­ed and inter­est­ing indi­vid­u­als whose nar­ra­tives would have been extreme­ly significant.
NLB: What did you learn from and through work­ing on this project? Has the process been what you expected?
MZR: Read­ing the essays con­firmed that the 2Gs and 3Gs are as diverse and as mul­ti-dimen­sion­al as their par­ents and grand­par­ents. It is impor­tant to bear in mind at all times that the com­mon stereo­type of the vic­tims of the Shoah — both the dead and its sur­vivors — while not inac­cu­rate, con­veys only part of the pic­ture. The pop­u­lar images of the mur­dered Six Mil­lion include a moth­er or father com­fort­ing a child on their way into a gas cham­ber, rab­bis and devout Jews pray­ing in ghet­tos and death camps, the ide­al­is­tic Anne Frank in her hid­ing place before she and her fam­i­ly were betrayed and tak­en to Auschwitz and Bergen-Belsen, and hero­ic par­ti­sans or ghet­to resis­tance fight­ers. And they all, of course, were there in what Alexan­der Donat called the ​"Holo­caust King­dom." But so were Zion­ists from Bia­lystok, Jew­ish social­ists from Budapest and Jew­ish Com­mu­nist from Brus­sels, as well as Jew­ish shop own­ers from War­saw, Jew­ish intel­lec­tu­als and artists from Paris, the assim­i­lat­ed Jew­ish indus­tri­al­ist from Berlin, the Jew­ish enter­tain­er from Vien­na, the Jew­ish dia­mond cut­ter from Antwerp, and the Jew­ish box­er from Ams­ter­dam. As is clear from the essays in God, Faith & Iden­ti­ty from the Ash­es, the chil­dren and grand­chil­dren of the sur­vivors are just as het­ero­ge­neous. One unex­pect­ed dimen­sion of the essays turned out to be the absence of redun­dan­cy. While there are com­mon themes, each of the con­trib­u­tors to the book carved out an indi­vid­ual niche for her­self or him­self with the result that the book is, I believe, a mosa­ic in which each ele­ment is an inte­gral and essen­tial part of the whole.
NLB: If you were to add a fifth sec­tion to God, Faith & Iden­ti­ty from the Ash­es, what would it be? Who, accord­ing to your vision, would be includ­ed in it?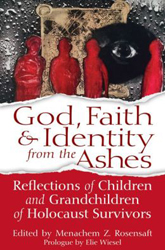 MZR: This might be counter-intu­itive, but there are those 2Gs and 3Gs who do not iden­ti­fy with or speak about this aspect of their iden­ti­ty — or who con­scious­ly or sub­con­scious­ly do not con­sid­er their par­ents' or grand­par­ents' Holo­caust expe­ri­ences and mem­o­ries to be a con­tribut­ing fac­tor in who they are. Thus, for exam­ple, even though Bil­ly Joel is the son of a Ger­man-Jew­ish refugee, he has nev­er, to the best of my knowl­edge, made any attempt to even acknowl­edge Holo­caust mem­o­ry in his lyrics. His one ​"social con­scious­ness" song, We Didn't Start the Fire, mere­ly sand­wich­es Eich­mann, with­out com­men­tary, between Hem­ing­way and Robert Heinlein's sci-fi nov­el, Strangers in a Strange Land, among the per­son­al­i­ties and events that Joel sees as epit­o­miz­ing the sec­ond half of the twen­ti­eth cen­tu­ry. It would be fas­ci­nat­ing, I think, to engage with him and oth­ers in whose lives a lega­cy of Holo­caust mem­o­ries seems not to play a deci­sive role in a dialogue.
NLB: What are you work­ing on next?
MZR: I pri­mar­i­ly have to devote my time to and con­cen­trate my ener­gies on my respon­si­bil­i­ties as Gen­er­al Coun­sel of the World Jew­ish Con­gress and on my class­es and stu­dents at Colum­bia Law School and Cor­nell Law School. Hav­ing said this, my to-do List includes a book based on my lec­tures and the assigned read­ings for my cours­es on the law of geno­cide and war crimes tri­als, a vol­ume of the poems I have writ­ten over the years, and, even­tu­al­ly, a col­lec­tion of my essays and arti­cles about con­tro­ver­sies I have been involved in and issues I con­sid­ered sig­nif­i­cant enough to write about.
Nat Bern­stein is the JBC Net­work Coor­di­na­tor at the Jew­ish Book Coun­cil and a grad­u­ate of Hamp­shire College.
Relat­ed Content:
Nat Bern­stein is the for­mer Man­ag­er of Dig­i­tal Con­tent & Media, JBC Net­work Coor­di­na­tor, and Con­tribut­ing Edi­tor at the Jew­ish Book Coun­cil and a grad­u­ate of Hamp­shire College.