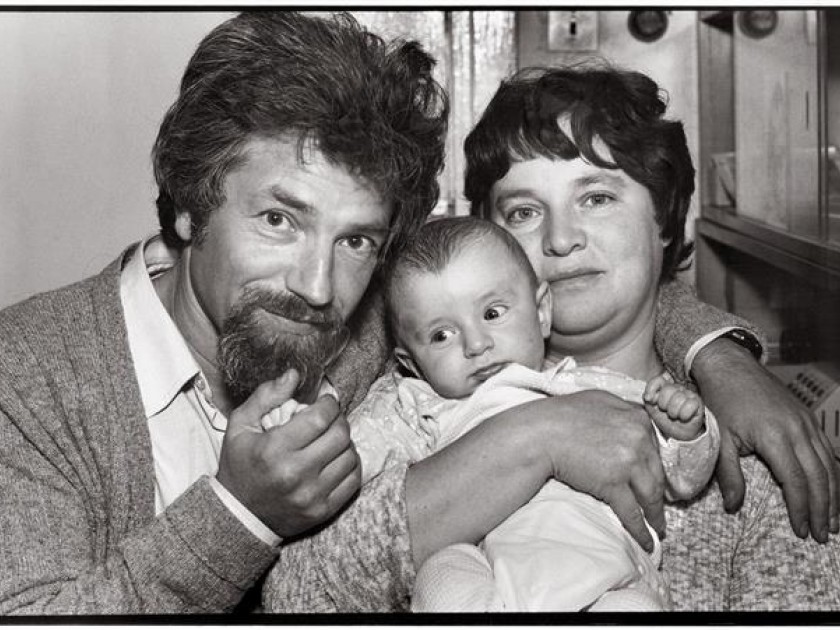 Ann Komaro­mi is the edi­tor of Yuli Kosharovsky's ​"We Are Jews Again": Jew­ish Activism in the Sovi­et Union. She will be blog­ging here all week for Jew­ish Book Coun­cil's Vis­it­ing Scribe series.
Yuli Kosharovsky (1941−2014) wrote a his­to­ry of the Jew­ish move­ment that is intense­ly per­son­al. The book We Are Jews Again is punc­tu­at­ed by Yuli's con­ver­sa­tions with fel­low for­mer activists as well as pas­sages recount­ing his own expe­ri­ences and reflec­tions on them. In the first set of rec­ol­lec­tions, Yuli remem­bers the ten­sions he felt as a high­ly-trained and priv­i­leged Sovi­et spe­cial­ist work­ing in strate­gic weapons devel­op­ment liv­ing amidst anti-Semi­tism and anti-Israel pro­pa­gan­da fol­low­ing the Six-Day War. He describes a moment of revelation:
…I was walk­ing along a noisy street and my head was buzzing from lack of sleep. Sud­den­ly every­thing around me van­ished, it became qui­et, and the passers­by and cars dis­ap­peared. A bright light illu­mi­nat­ed my con­scious­ness and I saw with pierc­ing clar­i­ty who I was, where I was going, and what I want­ed. I knew that this was not a fan­tas­tic trick, that I was see­ing my path. It was a divine bea­con to my athe­is­ti­cal­ly edu­cat­ed soul.

I don't know how long this last­ed, but then once again the street became noisy and the cars were moving.

That moment end­ed all doubts.

Until my depar­ture, anoth­er long twen­ty-two years would pass. It would be dif­fi­cult and hard to endure because of fear, pain, and exhaus­tion. There would be chil­dren who would grow up in the midst of all this.

At the most dif­fi­cult moments, I would return in my mind to that spark of con­scious­ness, to that clar­i­ty, and my strength would return.
It is stun­ning to real­ize that Yuli strug­gled after this insight for twen­ty-two years in the Sovi­et Union, sus­tained by the dream of leav­ing for Israel. For eigh­teen of these years, he was a ​"refusenik," a sta­tus that came from apply­ing for an exit visa and being refused and which meant no more priv­i­leged job in the weapons lab­o­ra­to­ry, ostracism from gen­er­al Sovi­et soci­ety, and inter­mit­tent per­se­cu­tion by the author­i­ties. Yuli was like many refuseniks, in that he took what jobs he could to sur­vive and feed his fam­i­ly, turn­ing to the Jew­ish com­mu­ni­ty around him for social life and sup­port. Unlike most oth­er refuseniks, Yuli's ear­ly moment of clar­i­ty and the force of his con­vic­tion pro­pelled him to become a leader. He learned and taught Hebrew despite the de fac­to ban on the lan­guage, orga­nized oth­er Hebrew teach­ers in an under­ground net­work, and helped coor­di­nate and sup­port a host of unof­fi­cial activ­i­ties designed to sup­port Jew­ish edu­ca­tion, iden­ti­ty and the move­ment for the right to emi­grate and make aliya. Details about the extent of this orga­nized activ­i­ty in the Sovi­et Union help make this book a real con­tri­bu­tion to the his­to­ry of the movement.
This pho­to [see head­er] of Yuli, his wife Inna and their son Moty show the per­son­al side of this activ­i­ty – these were not activists work­ing in iso­la­tion. The activists had fam­i­ly and friends who shared the risks they took because they all believed that to live as Jews with dig­ni­ty and rights was a noble cause. They aimed to teach their chil­dren to live that way, despite the resis­tance of the soci­ety and State in which they found themselves.
Read more about ​"We Are Jews Again": Jew­ish Activism in the Sovi­et Union here and check back tomor­row to read more from Ann Komaromi.
Ann Komaro­mi is Asso­ciate Pro­fes­sor in the Cen­tre for Com­par­a­tive Lit­er­a­ture at the Uni­ver­si­ty of Toron­to. She is author of a book on under­ground nov­els in the Sovi­et Union, Uncen­sored: Samiz­dat Nov­els and the Quest for Auton­o­my in Sovi­et Dis­si­dence (North­west­ern Uni­ver­si­ty Press, 2015), which won the AAT­SEEL Award for Best Book in Literary/​Cultural Stud­ies. In 2015, she cre­at­ed the elec­tron­ic archive ​"Project for the Study of Dis­si­dence and Samiz­dat" for the Uni­ver­si­ty of Toron­to Library Collections.