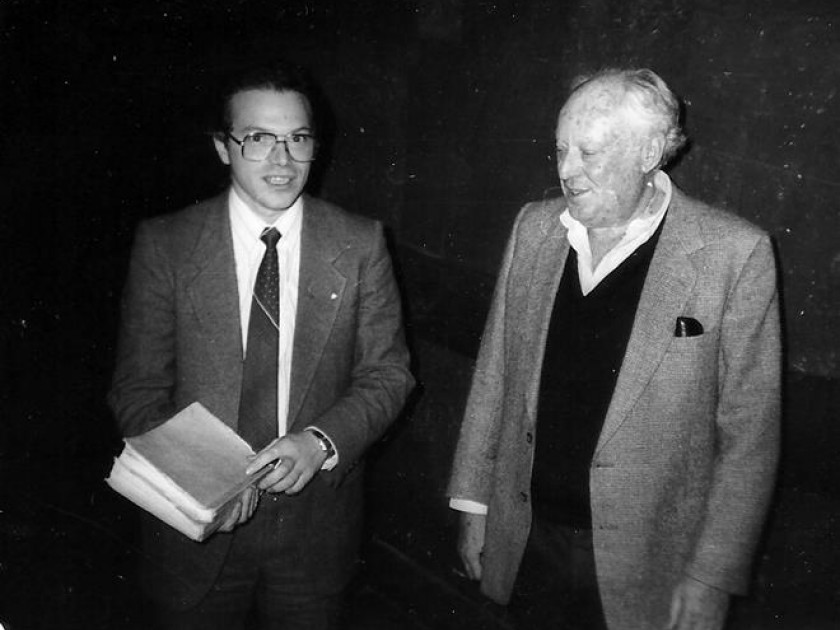 Jew­ish activism in the Sovi­et Union, sup­port­ed by a move­ment to free Sovi­et Jew­ry abroad, result­ed in a mas­sive exo­dus. As Yuli Kosharovsky not­ed, con­cern­ing the late Sovi­et peri­od and ear­ly 1990s, ​"In the years of mass emi­gra­tion, the over­whelm­ing major­i­ty of Jews — more than 1,500,000 peo­ple — left the bor­ders of the for­mer Sovi­et Union. The major­i­ty of those who left — around 900,000 — set­tled in Israel." The strug­gle and its out­come were of mas­sive his­tor­i­cal pro­por­tions, and it seemed nat­ur­al to many observers and advo­cates to use Bib­li­cal lan­guage when they demand­ed that the Sovi­et lead­ers ​"Let My Peo­ple Go!" and when they spoke about the lib­er­a­tion of Sovi­et Jews from the grip of the ​"Red Pharaoh."
Cer­tain­ly, there were impor­tant geo-polit­i­cal fac­tors at work in the events that unfold­ed lead­ing to this mas­sive exo­dus, many of which are detailed in ​"We Are Jews Again". Against the back­drop of those forces and the high-lev­el deci­sions and nego­ti­a­tions that took place, there was a core of more mod­est and incre­men­tal efforts that made the huge Aliya and revival of Jew­ish cul­ture in the Sovi­et Union pos­si­ble. Such grass­roots ini­tia­tives includ­ed the work to make texts like Leon Uris's 1958 nov­el Exo­dus avail­able to Sovi­et read­ers in so-called ​"samiz­dat" (self-pub­lish­ing). An ear­ly Zion­ist activist, David Drabkin, talked about trans­lat­ing Exo­dus with fel­low activists Vik­tor Pol­sky and Vladimir Prestin for read­ers of Russ­ian. At that time, in the late 1960s, Moscow was, as Kosharovsky wrote, a cen­ter for pro­duc­tion and dis­tri­b­u­tion of samizdat:
Moscow was a clear­ing house for samiz­dat dis­tri­b­u­tion. Some books and print­ed mate­r­i­al, includ­ing Leon Uris's nov­el Exo­dus, were pro­duced simul­ta­ne­ous­ly in a few places. The qual­i­ty of the trans­la­tions and of the pro­duc­tion work and the scope of samiz­dat dis­tri­b­u­tion var­ied great­ly. The move­ment was ripe for more effec­tive coor­di­na­tion and divi­sion of labor.
The vari­ety of trans­la­tions of Uris's nov­el – which appeared in samiz­dat edi­tions as both Iskhod and Ekso­dus – may have been inevitable, giv­en the pow­er­ful appeal it had for Sovi­et read­ers. Vik­tor Pol­sky recalled in his inter­view with Kosharovsky:
We received lit­er­a­ture from the Baltics. Lea Slovin would come to us. David Drabkin had a chan­nel. We … trans­lat­ed, copied, bound, and dis­sem­i­nat­ed the nov­el Exo­dus. This book trans­formed my moth­er from a woman who had been intim­i­dat­ed by relent­less per­se­cu­tion into a Zion­ist. For me, this was incon­testable proof of the novel's pow­er to exert a strong emo­tion­al effect.
Peo­ple recalled doing and read­ing 600+ page trans­la­tions of Uris's nov­el. The amount of labor that would have gone into pro­duc­ing that kind of samiz­dat text at home, with a type­writer and/​or a pho­to­graph­ic cam­era and prints devel­oped in the bath­room, speaks to the feel­ings Uris's nov­el inspired in Sovi­et read­ers. Oth­ers were moved to pro­duce their own trans­la­tions or slim­mer adap­ta­tions. All accounts agree that Exo­dus was a cen­tral text of Jew­ish samiz­dat for activists and non-activists alike. Evi­dent­ly, Uris's tale about build­ing and defend­ing the state of Israel res­onat­ed pro­found­ly with Sovi­et Jews who felt anx­ious for and then proud of Israel dur­ing the Six-Day War. That pride coun­ter­bal­anced the often vicious anti-Israel pro­pa­gan­da from Sovi­et author­i­ties. More­over, Uris's por­trait of mus­cu­lar, mod­ern Jews res­onat­ed with qual­i­ties many Sovi­et Jews want­ed to see in them­selves, as it coun­ter­act­ed per­sis­tent neg­a­tive stereo­types of cow­ard­ly Jews who shirked mil­i­tary service.
Alexan­der Smuk­ler, pic­tured above with Uris, was one of those who helped expand the vari­ety of mate­r­i­al avail­able to Sovi­et Jew­ish read­ers. Sovi­et Jew­ish samiz­dat includ­ed fic­tion­al works and poems from home and abroad, Hebrew lan­guage-learn­ing mate­ri­als, news bul­letins and jour­nals with arti­cles and com­men­tary on world events and admin­is­tra­tive affairs. For exam­ple, the samiz­dat jour­nal Jews in the USSR, ini­ti­at­ed by Alexan­der Voronel and pub­lished from 1972 – 79, pro­vid­ed a cru­cial forum for Sovi­et Jews to reflect on their iden­ti­ty and con­cerns, in their own words and with­out the bur­den of offi­cial cen­sor­ship. Smuk­ler and a hand­ful of oth­ers pub­lished the Infor­ma­tion Bul­letin on Issues of Repa­tri­a­tion and Jew­ish Cul­ture, which appeared between 1987 and 1990, in Moscow. For­eign help – includ­ing the imag­i­na­tive charge of Uris's nov­el – mat­tered a lot for Sovi­et Jews. How­ev­er, with­out the net­works of read­ers and writ­ers Sovi­et Jews cre­at­ed for them­selves, work­ing togeth­er to share sto­ries, infor­ma­tion, news and reflec­tion, the revival of Jew­ish cul­ture in the Sovi­et Union and the mas­sive aliya would not have been possible.
Ann Komaro­mi is Asso­ciate Pro­fes­sor in the Cen­tre for Com­par­a­tive Lit­er­a­ture at the Uni­ver­si­ty of Toron­to. She is author of a book on under­ground nov­els in the Sovi­et Union, Uncen­sored: Samiz­dat Nov­els and the Quest for Auton­o­my in Sovi­et Dis­si­dence (North­west­ern Uni­ver­si­ty Press, 2015), which won the AAT­SEEL Award for Best Book in Literary/​Cultural Stud­ies. In 2015, she cre­at­ed the elec­tron­ic archive ​"Project for the Study of Dis­si­dence and Samiz­dat" for the Uni­ver­si­ty of Toron­to Library Collections.