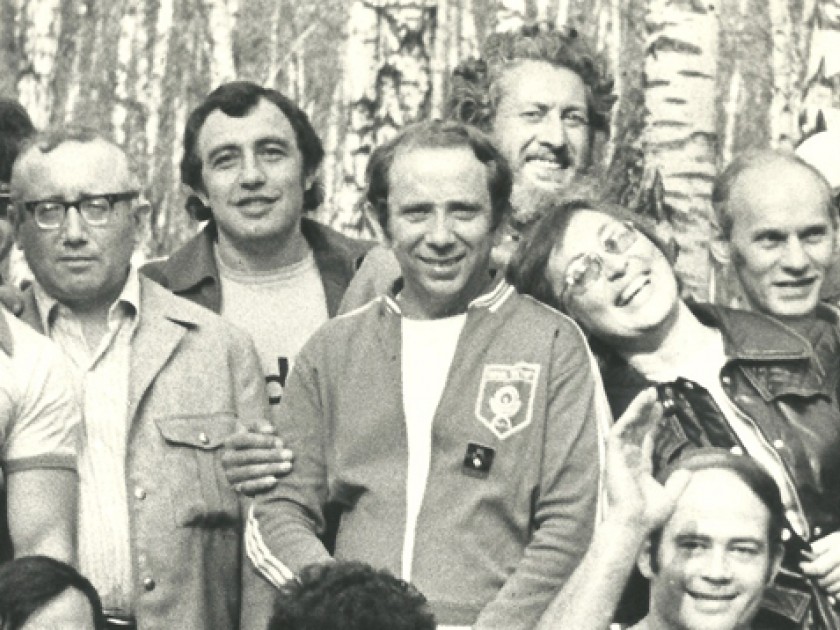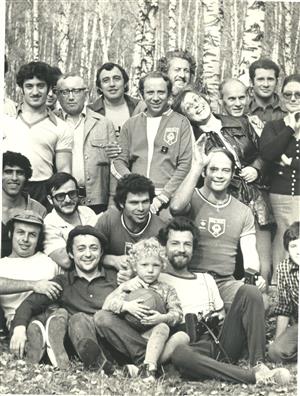 This 1975 pho­to, used on the cov­er of ​"We Are Jews Again", shows not­ed refusenik activists Ana­toly (Natan) Sha­ran­sky, Yuli Kosharovsky, Vladimir and Maria (Masha) Slepak and Vitaly Rubin along with a num­ber of Israeli wrestlers and weightlifters who came to vis­it the Sovi­et Union and spent time with Sovi­et Jews. The pho­to acts as a win­dow onto one of the bright­est moments of Jew­ish life at that time. The smiles and relaxed pos­es of the peo­ple shown here – notice the way Masha Slepak leans her head famil­iar­ly onto Zeev Rom's shoul­der! – sug­gest that infor­mal Jew­ish life in the Sovi­et Union was ani­mat­ed by hap­py social events and that it ben­e­fit­ed from mutu­al sup­port among mem­bers of the com­mu­ni­ty and the friend­ship of allies from abroad. Unof­fi­cial Jew­ish life was warm and sup­port­ive in those ways, but such events took place under the malev­o­lent gaze of KGB offi­cers, who were cer­tain­ly keep­ing an eye on this gath­er­ing. The pos­si­bil­i­ty of per­se­cu­tion always haunt­ed those involved in unof­fi­cial activ­i­ties. Not too long after this cel­e­bra­tion, in March, 1977, Sha­ran­sky, would be arrest­ed on false charges of spy­ing and impris­oned for nine years. The police would arrest the Slepaks in June, 1978, after they unfurled a ban­ner from their apart­ment bal­cony with the demand for the right to leave and join their son in Israel. For that action the Slepaks were sent to Siberia. The Slepaks were able to leave the Sovi­et Union, like many of the activists, only after per­e­stroi­ka was well estab­lished, in 1987. Those were far from the first arrests for ​"Zion­ist" activ­i­ty, and that hos­tile envi­ron­ment gives this seem­ing­ly ordi­nary moment the aura of the extraordinary.
Peo­ple risked com­ing out with their fam­i­lies for unof­fi­cial Jew­ish cel­e­bra­tions, and for­eign vis­i­tors made the long jour­ney to see fel­low Jews in the Sovi­et Union and bring them mes­sages of encour­age­ment and sup­port. Such extra­or­di­nary efforts result­ed in a pro­found feel­ing of sol­i­dar­i­ty and deep ties among peo­ple. Recent­ly, work on iden­ti­fy­ing the peo­ple in the pho­to under­scored the tenac­i­ty of con­nec­tions cre­at­ed at that time. Enid Wurt­man, a for­mer Amer­i­can activist for Sovi­et Jew­ry and a research assis­tant work­ing with Yuli Kosharovsky on ​"We Are Jews Again" since 2003, went to great lengths to iden­ti­fy and con­tact the peo­ple shown in this pho­to­graph. Enid locat­ed Solomon Stol­yar, shown here in the back row, who is today head of the Israel Wrestling Fed­er­a­tion. He helped put her in touch with the Israeli ath­letes who had been in Lunts Mead­ow on that fall day more than 30 years ago. Then-child Ephraim Rosen­stein, seat­ed at front with Yuli Kosharovsky, turned out to have been the bar-mitz­vah ​"twin" for Enid's son in Israel. Bar-mitz­vah ​"twin­ning" was a com­mon means for rais­ing aware­ness of the plight of Sovi­et Jews who could not pro­vide their chil­dren with that kind of cel­e­bra­tion. In addi­tion, Oksana Iablon­sky (also spelled Oxana Yablon­sky), stand­ing on the right, was iden­ti­fied by Enid's friend, Shoshana Fain, wid­ow of the refusenik leader Ben­jamin Fain. Oksana, it turned out, is an acclaimed pianist who like Enid and like many oth­er refuseniks made aliya to Israel. She played in a Cham­ber Music Fes­ti­val in Eilat which Enid's oth­er son was involved orga­niz­ing. There was some­thing mag­i­cal about the con­nec­tions cre­at­ed and sus­tained for so many years over the course of this his­to­ry of the strug­gle for the free­dom of Sovi­et Jews.
The warm sup­port and enthu­si­asm of all those con­tact­ed about the pub­li­ca­tion of Yuli Kosharovsky's his­to­ry of the move­ment tes­ti­fy to what that move­ment has meant to Jews both inside and out­side the USSR.
Check back tomor­row for Ann Komaromi's final post for the Vis­it­ing Scribe series.
Ann Komaro­mi is Asso­ciate Pro­fes­sor in the Cen­tre for Com­par­a­tive Lit­er­a­ture at the Uni­ver­si­ty of Toron­to. She is author of a book on under­ground nov­els in the Sovi­et Union, Uncen­sored: Samiz­dat Nov­els and the Quest for Auton­o­my in Sovi­et Dis­si­dence (North­west­ern Uni­ver­si­ty Press, 2015), which won the AAT­SEEL Award for Best Book in Literary/​Cultural Stud­ies. In 2015, she cre­at­ed the elec­tron­ic archive ​"Project for the Study of Dis­si­dence and Samiz­dat" for the Uni­ver­si­ty of Toron­to Library Collections.