Post­ed by Nao­mi Firestone-Teeter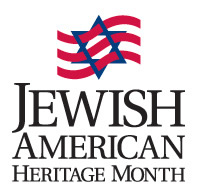 In hon­or of Jew­ish Amer­i­can Her­itage Month(May!), our friends over at Open Road Media passed along some great­con­tent to rec­og­nize Jew­ish con­tri­bu­tions to Amer­i­can cul­ture. A sneakpeek of some of the con­tent can be found here, more can be found below:
Is Stan­ley Elkin a ​

"

Jew­ish Writer"? — Stan­ley Elkin was one of the most impor­tant Amer­i­can writ­ers of the last cen­tu­ry. ​

"

No seri­ous fun­ny writer can match him," wrote The New York Times. Although Elkin, much like his friend Saul Bel­low, grew up in a com­fort­able mid­dle-class Jew­ish home in Chica­go, he is not typ­i­cal­ly thought of as a Jew­ish writer. Instead he is fre­quent­ly asso­ci­at­ed with post­mod­ern nov­el­ists like Thomas Pyn­chon, William Gass, and Robert Coover. To cel­e­brate Jew­ish Amer­i­can Her­itage Month, Open Road will fea­ture a series of essays about Elkin and his rela­tion­ship to Jew­ish lit­er­a­ture on its blog. The series will include con­tri­bu­tions from lit­er­ary crit­ics Daniel Green and Peter J. Bai­ley, as well as Elkin's biog­ra­ph­er David C. Dougher­ty. Learn more about Elkin here.
Sophie's Choice by William Sty­ron — Win­ner of the

1980

Nation­al Book Award, Sophie's Choice is William Styron's clas­sic nov­el of love, sur­vival, and regret, set in Brook­lyn in the wake of the Sec­ond World War. The nov­el cen­ters on three char­ac­ters: Stin­go, a sex­u­al­ly frus­trat­ed aspir­ing nov­el­ist; Nathan, his charis­mat­ic but vio­lent Jew­ish neigh­bor; and Sophie, an Auschwitz sur­vivor who is Nathan's lover. More about Open Road and Sty­ron can be found here.
Home in the Morn­ing by Mary Glick­man — A pow­er­ful debut from a new lit­er­ary tal­ent, this nov­el tells the sto­ry of a Jew­ish fam­i­ly con­fronting the tumult of the

1960

s — and the secrets that bind its mem­bers togeth­er. It explores the Jew­ish expe­ri­ence as the Old South becomes the New South. More about Glick­man can be found here.
Remem­ber­ing Haven — When Ruth Gruber's book Haven was pub­lished, the New York Times called it ​

"

a vis­cer­al jolt." The peo­ple agreed. The book tells the pow­er­ful sto­ry of a top-secret mis­sion to res­cue one thou­sand Euro­pean refugees in the midst of the Sec­ond World War. A sim­u­lat­ed gen­er­al with the approval of the

US

Gov­ern­ment, Gru­ber escort­ed the refugees on this secret mis­sion across the Atlantic to Oswego, New York. Each day car­ried the threat of Nazi cap­ture. And each day, Gru­ber record­ed the fears, dreams and sto­ries of the pas­sen­gers aboard the ship. In this short arti­cle, Open Road shares a spe­cial excerpt of Haven, along with new, unre­leased quotes from Ruth Gru­ber her­self. More about Gru­ber can be found here.
Unearthing the Archives — Lucy Daw­id­ow­icz (

1915

 – 

1990

) was a Jew­ish his­to­ri­an and author whose best­selling book The War Against the Jews:

1933

 – 

1945

was one of the most ground­break­ing and influ­en­tial books on the sub­ject of the Holo­caust. Open Road shares an inside look into the life and work of Lucy Daw­id­ow­icz, as well as an excerpt from The War Against the Jews:

1933

 – 

1945

. For more infor­ma­tion on Lucy Daw­id­ow­icz, vis­it here.
Video: Author Rafael Ygle­sias on Mixed Her­itage — We live in a mul­ti­cul­tur­al soci­ety. In this embed­d­a­ble video clip, author Rafael Ygle­sias (Fear­less, Dr. Neruda's Cure for Evil) dis­cuss­es his expe­ri­ence grow­ing up in a half-Jew­ish, half-Lati­no fam­i­ly: ​

"

I tend to see many more sim­i­lar­i­ties in those cul­tures than they see in each oth­er." Learn who in his fam­i­ly Ygle­sias con­sid­ers the most clas­sic ​

"

Jew­ish moth­er" he ever met — it may sur­prise you! More about Ygle­sias here.
For more infor­ma­tion about Jew­ish Amer­i­can Her­itage Month, resources, time­lines, and events, vis­it
here
.
Orig­i­nal­ly from Lan­cast­er, Penn­syl­va­nia, Nao­mi is the exec­u­tive direc­tor of Jew­ish Book Coun­cil. She grad­u­at­ed from Emory Uni­ver­si­ty with degrees in Eng­lish and Art His­to­ry and, in addi­tion, stud­ied at Uni­ver­si­ty Col­lege Lon­don. Pri­or to her role as exec­u­tive direc­tor, Nao­mi served as the found­ing edi­tor of the JBC web­site and blog and man­ag­ing edi­tor of Jew­ish Book World. In addi­tion, she has over­seen JBC's dig­i­tal ini­tia­tives, and also devel­oped the JBC's Vis­it­ing Scribe series and Unpack­ing the Book: Jew­ish Writ­ers in Conversation.