Post­ed by Nao­mi Firestone-Teeter
In the spring issue of Jew­ish Book World, Deb­o­rah Schoen­e­man offered the fol­low­ing review of Babette Hughes's The Hat (Sun­stone Press):
"Ben Gold has a reg­u­lar morn­ing rou­tine, one that varies slight­ly on this sig­nif­i­cant­morn­ing, his last morn­ing. The open­ing chap­ter then tran­si­tions back­ward to the youn­gadult world of Kate Brady, who has just been laid off from her job at a local Cleve­land, Ohiobak­ery in the 1930's. Dur­ing this time when the econ­o­my is dev­as­tat­ed by the Depression,she feels hope­less, humil­i­at­ed, and con­fined because of her mother's alco­holic scenes andtheir pover­ty. When she first meets Ben, she can't believe he would be attract­ed to her with­her dowdy clothes and dys­func­tion­al fam­i­ly life. But Kate soon real­izes Ben is her pass­portout of her dire circumstances.
Mar­riage quick­ly fol­lows a pas­sion­ate yet pure courtship. Faintsus­pi­cions run through Kate's head but are ignored until a dev­as­tat­ing loss. Ask­ing questions,threatening to leave because of what she sens­es are lies about some­thing obvi­ous­ly dan­ger­ou­sand ille­gal, Kate forces the issue. Now she knows too much and begins to form abond with one of Ben's ​"busi­ness" part­ners who is assigned to watch her at all times. Anat­tempt to escape from this world, a secret rela­tion­ship, and what fol­lows pro­duces not oneb­ut two star­tling events for which the read­er is total­ly unpre­pared. Ben's father was a devout­Jew­ish man whom Ben con­demns, but the remain­der of this nov­el begs the ques­tion ofwho is to be con­demned. This is a ter­rif­ic sto­ry that chron­i­cles the begin­ning of the Mafia andits rev­e­la­tions that pro­found­ly changed lives forever."
As a part of Babette's vir­tu­al tour,

JBC

is pleased to offer an excerpt from The Hat: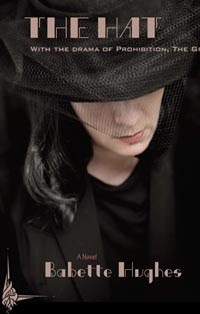 We spent our wed­ding night in the bridal suite. Ben swun­gopen the door; there were huge vas­es of white, long-stemmed ros­e­sev­ery­where – on the end tables, the cof­fee table, the bureaus –even on the­floor. They smelled oppres­sive to me, exces­sive and omi­nous, the aro­maof grand funer­als. On the big turned-back bed a white satin night­gown­was spread out that looked to me like the gown of Aphrodite as shes­prang from the foam of the sea.

Music drift­ed through the rooms from ara­dio some­where as Ben popped open more cham­pagne and poured it, pale­and shim­mer­ing, into our glass­es. We toast­ed our future and sipped.Then, as if silent­ly cued from back­stage, a wait­er wheeled in a cart­bear­ing sil­ver-domed plates of foods I had nev­er seen before. For years Icould not hear cer­tain songs or taste cer­tain foods with­out the samemix of excite­ment and unac­count­able uneasi­ness that I felt that night­for my hours-old marriage.

"Some day he'll come along, the man I love,"the radio sang, as I dipped the del­i­cate poached salmon, pink and cold,into the queer-tast­ing caviar sauce. After­wards, ​"My Melan­choly Baby"always made me think of the moist, ten­der squab and firm gray-brown­gran­ules of gamey wild rice tucked inside. Dessert was Peach Mel­baserved in high-stemmed gob­lets. We ate and sipped cham­pagne and I fel­teach strange new taste and tex­ture on my tongue, in my nose, my mouth,as it passed my throat. We spoke lit­tle, as if words had no place insuch rooms sen­su­ous with exot­ic fla­vors, love songs, the thick scent ofros­es, and a gown on the bed for a love god­dess. Ben kept my glass­filled with cham­pagne and between cours­es pulled me to my feet to dance,holding me close, hum­ming off-key in my ear.

Lat­er, I was as ner­vous and igno­rant as any eigh­teen-year-old vir­ginin spite of all the read­ing I had done – includ­ing what was then called aMar­riage Man­u­al that spoke of simul­ta­ne­ous orgasms and had alarmingillus­tra­tions of the erect male organ. That night in the big bed mypas­sion aban­doned me and I couldn't fig­ure out what all the fuss wasabout – why Anna Karen­i­na gave up her son, her coun­try, and even her life,or why Emma Bovary allowed her obses­sions to cause her own ruin and­death. But the prob­lem wasn't Ben's love­mak­ing. The truth is that myfather's Catholi­cism I thought I left behind, had returned, unbid­den, tofind myself still unmar­ried in the eyes of the church. And although Ihad long since giv­en up both my mother's Judaism and father'sCatholicism, there were times that I believed the events that fol­lowed­were my pun­ish­ment for the sin of fornication.
Inter­est­ed in more? Check out the book.