Mol­ly Birn­baum is the author of Sea­son to Taste: How I Lost my Sense of Smell and Found My Way. She will be blog­ging all week for the Jew­ish Book Coun­cil and MyJew­ish­Learn­ing​'s Vis­it­ing Scribe.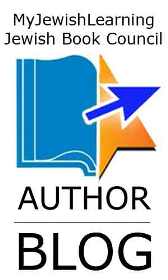 The first book I ever wrote was with my grand­fa­ther, Mor­ris, a big-boned busi­ness­man who lived with my grand­moth­er in upstate New York. He was a tal­ent­ed ama­teur artist. I was five.
We wrote a whole series of books togeth­er, in fact, over a num­ber of years, lying bel­ly-down on the liv­ing room rug, sur­round­ed by sheathes of blank paper and box­es of col­ored pen­cils, pas­tels, and crayons. I spun tan­gled sto­ries — often minute vari­a­tions on the same one about a nurse, her pup­py, and the bright red con­vert­ible they drove around town — that my grand­fa­ther tran­scribed in his spi­dery scrawl. He would then illus­trate the blank pages of our makeshift books with intri­cate line draw­ings of peo­ple, ani­mals, and cars. Under his watch­ful eye, I filled them with waxy strokes of color.
For some rea­son most of our sto­ries were set in Flori­da. This was most like­ly because my grand­par­ents, like many Jew­ish grand­par­ents, win­tered there. But also because I loved the exot­ic curves to palm trees on paper, and the line my cray­on took when I filled them in with green. At the time I thought I want­ed to be an artist. It was only lat­er that I real­ized it was the writ­ing that drew me in.
My grand­fa­ther passed away in 2008. I was 25 at the time, and it had been many years since he and I were close. Divorce and dra­ma had soured the rela­tion­ships among many of my fam­i­ly mem­bers and I had pulled away, con­tent with avoid­ance. When I thought about the grand­fa­ther of my youth, I remem­bered a tough guy with a loud laugh, famous for refus­ing to wear a jack­et when the win­ter tem­per­a­tures would plunge far below freez­ing. I remem­bered his love of dried apri­cots, which I thought looked like wrin­kled brains, and the fact that he put extra salt on every­thing. But when I flew from Cal­i­for­nia, where I was work­ing as a news­pa­per reporter, to New York for his funer­al, I began to think again about those books.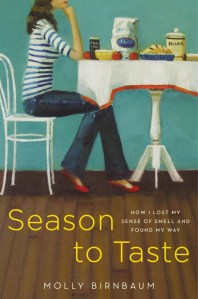 I loved those books. So did he. Even between my child­hood vis­its, when I was at home with my fam­i­ly in a sub­urb of Boston, my grand­fa­ther would send me new books in the mail — some that we had talked about, a few we worked on togeth­er, but many he cre­at­ed com­plete­ly on his own. They arrived in big mani­la envelopes that had dec­o­rat­ed with whim­si­cal scenes of ele­phants and trapeze artists ren­dered in thick black ink.
My first book, Sea­son to Taste: How I Lost my Sense of Smell and Found My Way, will be pub­lished on June 21st by Ecco/​HarperCollins. It took me years to write. There are no pic­tures inside. But I wish that I could send my grand­fa­ther a copy, shiny and new. I' d mail it to him in a thick mani­la enve­lope, cov­ered with sketch­es of ele­phants, apri­cots, and palm trees. My own draw­ing would be far more ama­teur than his, but I' m pret­ty sure he' d be shocked to see how far I've come.
Come back all week to read Mol­ly Birn­baum​'s posts.