Ker­ri P. Stein­berg is an asso­ciate pro­fes­sor of art his­to­ry at Otis Col­lege of Art and Design in Los Ange­les. She is the author of the recent­ly pub­lished book Jew­ish Mad Men: Adver­tis­ing and the Design of the Amer­i­can Jew­ish Expe­ri­ence and will be blog­ging here all week for Jew­ish Book Coun­cil's Vis­it­ing Scribe series.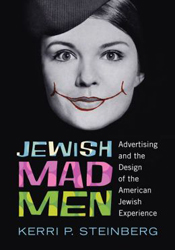 For the last sev­er­al years, Amer­i­can view­ers have fall­en under the spell of Peg­gy Olsen, the copy­writ­ing sen­sa­tion at Ster­ling Coop­er on AMC's series, ​"Mad Men." In the span of sev­en sea­sons, the show's enthu­si­asts have watched Peg­gy evolve from Under­dog to Won­der Woman; from pony­tail inno­cence to light­ing up and slug­gin' ​'em down with the big boys on Madi­son Avenue. What is it about Peg­gy that strikes such a fas­ci­nat­ing chord? Aside from sec­re­taries and some copy­writ­ers, women were a rare species in the mad world of mid-cen­tu­ry Amer­i­can adver­tis­ing. But this woman — Peg­gy — is a com­pos­ite char­ac­ter (albeit non-Jew­ish) of the actu­al female sen­sa­tions on Madi­son Avenue, many of whom were Jew­ish. If it seems that she is larg­er than life, it is prob­a­bly because she is.
Being both Jew­ish and a woman in the world of Madi­son Avenue adver­tis­ing was a dou­ble nega­tion. Accord­ing­ly, Jews and women large­ly worked behind the scenes in main­stream adver­tis­ing, while non-Jew­ish, male account exec­u­tives wined and dined clients to pro­cure and secure busi­ness. Those women who were for­tu­nate enough to move up the pro­fes­sion­al lad­der and receive a pro­mo­tion from sec­re­tary to copy­writer typ­i­cal­ly found them­selves work­ing on accounts deemed appro­pri­ate for women, includ­ing beau­ty, house­hold, food, and bev­er­age prod­ucts. As women, they brought a dif­fer­ent point of view. More con­ver­sa­tion­al, they cap­tured how con­sumers felt: ​"Clairol — it lets me be me," expressed Jew­ish copy­writer, Shirley Polykoff.
Indeed, the Jew­ish women of Madi­son Avenue knew a thing or two about try­ing hard­er; and their efforts actu­al­ly moved the nee­dle of con­sump­tion. When, in 1962, Doyle Dane Bern­bach copy­writer, Paula Green penned the prover­bial copy for Avis Rental Cars, ​"We're Num­ber Two. We Try Hard­er," she might as well have been writ­ing her own epi­graph as a Jew­ish female copy­writer. Like­wise in the ​'60s, Doyle Dane Bern­bach copy­writ­ers Judy Pro­tas and Julian Koenig, and chief copy­writer Phyl­lis Robin­son, were able to use their out­sider sta­tus to con­vert the Volk­swa­gen Bee­tle from Nazi anti-hero to Amer­i­can coun­ter­cul­tur­al dar­ling. By some accounts, this accom­plish­ment ranks as one of the great­est tri­umphs of mod­ern adver­tis­ing, sig­nal­ing its pull and power.
Last Jan­u­ary, an obit­u­ary for Judy Pro­tas, cred­it­ed her for script­ing the now infa­mous tagline for Levy's Rye Bread in 1961, ​"You Don't Have to be Jew­ish to love Levy's Real Jew­ish Rye." Typ­i­cal­ly asso­ci­at­ed with the firm's name­sake, Bill Bern­bach (who didn't deny it), the read­er is remind­ed of the invis­i­bil­i­ty of women, and more specif­i­cal­ly, Jew­ish women on Madi­son Avenue dur­ing these years. Their efforts and ded­i­ca­tion to their pro­fes­sion often came at great per­son­al sac­ri­fice. Like AMC's Peg­gy Olsen, Pro­tas remained alone, sur­vived by her nieces and nephews. Like Peg­gy, Judy was mar­ried to her craft. If you are a believ­er that adver­tis­ing col­ors our world and, for bet­ter or worse, moves peo­ple to action, the least we can do is pay trib­ute to this rare species of Jew­ish Mad Women, and assign to their lives the recog­ni­tion and val­ue they deserve.
Check back lat­er this week to read more from Ker­ri P. Steinberg.
Relat­ed Content:
Ker­ri P. Stein­berg | Jew­ish Book Coun­cil Vis­it­ing Scribe
Ker­ri P. Stein­berg is an asso­ciate pro­fes­sor of art his­to­ry at Otis Col­lege of Art and Design in Los Angeles.