In her last blog, Joan­na Rakoff
wrote about how, in her own way, Jane Austen wrote about being an under­cov­er Jew­ish writer.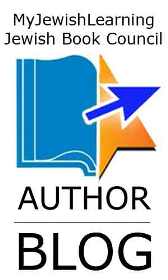 Lau­rie Col­win was, in a way, a sort of heir to Austen's charms, even if her nov­els are the oppo­site of mar­riage plots: Her female char­ac­ters strug­gle end­less­ly with the con­fines and mean­ing of con­tem­po­rary mar­riage (con­tem­po­rary, that is, cir­ca the 1970s and 1980s; Col­win died, at 48, in 1992). Many, if not most, of her char­ac­ters are Jew­ish, but none more inter­est­ing­ly so than those in Fam­i­ly Hap­pi­ness
, her most ful­ly-real­ized nov­el and a sort of gloss on (or rebuke of) Madame Bovary
, a nov­el about a hap­pi­ly mar­ried matron, Pol­ly Solo-Miller Demarest, involved in an ongo­ing affair with a depres­sive painter. Who hap­pens, of course, to be Jew­ish, though you mightn't guess it if you hadn't been told on the very first page.
The Solo-Millers are one of those old Jew­ish fam­i­lies – set­tled in New York even before the Ger­man bank­ing dynas­ties, like the Schiffs and the War­burgs
—"more iden­ti­fi­ably old Amer­i­can than Jew­ish" with vast, dark uptown apart­ments, and sum­mer hous­es in Maine, and tra­di­tions as labyrinthine and ingrained as any prep school. On Sun­days, Pol­ly and her broth­ers gath­er around their par­ents' stol­id din­ing room table for smoked salmon on toast points — def­i­nite­ly not bagels, that Oestju­den (East­ern Jew­ish) delight — and sub­tle chid­ing from their moth­er, who has so instilled in Pol­ly her rigid ideas about women's deport­ment and oblig­a­tions that poor Pol­ly almost has a break­down, at one point, when she's forced to go gro­cery shop­ping on a Sunday.
Pol­ly is a won­der­ful char­ac­ter, strug­gling, all too human­ly, not to under­stand but to sup­press her con­flict­ing desires for ​"com­fort, order" — and dan­ger and provo­ca­tion. Col­win by no means rumi­nates on Polly's Jew­ish­ness — or that of her fam­i­ly. But for me Colwin's lack of chat­ter about exact­ly how and why the Solo-Millers are Jew­ish is pre­cise­ly what makes them famil­iar and com­pre­hen­si­ble as Jews: They exist in a milieu so thor­ough­ly and com­plete­ly Jew­ish that their iden­ti­ty (or reli­gion) nev­er comes into question.
It is sim­ply woven into the fab­ric of their beings, as it is for so many Amer­i­can Jews. For Pol­ly, her affair with the decid­ed­ly not-Jew­ish Lin­coln, whose val­ues and tem­pera­ment are almost the oppo­site of those of every­one else in her life (every­one else being Jew­ish, of course), serves as a sort of ques­tion­ing of her world, a press­ing at its con­fines. In a way, the deeply icon­o­clas­tic deci­sion she makes toward the novel's end — I'm going to try not to reveal it — serves as metaphor for the some­times uneasy, some­times hap­py man­ner in which sec­u­lar Amer­i­can Jews live sort of par­al­lel lives, at once both ful­ly Amer­i­can and ful­ly Jew­ish (even if they don't nec­es­sar­i­ly think of it that way).
In the next install­ment: Mar­garet Drabble's pitch-per­fect depic­tion of mul­ti­cul­tur­al mid-1990s London.
Joan­na Rakoff's new book, A For­tu­nate Age
, is avail­able now. She'll be blog­ging all week for MyJew­ish­Learn­ing and the Jew­ish Book Council.
Joan­na Rakoff's nov­el A For­tu­nate Age won the Gold­berg Prize for Jew­ish Fic­tion by Emerg­ing Writ­ers and the Elle Read­ers' Prize, and was a New York Times Edi­tors' Choice and a San Fran­cis­co Chron­i­cle best sell­er. She has writ­ten for The New York Times, the Los Ange­les Times, Vogue, and oth­er pub­li­ca­tions. Her most recent book is the mem­oir My Salinger Year. She lives in Cam­bridge, Massachusetts.