Eric L. Muller will be blog­ging here all week for Jew­ish Book Coun­cil and MyJew­ish­Learn­ing.
The ques­tion that I am explor­ing in this series of blog posts is what a ​"con­cen­tra­tion camp" looks like. In the first post, I not­ed that there has been ten­sion between some Amer­i­can Jews and some Japan­ese Amer­i­cans over the use of the term ​"con­cen­tra­tion camp" for the prison camps that held Japan­ese and Japan­ese Amer­i­cans dur­ing World War II. In the sec­ond post, I tried to describe a bit of what was unique about the Amer­i­can camps — the ways in which they arose from some of the same kinds of caus­es as the Ger­man camps while being admin­is­tered by a gov­ern­ment agency with a very dif­fer­ent set of views from the SS. Tomor­row, in my last post, I'll say a few words about how I've resolved the dilem­ma about using the term ​"con­cen­tra­tion camp" in my writ­ing about the Amer­i­can camps.
Today, I'd like to say a lit­tle bit about Bill Man­bo, the pho­tog­ra­ph­er who took the Kodachrome slides fea­tured in Col­ors of Con­fine­ment, and his fam­i­ly. It's often right­ly said that the num­ber ​"six mil­lion" is an abstrac­tion and that the truth of the Holo­caust can only real­ly be appre­ci­at­ed in the con­text of a real human life. The same is true of the 120,000 peo­ple the US gov­ern­ment exiled and imprisoned.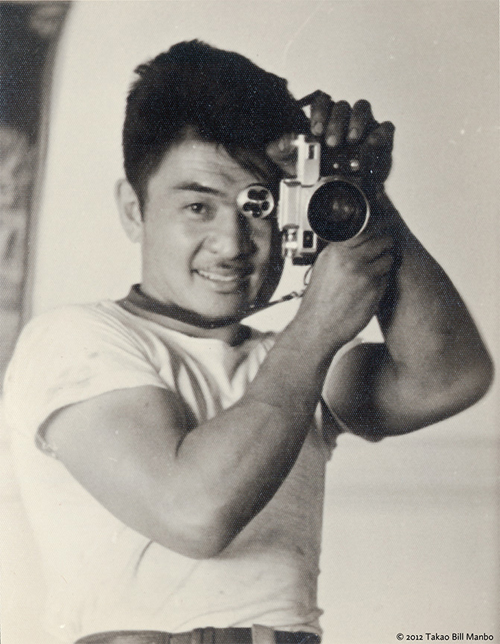 That's a pho­to of Bill Man­bo. He was born in River­side, Cal­i­for­nia, to Japan­ese immi­grant par­ents in 1908. He and his par­ents moved to Hol­ly­wood before Bill went to junior high school. He grad­u­at­ed from Hol­ly­wood High School in 1929 and went off to study auto mechan­ics at the Frank Wig­gins Trade School. That's where he met Mary Itaya, four years his junior, who had grown up on a farm in Nor­walk, Cal­i­for­nia. Her par­ents, Jun­zo and Riyo Itaya, were Japan­ese immi­grants and suc­cess­ful farm­ers of truck veg­eta­bles; they had a par­tic­u­lar­ly suc­cess­ful and valu­able crop in rhubarb. Mary was at Frank Wig­gins to become a seamstress.
Bill and Mary mar­ried soon after grad­u­at­ing from trade school. Bill opened up a garage in Hol­ly­wood and Mary took in sewing and did some cos­tume design for Los Ange­les the­ater com­pa­nies. In 1940, Mary gave birth to a son, whom they named Bill, like his father. They called him ​"Bil­ly."
Bil­ly was not quite two years old on Decem­ber 7, 1941, when the Japan­ese attacked the Unit­ed States at Pearl Har­bor. A few months lat­er, the FBI arrest­ed Billy's grand­fa­ther Jun­zo Itaya (Mary's father) as a poten­tial sabo­teur because he had done some account­ing work in the late 1930s for his neigh­bor­hood Japan­ese after-school pro­gram. This meant that Jun­zo was gone, locked up in a Jus­tice Depart­ment deten­tion camp, when the rest of the fam­i­ly was round­ed up and forced to live in a horse sta­ble at the San­ta Ani­ta Assem­bly Cen­ter at the end of April of 1942. The day before leav­ing, the fam­i­ly signed an agree­ment with their white land­lord that required him to pre­serve and mar­ket their rhubarb crop for as long as the fam­i­ly was gone.
In Sep­tem­ber of 1942, the fam­i­ly was put on a train for the long trip to Heart Moun­tain in north­west Wyoming.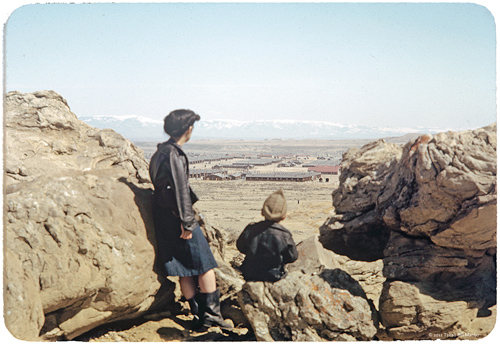 There they moved into small bar­rack rooms equipped with cot frames and thin mat­tress­es, army blan­kets, a light bulb, a buck­et and pail, and a coal-burn­ing stove. All liv­ing was com­mu­nal — com­mu­nal mess halls where fam­i­ly struc­tures dis­in­te­grat­ed and com­mu­nal latrines where pri­va­cy was nonex­is­tent. Win­ter tem­per­a­tures often did not rise above the sin­gle dig­its. In the spring of 1943, they were made to sub­mit to loy­al­ty inves­ti­ga­tions. Bill and Mary passed the test, though not with­out dif­fi­cul­ty, because they were angry about what the gov­ern­ment had done to their lives and the life of their lit­tle Bil­ly and did not con­ceal their anger from the investigators.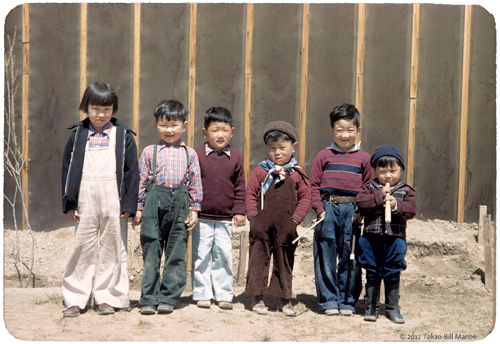 Start­ing in 1943, the WRA urged those des­ig­nat­ed ​"loy­al" to leave camp for jobs in the country's inte­ri­or. A slow process of sep­a­ra­tion and dis­per­sal began for the Man­bo and Itaya fam­i­lies. Mary Manbo's two sib­lings left camp in 1943. Bill Man­bo left Mary and Bil­ly behind for a fac­to­ry job in Cleve­land in mid-1944. Lat­er in 1944, Jun­zo Itaya (Mary's father) left camp tem­porar­i­ly to inves­ti­gate a pos­si­ble farm­ing job in New Jer­sey, leav­ing behind only his wife Riyo and Mary and lit­tle Bil­ly. When he returned to Heart Moun­tain ten days lat­er, pleased by what he'd found in New Jer­sey, he found Riyo in the camp hos­pi­tal. She had suf­fered a ner­vous breakdown.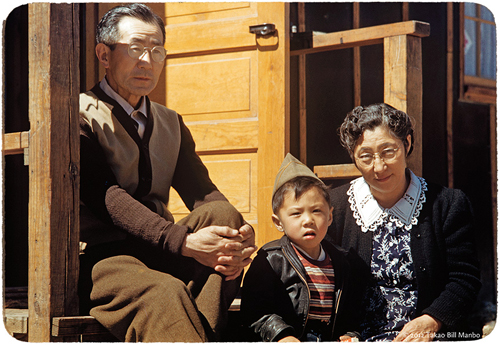 Her ill­ness would keep the cou­ple con­fined in the camp until it closed in Novem­ber of 1945.
Jun­zo and Riyo then faced return­ing to Cal­i­for­nia with noth­ing: all they had back on the coast was their rhubarb plants and some out­build­ings they'd left behind in their landlord's care. But even that turned out to be mis­tak­en. Their land­lord had plowed the plants under short­ly after they left in 1942, and the out­build­ings were long gone. It was a com­plete loss. They would have to start their lives again from scratch.
Eric L. Muller will be blog­ging here all week.
Images from
COL­ORS
OF
CON­FINE­MENT
:
RARE
KODACHROME
PHO­TOGRAPHS
OF
JAPAN­ESE
AMER­I­CAN
INCAR­CER­A­TION
IN
WORLD
WAR
II
edit­ed by Eric L. Muller. Copy­right ©
2012
by the Uni­ver­si­ty of North Car­oli­na Press. Pho­tographs by Bill Man­bo copy­right ©
2012
by Takao Bill Man­bo. Pub­lished in asso­ci­a­tion with the Cen­ter for Doc­u­men­tary Stud­ies at Duke Uni­ver­si­ty. Used by per­mis­sion of the pub­lish­er.
www​.unc​press​.unc​.edu