Yes­ter­day, Eric L. Muller asked: What does a con­cen­tra­tion camp look like? He will be blog­ging here all week for Jew­ish Book Coun­cil and MyJew­ish­Learn­ing.
My new book Col­ors of Con­fine­ment presents dozens of stun­ningKo­dachrome pho­tographs of every­day life inside the barbed wire con­fines of the­Heart Moun­tain Relo­ca­tion Cen­ter in 1943 and 1944. The pho­tog­ra­ph­er was Bill­Man­bo, a thir­ty-some­thing auto mechan­ic from Hol­ly­wood, Cal­i­for­nia, who waslocked up there in Sep­tem­ber of 1942 along with his fam­i­ly and his wife Mary'sfamily. Although Man­bo was not a doc­u­men­tary pho­tog­ra­ph­er, his pic­tures (andthe fact that he was allowed to take them) cap­ture much of what was unique­about the con­fine­ment sites that the U.S. gov­ern­ment cre­at­ed for the WestCoast's eth­ni­cal­ly Japan­ese pop­u­la­tion dur­ing the war.
On theone hand, the pho­tographs reveal a pop­u­la­tion held cap­tive in a des­o­late desert­com­pound with no con­ceiv­able jus­ti­fi­ca­tion oth­er than sup­po­si­tions about racialloyalties.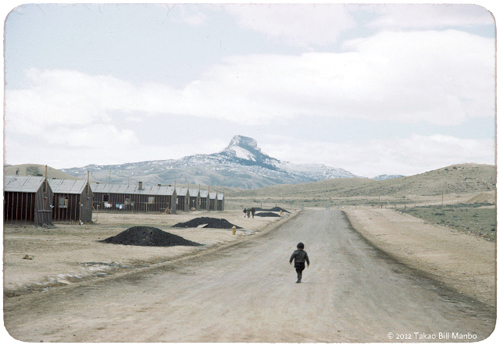 On the oth­er hand, the pho­tos reveal that the population's cap­tor­sal­lowed them a sur­pris­ing num­ber of free­doms, includ­ing the free­dom to enga­geopen­ly in Japan­ese cul­tur­al and reli­gious activ­i­ties … and the free­dom towan­der around tak­ing pic­tures of them.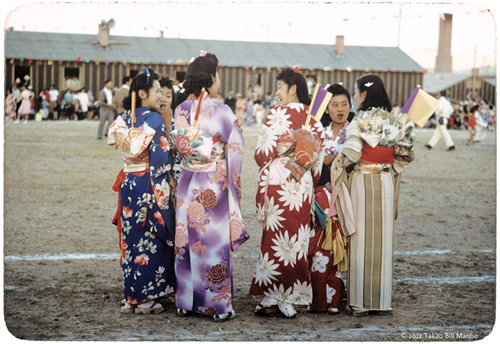 Of the first point — the injus­tice of the mass incar­cer­a­tion —there can be no doubt. Months after the Japan­ese attack at Pearl Harbor,the U.S. gov­ern­ment uproot­ed and exiled some 120,000 peo­ple of Japan­eseances­try — cit­i­zens and res­i­dent aliens alike — for rea­sons that includ­ed­bi­o­log­i­cal racism and eco­nom­ic oppor­tunism. The U.S. Army gen­er­al who­ordered the roundup explained that U.S. cit­i­zens were just as dan­ger­ous as their­Japan­ese immi­grant par­ents because the ​"Japan­ese race" was an ​"ene­my race" inwhich the ​"racial strains" ran ​"undi­lut­ed" in the blood of the sec­ond­gen­er­a­tion. White-dom­i­nat­ed agri­cul­tur­al inter­ests on the coast that had­long sought the ouster of suc­cess­ful Japan­ese farm­ers saw an oppor­tu­ni­ty to put­them out of busi­ness and were among the most force­ful advo­cates for mas­sex­clu­sion. It would be a dis­tor­tion to say that the ouster of the­Japan­ese from the West Coast and the ouster of the Jews from Ger­many had exact­lythe same caus­es, but it would also be a mis­take to miss the fact that the twom­ass depor­ta­tions shared key motives. U.S. Supreme Court Jus­tice FrankMur­phy not­ed this in a 1943 deci­sion when he wrote that the government'streatment of Japan­ese Amer­i­cans bore ​"a melan­choly resem­blance" to Ger­many's treat­ment of its Jews.
And yet there can also be no doubt that the War Relo­ca­tio­nAu­thor­i­ty (WRA), the civil­ian agency respon­si­ble for con­fin­ing Japan­eseAm­er­i­cans in the camps, did not share the ugli­est views of those who had called­for and over­seen their removal from the coast. The WRA was cer­tain­ly­ca­pable of manip­u­la­tion and blunt repres­sion of its charges, but ital­so often sought to help them make their impris­oned lives more bear­able and­less drea­ry, health­i­er and more pro­duc­tive, and less like­ly to end up in astate of per­ma­nent gov­ern­ment depen­den­cy. This is why Bill Manbo'sphotographs include images of danc­ing kimono-clad women, and of sumo-wrestling men, and of inmates lined up for a mati­nee show­ing at one of the cam­p's two movie theaters.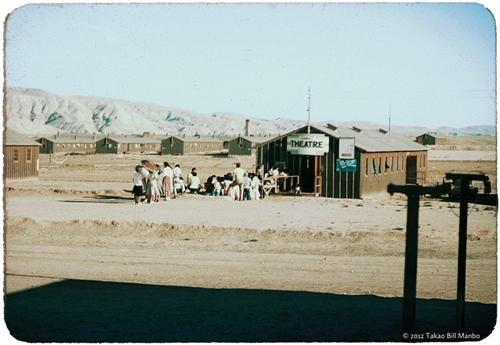 This helps us appre­ci­ate what is arguably the most amaz­ing thingabout this col­lec­tion of pho­tographs (apart from the fact that they're incol­or): a pris­on­er had the free­dom to walk around the camp and take them.
In the spring of 1942, before Japan­ese Amer­i­cans were forced fromtheir homes, cam­eras (like short-wave radios, binoc­u­lars, and oth­er such items)were con­tra­band. In the late win­ter of 1943, how­ev­er, the WRA came tore­al­ize that camp inmates would have an eas­i­er time adjust­ing to life behind barbed­wire if it restored to them the abil­i­ty to take fam­i­ly pho­tos and doc­u­ment­their lives with cam­eras. Not many had the where­with­al to reclaim their­cam­eras, and few­er still had the skill and com­mit­ment to shoot in Kodachrome,then an expen­sive tech­nol­o­gy that was just sev­en or eight years old. Bill­Man­bo did, though, and it's because he did — and because the WRA trust­ed hime­nough to allow him — that we have these beau­ti­ful glimpses of life at HeartMountain.
Eric L. Muller will be blog­ging here all week.
Images from COL­ORS OF CON­FINE­MENT: RARE KODACHROME PHO­TOGRAPHS OF JAPAN­ESE AMER­I­CAN INCAR­CER­A­TION IN WORLD WAR II edit­ed by Eric L. Muller. Copy­right © 2012 by the Uni­ver­si­ty of North Car­oli­na Press. Pho­tographs by Bill Man­bo copy­right © 2012 by Takao Bill Man­bo. Pub­lished in asso­ci­a­tion with the Cen­ter for Doc­u­men­tary Stud­ies at Duke Uni­ver­si­ty. Used by per­mis­sion of the pub­lish­er. www​.unc​press​.unc​.edu