Haley Tan­ner​'s debut nov­el, Vaclav and Lena, is now avail­able. She will be blog­ging all week for the Jew­ish Book Coun­cil and MyJew­ish­Learn­ing​'s Author Blog.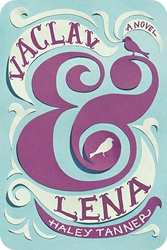 The day my first nov­el, Vaclav and Lena, was pub­lished, I didn't do any­thing wild or any­thing flashy. There were only two peo­ple in the world I want­ed share the expe­ri­ence with: my par­ents. After din­ner, and some cham­pagne, we walked to our local book­store to vis­it my book — to see my book for the first time in a book­store. My moth­er, who is com­plete­ly with­out shame, found the man­ag­er and proud­ly announced that there was an ACTU­AL author in the store. My dad and I hung back and gig­gled. The store man­ag­er indulged us, had me sign some copies, and stuck some ​"local author" stick­ers on the books. We thanked him, and he walked away, and then my moth­er ran after him — for what, we didn't know. She came back with an extra ​"local author" stick­er and stuck it right on my chest. We all cracked up. It was a long and dif­fi­cult road to that ​"Local Author" stick­er and my par­ents were there every step of the way.
When my fam­i­ly had Shab­bat din­ner, each and every Fri­day night – whether it was brisket or Cajun meat­loaf or piz­za, my moth­er blessed us. Instead of the tra­di­tion­al bless­ing, ask­ing god to make my sis­ter and me like Sarah, Rebec­c­ah, Rachel and Leah, or my broth­er like Menashe and Ephraim. She said. ​"May you be who you are and may you be blessed in all that you are."
It is not easy to raise a writer. It is not easy to raise a cre­ative child. It is not easy to emo­tion­al­ly sup­port your child when she's grad­u­at­ing from col­lege and NOT jump­ing feet first into the job force, but instead jump­ing feet first into a writ­ing a nov­el. When every­one else's twen­ty-some­thing kids are going to law school, or med school, or get­ting pro­mo­tions, your twen­ty-some­thing is liv­ing with five room­mates, work­ing odd jobs, and writ­ing this neb­u­lous mys­te­ri­ous book that she refus­es to talk about. It is not easy to help your writer (or painter, or actress, or musi­cian) fig­ure out how to make a life that is sat­is­fy­ing and ful­fill­ing and struc­tured while they pur­sue their dream.
In my nov­el, Vaclav & Lena, the main char­ac­ter, Vaclav, wants to become the worlds great­est and most famous magi­cian. His par­ents, recent Russ­ian Jew­ish immi­grants, wor­ry about his future, about the prospects for a child who wants a sin­gu­lar and dif­fi­cult dream. Vaclav's par­ents strug­gle, as mine did, to sup­port and pro­tect their child. I'm sure that at times, my par­ents felt like Vaclav's moth­er, Rasia:
"It is not safe, for Vaclav, out in the world, with his eyes open to every­thing and his heart beat­ing right on his sleeve, with his dreams in his hands, ready to show and tell."
I'm sure that my par­ents strug­gled with sup­port­ing a writer, and some­times I think that the bless­ing, ​"May you be who you are and may you be blessed in all that you are," was as much a bless­ing for me as an affir­ma­tion for them.
Check back on Thurs­day for Haley Tan­ner​'s next post.