Adam Wil­son​'s debut nov­el, Flatscreen, is now avail­able. He will be blog­ging here for Jew­ish Book Coun­cil and MyJew­ish­Learn­ing all week.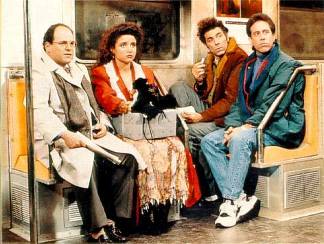 There's a great Sein­feld episode – and one I relate to – in which George Costan­za wor­ries that he must have can­cer because his life is going well for the first time ever. ​"I knew God would nev­er let me be hap­py," George tells his therapist.
Like many sec­u­lar Jews, I don't believe in God, but I do fear His wrath. When­ev­er some­thing good hap­pens to me I can't enjoy it because I'm wait­ing for ret­ri­bu­tion. Some of the best moments in my life have been ruined this way; achieve­ments – both pro­fes­sion­al and per­son­al – have been mired either by ill­ness, or fear of ill­ness. I've had the flu at every one of my birth­day par­ties since the age of five. When­ev­er I'm tak­en to a nice restau­rant, my over­ac­tive stom­ach won't let me enjoy the meal. The year I was sup­posed to be the open­ing day start­ing pitch­er for my lit­tle league team I injured my fin­ger dur­ing pre-sea­son and nev­er pitched again. Like George, I don't think God will ever let me be happy.
All my life, I have want­ed to pub­lish a nov­el. That dream will become a real­i­ty on Tues­day, so of course I've been sick in bed for the past two weeks with an unbeat­able cold and a real­ly uncom­fort­able throat infec­tion. All I want is to enjoy my book par­ty, and now it doesn't seem like that will be pos­si­ble. None of this sur­pris­es me. I don't believe in God, but I do think he's pre-emp­tive­ly pun­ish­ing me for the hubris­tic atti­tude I would have if I was healthy.
I often think of God not let­ting Moses into the Promised Land. Sure, maybe Moses was being a bit cocky from time to time, but didn't he deserve to cel­e­brate? I mean, they were in the desert for forty years! The pun­ish­ment didn't fit the crime. And then there was Job, whom God pun­ished just to make a philo­soph­i­cal point.
Is this why even the sec­u­lar among us fear God so much – because the Old Tes­ta­ment God could be cru­el and vindictive?
I'd like to think it has noth­ing to do with God, that it's not God pun­ish­ing us for our hubris and moral short­com­ings, but our­selves. I'd like to think it's because we hold our­selves to high moral stan­dards, and feel we must hum­ble our­selves. We're not being pun­ished, so much as remem­ber­ing our own human­i­ty, our own mortality.
Adam Wil­son is the author of the nov­el Flatscreen. He is the edi­tor of the inter­na­tion­al online news­pa­per The Faster Times, and a pro­fes­sor of writ­ing at NYU. His jour­nal­ism, crit­i­cism, and fic­tion have appeared in many pub­li­ca­tions includ­ing Book­fo­rum, The New York Times, The Paris Review Dai­ly, The New York Observ­er, Merid­i­an, Wash­ing­ton Square Review, The New York Tyrant, Gigan­tic, Time Out New York, The For­ward, and Paste.
Adam Wil­son is the author of the nov­el Flatscreen, a Nation­al Jew­ish Book Award Final­ist. His sto­ries have appeared in The Paris Review, Tin House, and The Best Amer­i­can Short Sto­ries, among many oth­er pub­li­ca­tions. In
2012
he received the Ter­ry South­ern Prize from the The Paris Review. He teach­es cre­ative writ­ing at New York Uni­ver­si­ty and lives in Brooklyn.