Jamie Kif­fel-Alcheh is writ­ing here as part of Jew­ish Book Coun­cil's Vis­it­ing Scribe series.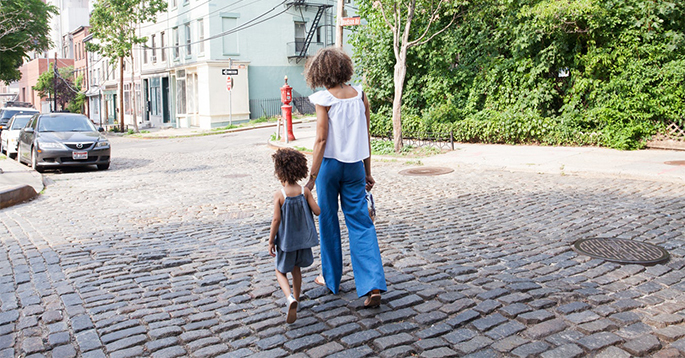 No one could have known it from my con­fi­dent smile, but I almost turned tail before my plane took off. I was about to embark on a nine-day tour of Israel with peo­ple I'd nev­er met. That wasn't the scary part. The scary part was sep­a­rat­ing from my four-year-old daughter.
I know lots of moms get ner­vous before leav­ing their kids for the first time. But my kid hap­pens to have a con­di­tion that pre­vents her from talk­ing or walk­ing with­out assis­tance. And I have a con­di­tion that pre­vents me from act­ing ratio­nal­ly when I'm more than ten feet away from her. In seri­ous­ness, I'd had post­par­tum anx­i­ety for years, and I'd got­ten good at it.
Still, I'd applied for this trip, drawn by a mag­net­ic pull toward Israel that was more pow­er­ful than even my most ornate fears. My hus­band had assured me that every­thing would be great.
Then I'd envi­sion our daugh­ter in her lit­tle walk­er, stum­bling over a crack in the side­walk, and check my trip can­cel­la­tion insurance.
Let's back­track.
My daughter's birth had quick­ly been fol­lowed by many types of ther­a­pies. Speech ther­a­py, phys­i­cal ther­a­py, play therapy…and near­ly all the ther­a­pists had come bear­ing books. Most of those were the ​"inde­struc­tible by milk teeth" vari­ety, but a cer­tain few were real lit­er­a­ture that com­mand­ed hun­dreds of reread­ings. Those were the ones, I came to learn, that includ­ed three com­mon ele­ments: rhyme, rhythm, and rep­e­ti­tion. It also turns out those three are what make lan­guage eas­i­est for the brain to process.
Being a writer, I decid­ed to try my hand at books like those, ones that would be acces­si­ble to kids like mine. Because my daugh­ter is half-Israeli on my husband's side (and Jew­ish on both sides), I found Israel mak­ing its way into my stories.
Two years lat­er, I sold my first children's book, fol­lowed by my sec­ond, third, fourth and fifth. And then, the clouds part­ed and I received an invi­ta­tion to apply for the first-ever PJ Library Author Adven­ture, a tour of Israel with nine­teen oth­er children's book authors — all of whom turned out to be much more laud­ed and illus­tri­ous than I am. (I was fair­ly sure I'd been select­ed by accident.)
The oppor­tu­ni­ty was at once thrilling and ter­ri­fy­ing. I was being cat­a­pult­ed from the very books I'd writ­ten for my daugh­ter into a sit­u­a­tion that would take me away from her.
Still, Israel called me. Loud­ly. With dead­lines for, say, get­ting to the gate on time.
Some­how, in the days before the flight, instead of becom­ing more ner­vous, I reached a strange state of calm, not unlike in the days before giv­ing birth. Admit­ted­ly, it could have been catatonia.
At the air­port, I cried a lit­tle. But I didn't use that trip insurance.
And then, I was on the plane with major children's authors. In a thun­der­bolt moment, I real­ized that all those peo­ple cared about the same things I did: chil­dren, Judaism, and Israel. Almost imme­di­ate­ly, they treat­ed me as fam­i­ly. I felt hon­ored, over­whelmed. And nev­er more so than when one renowned author I'd just met crossed the entire air­port to tell me she and some oth­ers were sit­ting down to din­ner, and would I like to join them?
We arrived in Israel as a group, already bond­ed. And then anoth­er ​"fam­i­ly mem­ber" took me in: Israel, itself. I explored kib­butzes, met major Israeli authors (Meir Shalev! Etgar Keret!), dug in 2,000-year-old soil, and prayed at The West­ern Wall. I walked a rain­wa­ter tun­nel under the City of David. I got lost, and found, between the jew­el­ers and juice shops on Shenken Street in Tel Aviv. And, with my tribe of author friends, I breathed in, and out, stories.
I also made many Face­Time calls, dur­ing which I was assured that my daugh­ter was very much okay (when I asked her, she blew me kiss­es and clapped, which is her short­hand for ​"Yes!"). My hus­band loved the oppor­tu­ni­ty to be the par­ent-in-charge, with­out my neu­roses along for the ride. And some­where between the Dead Sea and the moun­tains of Tzfat, I left some of those neu­roses behind.
My pulse slowed. My spir­it rose.
I returned home with so many sto­ries to tell, I can't write them fast enough. But one of my most impor­tant sto­ries is this one: that, for all my cham­pi­oning of spe­cial needs kids, my child is a child first. Her sto­ry is that of a strong kid, a hap­py kid, and a Jew­ish kid.
It is not the sto­ry of a spe­cial needs kid who can't be apart from her mom. It's that of a child who enjoys her life, and who is becom­ing more inde­pen­dent every day.
And my sto­ry is that of a writer with a great fam­i­ly that sup­ports me, a com­mu­ni­ty of amaz­ing authors, and a huge love of Israel.
I thought I'd gone abroad to gath­er sto­ries. Instead, it seems I've had my own sto­ry edit­ed quite neat­ly. And the new end­ing is so much happier.
Jamie Kif­fel-Alcheh is a writer, edi­tor, and author. Her chil­dren's books include Can You Hear a Coo, Coo?, and three upcom­ing titles from Kar-Ben Pub­lish­ing: A Hoopoe Says ​"Oop!", Lis­ten! Israel's All Around, and The Biggest of All.
Jamie Kif­fel-Alcheh is the author of CAN YOU HEAR A COO-COO?, A HOOPOE SAYS, OOP!, LIS­TEN! ISRAEL'S ALL AROUND and THE BIGGEST OF ALL! (Kar-Ben). She believes even the youngest read­ers deserve smart books, and that, just as babies can pack great mean­ing into a few sounds, lit­tle books can com­mu­ni­cate vol­umes in just a few words. Jamie also loves the ani­mal king­dom, and reg­u­lar­ly writes cov­er sto­ries for Nation­al Geo­graph­ic KIDS magazine.