Eric Wein­er​'s new book, Man Seeks God: My Flir­ta­tions with the Divine, is now avail­able. He will be blog­ging here all week for Jew­ish Book Coun­cil and MyJew­ish­Learn­ing.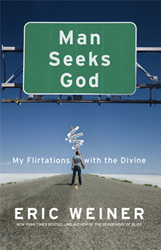 I spent sev­er­al years trav­el­ing the world, try­ing on dif­fer­ent faiths, see­ing which one fits. At the end of my jour­ney, I found myself in Tzfat, in north­ern Israel, div­ing head­first into my own faith. The ground I walked in Tzfat felt famil­iar and for­eign at the same time.
One evening, I was invit­ed by a fam­i­ly of Ortho­dox Jews for a Sab­bath at their home. One of them, an imp­ish young man named Asaf, lis­tened intent­ly to my tales of whirling with the dervish­es, med­i­tat­ing with the Tibetans. Then he told me a story.
There was this Jew, Asaf said. We'll call him Moshe. Moshe decid­ed one day he want­ed to become Catholic, so he walks to the local church and says, ​"Father, I'd like to be Catholic."
"No prob­lem," says the priest. He sprin­kles water over Moshe and says, three times, ​"You're not Jew­ish, you're Catholic." He then sends Moshe on his way but with a warn­ing. ​"We Catholics only eat fish on Fri­days. Okay?"
Moshe assures him that is no prob­lem. Except a few days lat­er, on a Wednes­day evening, Moshe devel­ops a huge crav­ing for fish. He can't resist so he slips off to a local restau­rant. There, the priest hap­pens to see him tuck­ing into a huge fil­let of halibut.
"Moshe! What are you doing? I told you to only eat fish on Friday."
Moshe, with­out miss­ing a beat, says, ​"This isn't a fish. It's a carrot."
"What are you talk­ing about, Moshe? I can plain­ly see it's a fish."
"No, it isn't. I sprin­kled water on it and said, ​'You're not a fish, you're car­rot, you're not a fish you're a carrot…'"
Every­one at the table smiles. Except me. What am I to make of the joke? Am I a fish and always will be? Or am I a car­rot with fish ten­den­cies? Or some sort of car­rot-fish hybrid? The obvi­ous moral of the sto­ry: Go forth and med­i­tate with the Bud­dhists, do yoga with the Hin­dus, pray with the Mus­lims, but you'll be back. You have a nefesh, a Jew­ish soul, and noth­ing you do will ever change that.
At first, I bris­tled at that notion. We are free — freer than ever before — to choose our own spir­i­tu­al path, and many peo­ple (Jews and non-Jews alike) are doing just that. One out of three Amer­i­cans will change their reli­gious affil­i­a­tion over the course of their life­time. We are, increas­ing­ly, a nation of God hoppers.
Or are we? Do we ever ful­ly change?
I don't think so. We imbibe of the world's wis­dom tra­di­tions, from Bud­dhism to Shaman­ism, and ben­e­fit from them, but the ​"con­ver­sion" is nev­er com­plete. We always retain, at the very least, our cul­tur­al iden­ti­ty — our fishi­ness — and that is okay. That is good. We need sol­id foot­ing, or as Archimedes said many cen­turies ago: ​"Give me a place to stand and I shall move the world."
Eric Wein­er is a for­mer for­eign cor­re­spon­dent for

NPR

, a philo­soph­i­cal trav­el­er — and recov­er­ing mal­con­tent. His new book,
Man Seeks God: My Flir­ta­tions with the Divine
, is now available.
Eric Wein­er is the author of the New York Times best­sellers The Geog­ra­phy of Bliss and The Geog­ra­phy of Genius, as well as the crit­i­cal­ly acclaimed Man Seeks God and, his lat­est book, The Socrates Express: In Search of Life Lessons from Dead Philoso­phers. A for­mer for­eign cor­re­spon­dent for NPR, he has report­ed from more than three dozen coun­tries. His work has appeared in the New Repub­lic, The Atlantic, Nation­al Geo­graph­ic, The Wall Street Jour­nal, and the anthol­o­gy Best Amer­i­can Trav­el Writ­ing. He lives in Sil­ver Spring, Mary­land, with his wife and daughter.