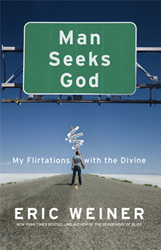 Like most peo­ple, I used to view doubt and faith as occu­py­ing two oppo­site ends of the spir­i­tu­al spec­trum. In my mind, there were peo­ple of faith, True Believ­ers, and then there were the Doubters, like myself. A vast and impass­able ocean sep­a­rat­ed these two groups. Or so I thought.
I don't think that way any­more. After trav­el­ing the world and div­ing into sev­er­al of the world's major reli­gions (and a few minor ones), I've con­clud­ed that doubt rep­re­sents not an absence of faith, but rather, is an inte­gral part of it. I wouldn't say I cel­e­brate doubt, not any­more than I cel­e­brate that pain in my left knee telling me I need to see the doc­tor. But I do accept it, val­ue it, and rec­og­nize its role in the spir­i­tu­al life.
True some reli­gious peo­ple desire cer­tain­ty— and only cer­tain­ty. For them, doubt rep­re­sents weak­ness, an absence of faith, or at least an incom­plete faith. In short, doubt is the ene­my. But that is only one way of being reli­gious. There are oth­ers. Psy­chol­o­gists have iden­ti­fied the ​"quest per­son­al­i­ty." That is one cat­e­go­ry that I – and many oth­ers I expect– fit into per­fect­ly. A Quester is some­one who seeks know­ing full well she will nev­er find defin­i­tive answers.
Doubt can par­a­lyze, yes, but it can also moti­vate. The oppo­site of doubt is not cer­tain­ty but action, for­ward momen­tum. As E.F. Schu­mach­er, the rene­gade econ­o­mist put it, ​"Mat­ters that are beyond doubt are, in a sense, dead; they do not con­sti­tute a chal­lenge to the liv­ing." In oth­er words, mat­ters that are beyond doubt have noth­ing to teach us.
In my trav­els, I've met many deeply reli­gious peo­ple who, nonethe­less, live com­fort­ably with doubt. My friend James, for instance, is a Bud­dhist who still has many doubts — about rein­car­na­tion, for instance — but this does not pre­vent him from prac­tic­ing his faith, and ben­e­fit­ting from it.
Near­ly all reli­gions, in vary­ing degrees, acknowl­edge the role of doubt, but per­haps none more so than the Jains, the ancient faith based in India. The Jains have a term, syad­va­da, which lit­er­al­ly trans­lates as a ​"mul­ti­plic­i­ty of view­points," but is also referred to as ​"maybe-ism".
Essen­tial­ly, syad­va­da says that for every ​"truth" that we hold dear there are oth­er, equal­ly valid, truths. For the Jains, syad­va­da is a way of life, and it per­me­ates every aspect of their faith, includ­ing their doc­trine of nonviolence.
The Jains know instinc­tive­ly that where cer­tain­ty reigns, noth­ing else can sur­vive. Where there is doubt, there is also pos­si­bil­i­ty. And life.
A ver­sion of this arti­cle appeared on Wash​ing​ton​post​.com.
Eric Wein­er is a for­mer for­eign cor­re­spon­dent for NPR, a philo­soph­i­cal trav­el­er — and recov­er­ing mal­con­tent. His new book, Man Seeks God: My Flir­ta­tions with the Divine, is now avail­able.


Eric Wein­er is the author of the New York Times best­sellers The Geog­ra­phy of Bliss and The Geog­ra­phy of Genius, as well as the crit­i­cal­ly acclaimed Man Seeks God and, his lat­est book, The Socrates Express: In Search of Life Lessons from Dead Philoso­phers. A for­mer for­eign cor­re­spon­dent for NPR, he has report­ed from more than three dozen coun­tries. His work has appeared in the New Repub­lic, The Atlantic, Nation­al Geo­graph­ic, The Wall Street Jour­nal, and the anthol­o­gy Best Amer­i­can Trav­el Writ­ing. He lives in Sil­ver Spring, Mary­land, with his wife and daughter.