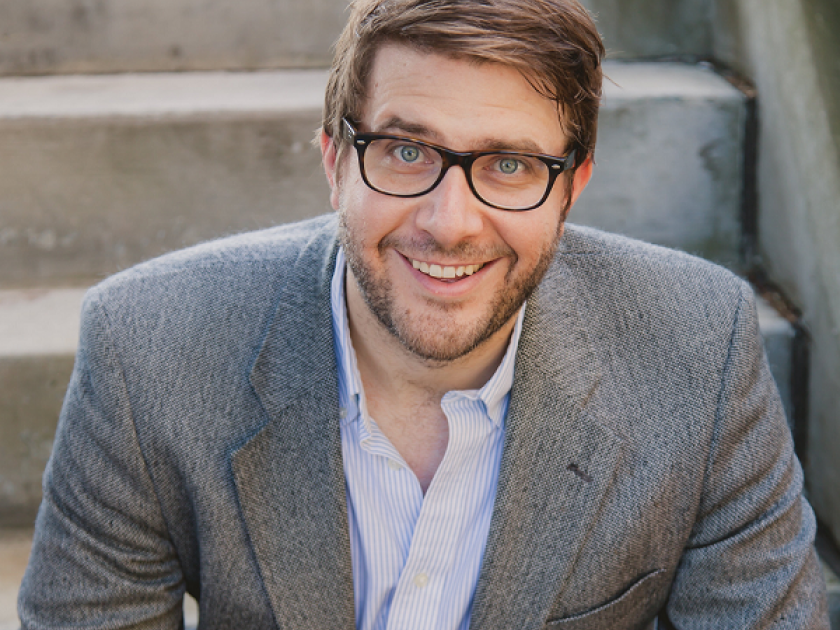 I recent­ly had the oppor­tu­ni­ty to ask Jonathan Aux­i­er, author of Sweep: The Sto­ry of a Girl and Her Mon­ster, some ques­tions about his acclaimed nov­el. Sweep—a final­ist for the 2018 Nation­al Jew­ish Book Award for Children's Lit­er­a­ture and win­ner of the 2019 Syd­ney Tay­lor Gold Award in the Old­er Read­ers cat­e­go­ry — has impressed both read­ers and crit­ics with its com­pelling char­ac­ters and excit­ing nar­ra­tive, as well as its sophis­ti­cat­ed inte­gra­tion of his­to­ry and fic­tion. Aux­i­er has made a sig­nif­i­cant new lit­er­ary con­tri­bu­tion to the Jew­ish myth of the golem, a super­nat­ur­al being invest­ed with the hopes and fears of oppressed people.
Emi­ly Schnei­der: You men­tion your vis­it to Prague at the age of nine­teen, and how much the city seemed imbued with the myth of the golem, Rab­bi Loew's six­teenth-cen­tu­ry mon­strous crea­ture sent to res­cue the Jew­ish peo­ple from dan­ger. At the time, you weren't famil­iar with this mys­te­ri­ous fig­ure in Jew­ish folk­lore, but you became fas­ci­nat­ed by it. Why you do you think you main­tained this fas­ci­na­tion over the years, and even­tu­al­ly pur­sued it as an author?
Jonathan Aux­i­er: It's hard to say why cer­tain ideas lodge into the heart of a writer. I think many tra­di­tion­al mon­sters lack com­plex­i­ty that feels true to the way the world works. That's not the case with the golem of Prague. His entire gen­e­sis is root­ed in the (ugly) way the world works. And even when Rab­bi Loew uses mag­ic to save his com­mu­ni­ty, the out­come is not unam­bigu­ous­ly hap­py: the golem him­self, for all his enchant­ed might, can­not escape the pain of what it means to live in this world.
Anoth­er rea­son the golem stuck with me for all those years was that it still felt like unex­plored ter­ri­to­ry. The golem is a crea­ture of folk­lore, rather than lit­er­a­ture. He has not been con­fined to a sin­gle defin­i­tive text (con­trast this with Frankenstein's mon­ster or Count Drac­u­la or Mr. Hyde — all of whom are inex­tri­ca­bly linked to their authors). The golem of Prague is cer­tain­ly the most famous golem, but he is not the only golem. Vir­tu­al­ly every golem I've ever encoun­tered is slight­ly dif­fer­ent than those that have come before. There's a free­dom to this, as it lets a writer build a sto­ry around a spe­cif­ic char­ac­ter rather than a canon­i­cal nar­ra­tive. Also, they're fun to draw!
ES: One of the most reward­ing qual­i­ties of your book is its simul­ta­ne­ous sophis­ti­ca­tion and acces­si­bil­i­ty. Young read­ers will become wrapped up in the excite­ment of the sto­ry, but there are so many intri­cate his­tor­i­cal and lit­er­ary ingre­di­ents that bring it to life. The past of children's lit­er­a­ture is very much alive in your book! Can you tell us about the lit­er­ary influ­ences on Sweep?
JA: The chief non-golem lit­er­ary influ­ence is def­i­nite­ly Charles Kingsley's The Water Babies. Some say this was the first ​"mod­ern" children's book. It's a strange, very dat­ed nov­el, but the begin­ning is grip­ping: it details the hor­ri­ble life of a ​"climb­ing boy" — one of count­less chil­dren work­ing as chim­ney sweeps in the nine­teenth cen­tu­ry. Once I read Water Babies, I was hooked. The more I researched climb­ing boys, the more I knew I want­ed to write a sto­ry set in that world.
The one prob­lem is that the his­to­ry of climb­ing boys is unimag­in­ably bleak. There were research days I was so emo­tion­al­ly destroyed that I didn't think I could go on. And so I began look­ing for sto­ries that might teach me how to find hope in hope­less sit­u­a­tions. I end­ed up com­ing back to two favorites: E.B. White's Charlotte's Web and Frances Hodg­son Burnett's A Lit­tle Princess. I think those sto­ries, each in their own way, showed me a path through the impos­si­bly bleak world of chim­ney sweeps.
ES: Your young hero­ine, Nan Spar­row, is vul­ner­a­ble and strong. As par­ents, we know that our chil­dren all begin life in need of our pro­tec­tion. You have writ­ten about how becom­ing a par­ent of three chil­dren, one with spe­cial needs, had a def­i­nite impact on your vision of Nan. Can you explain this con­nec­tion between your life and your work?
JA: Just to be clear, my youngest daughter's dis­abil­i­ty only relates to this ques­tion inso­far as she came with atten­dant health prob­lems (chiefly, a con­gen­i­tal heart defect called AVSD); fac­ing the pos­si­bil­i­ty that she might not sur­vive forced me to reck­on with what it means to care for some­one who I might not be able to pro­tect from harm. That expe­ri­ence was a height­ened ver­sion of what any par­ent expe­ri­ences with any child. Being a par­ent changes you. All of this to say that hav­ing daugh­ters was less about inform­ing Nan's char­ac­ter­i­za­tion and more about deep­en­ing my under­stand­ing of the Sweep — the whole sto­ry stems from what he can and can­not do to pro­tect Nan from harm.
ES:Anoth­er qual­i­ty that stands out in Sweep is empa­thy: for chil­dren, for labor­ers, for women, for Jews. If you will excuse the chutz­pah of this ques­tion, how did you devel­op and con­vey such a great sense of empa­thy for the Jew­ish peo­ple (which is cen­tral to the nov­el, in the myth of the golem and in the char­ac­ter of Esther Bloom)?
JA: I'm glad to hear that empa­thy came through, because it's cer­tain­ly there — the warm recep­tion of Sweep in the Jew­ish com­mu­ni­ty has meant so, so much to me. In prac­ti­cal terms, I worked with a num­ber of out­side read­ers and had a lot of con­ver­sa­tions about the Jew­ish expe­ri­ence, which is a big part of it. And before that came years of research: as with many of the ugli­er aspects of human his­to­ry, the only way to deny it is to ignore it. It's impos­si­ble to read about mar­gin­al­ized groups in Vic­to­ri­an Lon­don and not be hor­ri­fied — and it's impos­si­ble not to read cur­rent head­lines and see that these issues are with us still. I think it was Neil Gaiman who referred to books as ​"lit­tle empa­thy machines." I came to care about these oth­er iden­ti­ties and con­cerns by read­ing books. It is my deep­est hope that Sweep has that effect on some future reader.
ES: In the his­tor­i­cal note includ­ed at the end of the book, you remind read­ers that child labor is still, trag­i­cal­ly, a real­i­ty today. How did you achieve a bal­ance in Sweep between telling the sto­ries of unique indi­vid­u­als, and bring­ing in social issues which are impor­tant to you?
JA: This is a place where Nan's jour­ney mir­rors my own. I'm not an activist at heart — I'm a home­body who just wants to be left in peace. At the begin­ning of the book, Nan is very sim­i­lar: she wants to keep her head down, do her job, and sur­vive. Char­ac­ters repeat­ed­ly try to form rela­tion­ships that she rejects. It isn't until she's sad­dled with an infant golem that she has no choice but to open her­self up to rela­tion­ship. And once that hap­pens, it's a slip­pery slope! Once you start car­ing about one oth­er per­son, it push­es you to care for anoth­er and anoth­er and so on until you start to care about the world. At some point while writ­ing Sweep I under­stood that Nan's jour­ney was one of iso­la­tion to social con­scious­ness — of con­nect­ing her­self to her larg­er com­mu­ni­ty in ser­vice of jus­tice. Over the ten years it took to write this book, I under­went a sim­i­lar change … I'm still not sure if Nan led me there or vice-versa!
This inter­view was coor­di­nat­ed in col­lab­o­ra­tion with the Syd­ney Tay­lor Book Award and the Asso­ci­a­tion of Jew­ish Libraries. Check out all of the inter­views with Syd­ney Tay­lor Award win­ners being pub­lished this week.
Emi­ly Schnei­der writes about lit­er­a­ture, fem­i­nism, and cul­ture for Tablet, The For­ward, The Horn Book, and oth­er pub­li­ca­tions, and writes about chil­dren's books on her blog. She has a Ph.D. in Romance Lan­guages and Literatures.