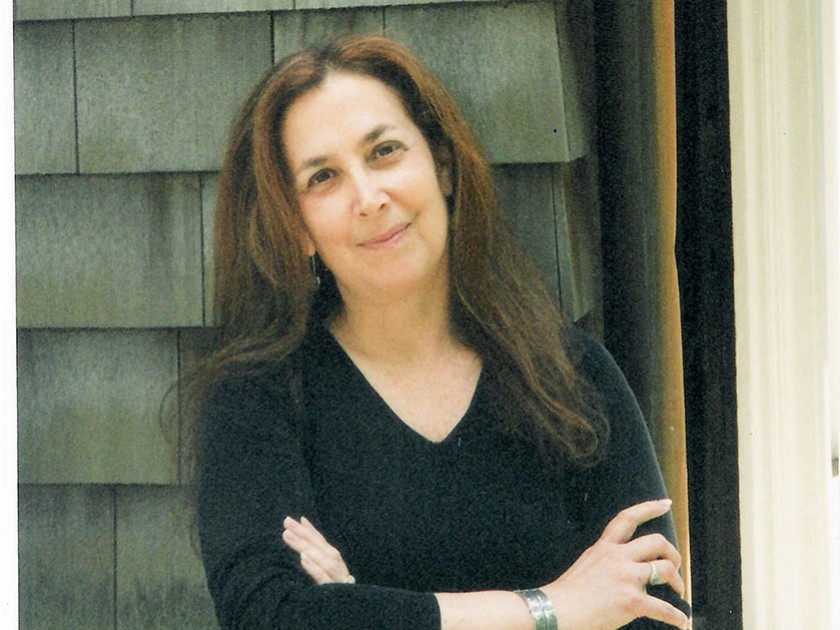 A fine artist as well as an author and illus­tra­tor, Jane Bre­skin Zal­ben is one of the most crit­i­cal­ly praised and pop­u­lar Jew­ish Amer­i­can authors of books for chil­dren and young adults. She has received the Syd­ney Tay­lor Hon­or four times, most recent­ly for A Moon for Moe and Mo, with illus­tra­tor Mehrdokht Ami­ni. In the fol­low­ing con­ver­sa­tion, Emi­ly Schnei­der asks Jane about her artis­tic vision, her col­lab­o­ra­tion with Ami­ni, and the impor­tance of Jew­ish iden­ti­ty in her work.
Emi­ly Schnei­der: One of the dis­tinc­tive qual­i­ties of your long career writ­ing for chil­dren is the vari­ety of artis­tic roles you have played. You have writ­ten and illus­trat­ed books, and you have worked with oth­er writ­ers and illus­tra­tors. How did your career devel­op in such a mul­ti­fac­eted way?
Jane Bre­skin Zal­ben: Well, I pur­sued my work with pas­sion. I began my career as a fine artist and I con­tin­ue to paint, includ­ing abstract works. I have been a graph­ic and type design­er, art direc­tor, teacher, and men­tor. I grad­u­al­ly grew into being a writer. I stud­ied with renowned sculp­tor Richard Ser­ra at Queens Col­lege. I taught at the School of Visu­al Arts for eigh­teen years, on the sub­jects of writ­ing, illus­trat­ing, and type design­ing children's books. I've worn many hats!
ES: You col­lab­o­rat­ed with illus­tra­tor Mehrdokht Ami­ni on A Moon for Moe and Mo, your most recent Syd­ney Tay­lor Hon­or Book. This sto­ry of friend­ship between a Jew­ish boy and a Mus­lim boy dur­ing a year in which Rosh Hashanah and Ramadan coin­cide is a trib­ute to coex­is­tence, but it com­plete­ly avoids facile clichés. The top­ic is so time­ly. Can you tell us about the process by which you worked with Ami­ni on this project?
JBZ: You men­tion that the book deals with time­ly issues, but I wrote it sev­en years ago! Ini­tial­ly the project had a dif­fer­ent illus­tra­tor. When Charles­bridge was ulti­mate­ly inter­est­ed, they pre­sent­ed me with the work of five dif­fer­ent illus­tra­tors. I see children's book illus­tra­tion as impor­tant, in the tra­di­tion of Edward Gorey and Mau­rice Sendak; I didn't want the book to have ​"car­toon­ish" or sim­plis­tic pic­tures. When I saw Merhdokht's images, I knew she was the right artist for the book. Her work was so sophis­ti­cat­ed. It had col­or and depth and drew on Euro­pean tra­di­tions of art and ani­ma­tion. I won­dered if some read­ers might not relate to it, but they have embraced it. I'm curi­ous that you say the book avoids clichés. What do you mean by that?
ES: It strikes me that the book doesn't make grand or sim­plis­tic claims about coex­is­tence between Jews and Mus­lims. Instead, you focus on the friend­ship between two boys and their fam­i­lies; read­ers infer that coex­is­tence is possible.
JBZ: Life is made of moments. I remem­ber a trip I made with my hus­band to Italy. A young woman approached me and my hus­band as we were tour­ing the Vat­i­can to ask if she could tag along, as she was trav­el­ing alone. I said, of course. Lat­er, in the course of the day, she men­tioned that she was Pales­tin­ian, and I told her that I was Jew­ish. Life is made up of moments like that.
ES: It sounds as if that chance meet­ing was in the back of your mind when you worked on Moe and Mo.
JBZ: There were so many ingre­di­ents in the book. I often vis­it Sahadi's, a Mid­dle East­ern gro­cery store in Brook­lyn. You can get spices which are not avail­able in oth­er mar­kets. I'm a seri­ous cook; I've even writ­ten two cookbooks.
ES: Yes, I know! We have them. (Beni's Fam­i­ly Cook­book: For the Jew­ish Hol­i­days and To Every Sea­son: A Fam­i­ly Hol­i­day Cook­book.)
JBZ: One time when I was at Sahadi's with my young grand­daugh­ter, I noticed a woman dressed in a tra­di­tion­al Islam­ic chador who was also with a young child. Our chil­dren inter­act­ed, and I thought, aha⁠ — a book! That was anoth­er moment reflect­ed in Moe and Mo. I took pho­tos of many places in Brook­lyn where the book is set, and my pub­lish­er sent them to Mehrdokht, who lives in Eng­land. This was part of our collaboration.
ES: Many fans of your work have such last­ing affec­tion for Beni, Pearl, Goldie, and your oth­er unfor­get­table ani­mal char­ac­ters. Obvi­ous­ly, there is a great tra­di­tion in children's lit­er­a­ture of anthro­po­mor­phic crea­tures. Are there par­tic­u­lar authors and artists who have influ­enced your cre­ation of these characters?
JBZ: The great nine­teenth and ear­ly twen­ti­eth cen­tu­ry illus­tra­tors have been an influ­ence: Beat­rix Pot­ter, Arthur Rack­ham, Edmund Dulac. Matisse's use of space has been influ­en­tial in cre­at­ing my books.
ES: I see Per­sian minia­tures in the incred­i­ble detail of your Beni sto­ries. Chil­dren and adults are both drawn into the care­ful­ly real­ized world which you present in those books.
JBZ: Yes, I use that detail, and also pay close atten­tion to fam­i­ly dynam­ics, and humor.
ES: Many, but not all, of your books have Jew­ish themes and char­ac­ters. Is there a dif­fer­ence in the way in which you approach books with Jew­ish themes?
JBZ: No, that would not be authen­tic to each book, which I view as a dis­tinct enti­ty. I don't have a mis­sion or a mes­sage oth­er than to be true to myself as an author and an artist.
ES: Final­ly, there is so much dis­cus­sion today of diver­si­ty in children's books, of ensur­ing that the expe­ri­ences of all groups are rep­re­sent­ed accu­rate­ly in sto­ries for chil­dren. What is your per­spec­tive on how Jew­ish authors and illus­tra­tors fit into this picture?
JBZ: Often peo­ple have an inac­cu­rate pic­ture, and not always a pos­i­tive one, of the Jew­ish peo­ple. We are a minor­i­ty, a very small part of the pop­u­la­tion. We should be includ­ed in the com­mit­ment to diver­si­ty. It may appear that we have arrived — but we have strug­gled, and we still strug­gle. Look at the resur­gence of anti­semitism today. There needs to be more books about Jew­ish life. I believe that non-Jews are inter­est­ed in read­ing them. When I vis­it church­es and Catholic schools, my books about Beni and the Jew­ish hol­i­days have been warm­ly received. I don't feel uncom­fort­able say­ing this — I love being Jewish.
Emi­ly Schnei­der writes about lit­er­a­ture, fem­i­nism, and cul­ture for Tablet, The For­ward, The Horn Book, and oth­er pub­li­ca­tions, and writes about chil­dren's books on her blog. She has a Ph.D. in Romance Lan­guages and Literatures.