by Alan Coop­er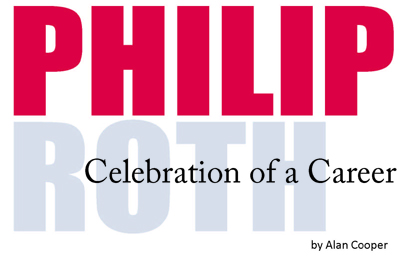 With the 2013 pub­li­ca­tion of its final (eighth and ninth) vol­umes of Philip Roth​'s col­lect­ed works, The Library of Amer­i­ca (LoA) has reprint­ed every word of Roth's thir­ty-one books, twen­ty-eight of them works of fic­tion. There will be no more Roth books. These hand-hold­able vol­umes ​"print­ed on light-weight, acid-free paper that will not turn yel­low or brit­tle with age" have pre­served Roth for the ages. It remains to be seen what, if any­thing, can guar­an­tee a Roth readership.
This com­ple­tion of the LoA project coin­cides with Roth's eight­i­eth birth­day and with his grow­ing con­vic­tion that the fic­tion-read­ing pub­lic is dwin­dling in the face of elec­tron­ic quick fix­es, per­haps con­sign­ing the tra­di­tion­al nov­el to a foot­note in lit­er­ary his­to­ry. Roth has announced his retire­ment from the writ­ing of fic­tion, echo­ing yet again what has been for him a trig­ger­ing pre­cept, Rilke's ​"You must change your life." Roth's pub­lic and his read­er­ship (not always the same thing) have re­sponded with due cel­e­bra­tion and wish­ful disbelief.
Crit­i­cal reval­u­a­tions and pre­dic­tions are pop­ping up in print. Which are the great nov­els, which the mere­ly good — or won­der­ful­ly good — and do the short­ened works of his last five pro­duc­tive years match up to his stan­dards? After fifty-four years of pound­ing it out, is he now tired? lone­ly? los­ing it? enti­tled to a life away from the key­board? or to some cel­e­bra­tion? He has autho­rized a biog­ra­phy and cho­sen the biog­ra­ph­er. He has attend­ed the nam­ing of a street after him in his native Newark, NJ and the plaquing of his child­hood home as a city land­mark. Hun­dreds of peo­ple have tak­en bus tours of his Wee­quahic neigh­bor­hood to see, and hear rehearsed, the places and events of his nov­els. Two documen­tary films have been made about his life and works. Spec­u­la­tions are abuzz — per­haps there will be anoth­er full-length nov­el, about a man who un-retires; per­haps a Nobel Prize will top the dozen or so major awards already bestowed upon him; per­haps the Swedes will drop their anti-Semitism!
But at an eight­i­eth birth­day cel­e­bra­tion at the Newark Muse­um, where an over­flow audi­ence heard prais­es of his aston­ish­ing tal­ent by world- renowned authors and schol­ars and a mov­ing response by Roth on the impor­tance, espe­cial­ly to a writer, of min­ing life's small moments and of accept­ing the final­i­ty of death, it became clear that his shut­ting down owes to the con­ver­gences of time. Oth­er speak­ers stood, Roth sat. He walked with a bit of a shuf­fle, but his hand­shake was firm and his eye engaging.
In recent inter­views Roth has acknowl­edged he gets tired, he has a med­ical his­to­ry, he has some­times felt lone­ly; yet he has a per­son­al life about which he remains silent (it's none of our busi­ness), and an irre­press­ible sense of humor. Dur­ing his years as a writer he some­times felt the pan­ic of being between books, of not know­ing what his next sub­ject would be, of await­ing some thought or mem­o­ry that could raise a ques­tion that writ­ing might explore. He let the fic­tion come from the imag­i­na­tion at work dur­ing the writ­ing, con­cen­trat­ing on the pas­sage at hand and trust­ing that some­how it would sug­gest itself into plot, set­ting, char­ac­ter. Some­times it did not. Any suc­cess might have had to await the rewrit­ing. Author­ship took time. Oth­er claimants on that time might have been eas­i­ly resent­ed. His books were his chil­dren; his child­hood got reliv­ed in his books.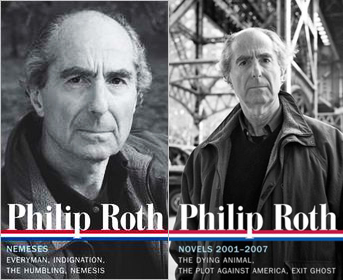 It was a Jew­ish child­hood; it has been a sec­u­lar Jew­ish life. Alter-ego Nathan Zuckerman's state­ment, ​"Jews are to his­to­ry as Eski­mos are to snow[.]" or Nathan's dis­com­fort in a church, where every sym­bol posit­ed destruc­tion of Jews, or the fic­tive Roth's call­ing his fic­tive alter-ego ​"Moshe Pipick" (not to be expect­ed from a John Updike) reflect a sen­si­bil­i­ty that has chron­i­cled the Jew­ish expe­ri­ence in Amer­i­ca from a human­ist point of view. In his Newark Muse­um response, Roth read a sev­en-page rem­i­nis­cence by his Mick­ey Sab­bath: the grave­stone mes­sages of Jews — the ​"beloved" fathers, hus­bands, sons, friends. ​"The beloved are com­fort­ably dead,' he quipped warm­ly and soft­ly, and then quot­ed Kaf­ka: ​"The mean­ing of life is that it stops." In an old­er Jew­ish con­text "…man lieth down and ris­es not;/Till the heav­ens be no more, they shall not wake,/ or be roused out of their sleep" (Job, 14:12). Good com­pa­ny for a Jew­ish human­ist. Read­ers owe it to them­selves to reread Philip Roth.
Alan Coop­er teach­es Eng­lish at York Col­lege, CUNY. Notable among his numer­ous con­tri­bu­tions to peri­od­i­cals, reviews, and books is his Philip Roth and the Jews (SUNY Press, 1996). His lat­est book is the young-adult nov­el Prince Paskud­nyak and the Giant Bats.
Alan Coop­er teach­es Eng­lish at York Col­lege,
CUNY
. Notable among his numer­ous con­tri­bu­tions to peri­od­i­cals, reviews, and books is his Philip Roth and the Jews (
SUNY
Press,
1996
). His lat­est book is the young-adult nov­el Prince Paskud­nyak and the Giant Bats.